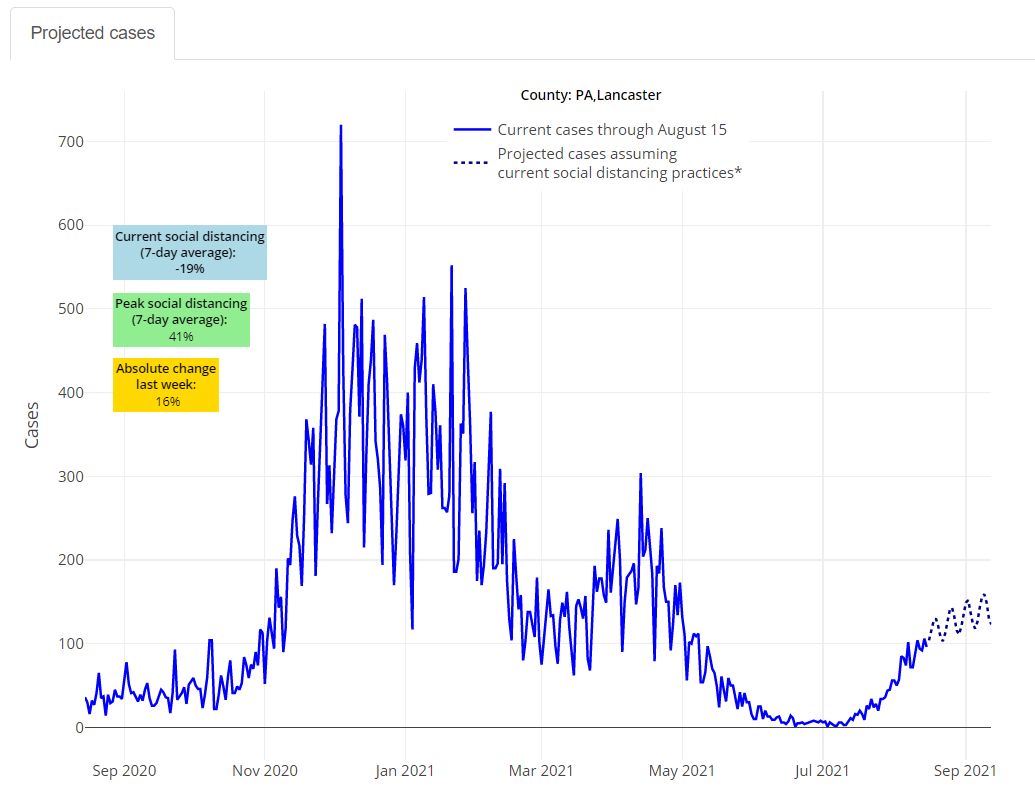 After discontinuing its weekly county-level Covid-19 updates in the spring, PolicyLab at Children's Hospital of Philadelphia has issued a one-off forecast covering the next four weeks — and it indicates that case loads in Pennsylvania are on track to worsen.
Counties throughout Indiana, Ohio, and across Pennsylvania to the Philadelphia region are forecasted to have growing transmission in advance of school openings," PolicyLab wrote in a Thursday blog post. "These areas are just a couple of weeks behind counties in the South where transmission is beginning to slow."
Rates are trending higher at Atlantic Coast resort areas, including the Jersey shore, it notes.
Its forecast for Lancaster County shows daily case counts climbing but leveling off in the mid-100s over the next four weeks.
Community transmission is "blanketing" most of the country, PolicyLab says, and the south-to-north spread in recent weeks suggests the northeast may be in for a reckoning.
"Throughout the pandemic, COVID-19 transmission in colder weather has been more than double what we have witnessed during the summer," it said. "The lowest transmission rates occur in late spring and early fall with more moderate temperatures and longer days."
PolicyLab is encouraging school districts to be flexible as classes resume, suggesting they be ready to impose "time-limited" mask mandates and testing protocols if and when cases spike.
Nevertheless, it said, the availability of vaccines means communities are "better equipped" for the fight against Covid-19, "which should help instill confidence as we await access to vaccinations for younger children."
Vaccination is currently available only to individuals age 12 and up. Medical experts had hoped vaccines for younger children would be available by early fall, but that deadline will not be met.