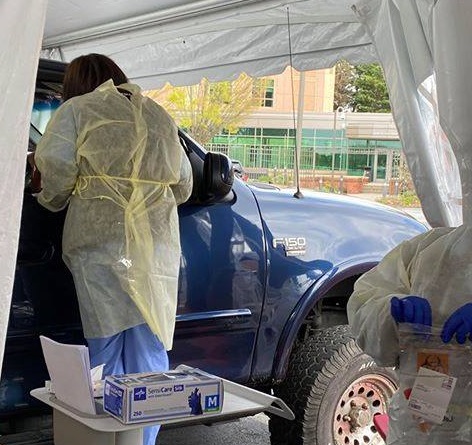 Update, Dec. 2: As expected, the Lancaster County commissioners voted unanimously Wednesday to amend the term of Penn Medicine Lancaster General Health's testing and contact-tracing contract, extending it to run from March 1, 2020, to April 30, 2021.
Previously reported: 
Lancaster County's flagship Covid-19 testing and contact tracing program will be able to continue into the first part of 2021, despite the upcoming end this month of the CARES Act funding stream that has been underwriting it.
Related: LG Health paring back elective surgery due to Covid-19
Penn Medicine Lancaster General Health, which has been running the program for the county, has agreed to continue it through April 30. On Wednesday, the county commissioners will consider an amendment to the contract with LG Health implementing the proposed extension.
The contract term currently runs from mid-May to Dec. 30. The amendment would move the start date back to March 1 and the end date forward to April 30, 2021.
Moving the start date back allows costs LG Health incurred before mid-May to be reimbursed using CARES Act funds. LG Health will then, in turn, cover testing and contact tracing costs through the first part of next year on its own.
That's necessary because, by law, CARES Act funds can't be used after Dec. 30. Congress has discussed extending the deadline, but to date has not done so.
The health system's contract with the county calls for testing up to 1,000 individuals per day, and doing contact tracing for an average of 50 daily cases, but recent volumes have pushed well past those levels.
Prior to November's surge, the testing and tracing program was costing about $1 million to $1.2 million a month, said Dr. Michael Ripchinski, LG Health's chief clinical officer.
LG Health is evaluating its options for expanding testing, Ripchinski said, adding that doing so will depend heavily on finding staffing.
With the CARES Act underwriting expiring, LG Health's Covid-19 test fees in 2021 will be handled "like any other patient test," with out-of-pocket costs varying depending on a patient's insured status, deductibles and co-pays, system spokesman John Lines said.
LG Health's testing and contact tracing was originally budgeted to receive up to $24.8 million of Lancaster County's $95 million in CARES Act funds. In October, based on usage to date and projections through the end of 2020, the county and LG Health revised the amount downward substantially, estimating that the health system would in fact only need about $7.7 million.
The March to mid-May period was included in that latter estimate, so it does not need to be revised further, Commissioner Ray D'Agostino said. The amount ultimately paid to LG Health may differ somewhat, as the contract specifies that the health system is reimbursed based on the actual costs it incurs.