Pennsylvania health officials on Tuesday unveiled an updated tool to help state residents figure out their place in line for Covid-19 vaccination, but reiterated that the state has no plans to set up a single consolidated site for people to register for the inoculations.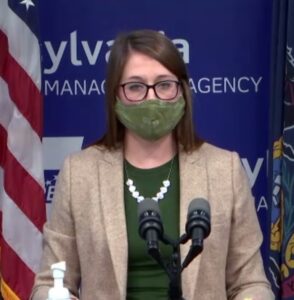 A centralized signup system wouldn't do anything to increase limited vaccine supplies, which are the chief problem statewide and nationwide, Department of Health Senior Advisor Lindsey Mauldin said during an online press briefing Tuesday.
Vaccine providers say their phone lines and online portals are jammed with people seeking appointments for vaccination. News outlets report people resorting to extreme measures to obtain a slot.
Mauldin said she understood people's frustration, and pleaded for patience.
Pennsylvania is in its Phase 1A of vaccination, open to anyone over age 65 and other adults with serious medical conditions. Phase 1A encompasses about 4 million people, who need two vaccine doses apiece. To date, Pennsylvania has received about 2.4 million doses, Mauldin said.
Nevertheless, the department continues to believe it can expand vaccination to the under-65 general public by spring or summer she said: "We still think that's a realistic goal."
About 'Your Turn'
The state is doing everything it can to boost vaccination, Mauldin said — including education and outreach efforts.
Those include the Your Turn tool introduced Tuesday. It's a replacement for the state's previous eligibility quiz.
Pennsylvanians under age 65 can use it to determine if they are eligible. If not, they can enter contact information to receive vaccination updates and be notified when they become eligible.
People without access to the Your Turn tool can call 877-PA-HEALTH to speak with a representative about eligibility. If callers are eligible, representatives will help them locate nearby vaccine providers and their contact information.
"Using the tool does not register an individual to receive a vaccine and does not guarantee a vaccination appointment," the state said.