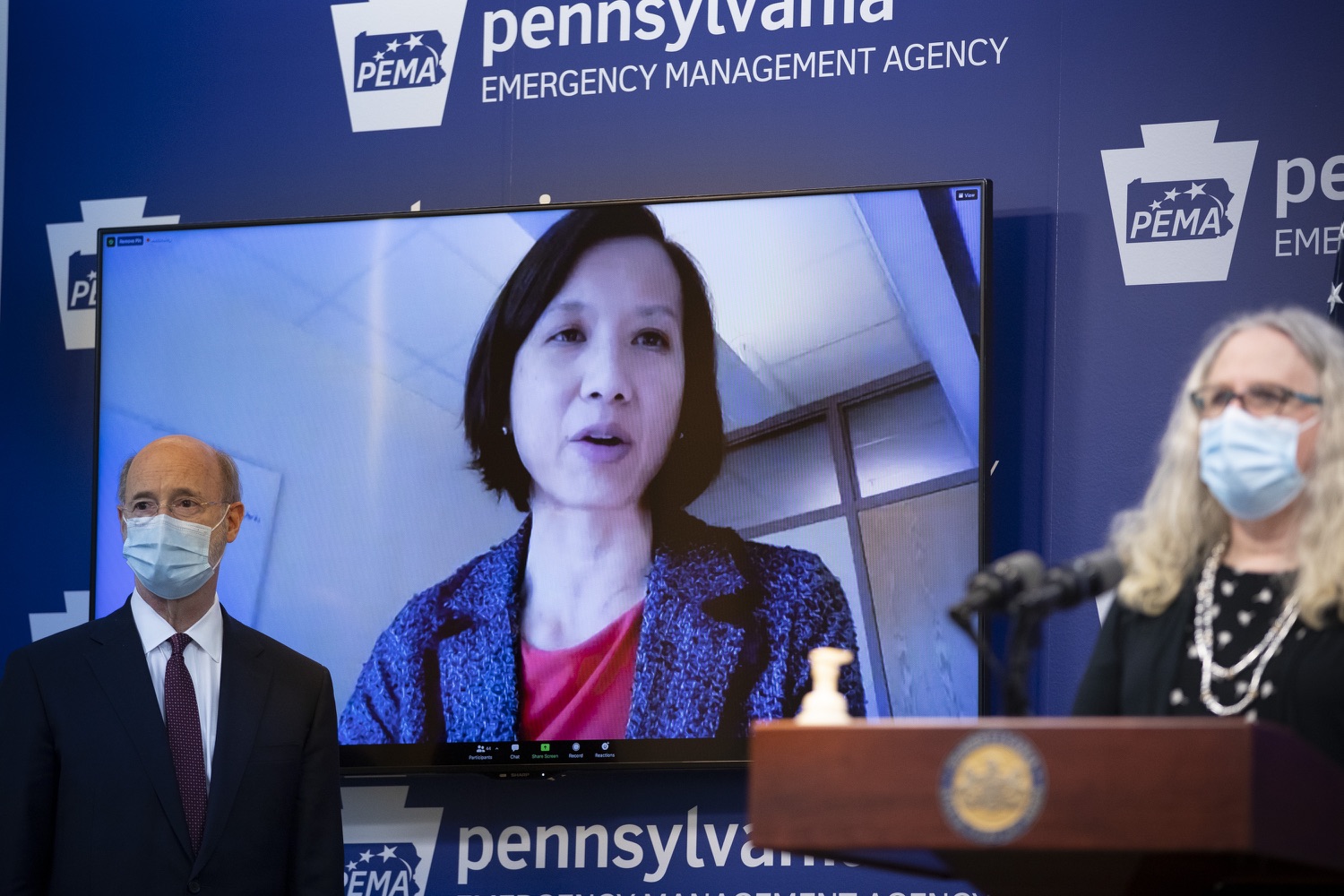 Gov. Tom Wolf joined state Health Secretary Dr. Rachel Levine and a doctor from Penn State Hershey Medical Center on Tuesday to assure Pennsylvanians that the coronavirus vaccines being rolled out across the state and nationwide are safe and effective.
"When it's my turn, I'm going to get vaccinated," the governor said. "I look forward to that day."
Dr. Cynthia Chuang, chief of general internal medicine at Hershey Medical, said the same. She touted the Moderna and Pfizer vaccines' high efficacy — in the mid-90% range, as opposed to 40%-60% for the seasonal flu vaccine — and low rate of significant adverse reactions.
Mild reactions such as soreness at the injection site, mild fatigue or headache are not uncommon with vaccines, and are being seen with the Covid-19 vaccine. Regarding more serious reactions, Chuang cited a U.S. Centers for Disease Control & Prevention finding that out of nearly 2 million individuals vaccinated, 21 experienced anaphylaxis. That's a very low rate, she and other health experts say. All 21 recovered.
The coronavirus is an unprecedented global pandemic and the vaccine is an essential tool to bring it under control, Wolf said.
Responding to U.S. Health Secretary Alex Azar's announcement Tuesday that states should expand vaccination to everyone age 65 and older, Levine said her department hadn't yet received the fedetal government's official guidance, but would implement it once it arrived.
Levine and Wolf pushed back against criticism of Pennsylvania's vaccine rollout. The logistics are challenging, but Pennsylvania is doing "a really good job," Wolf said — as well or better than other states.
The numbers publicly available suggest the state is middle-of-the-pack. The CDC's Covid-19 vaccine tracker is here: As of Tuesday, Pennsylvania had administered 2,671 vaccines per 100,000 population, 31st best among the 50 states and District of Columbia.
Levine said providers administered another 16,925 vaccines since Monday, and have inoculated at least 311,477 Pennsylvanians to date. As she has before, Levine stressed that reporting lags account for much of the discrepancies between the state's reported vaccine allocations, the doses that providers actually have in hand and available for use, and completed injections.
Information on the state's vaccination rollout is available on the Department of Health's Covid-19 vaccine page.