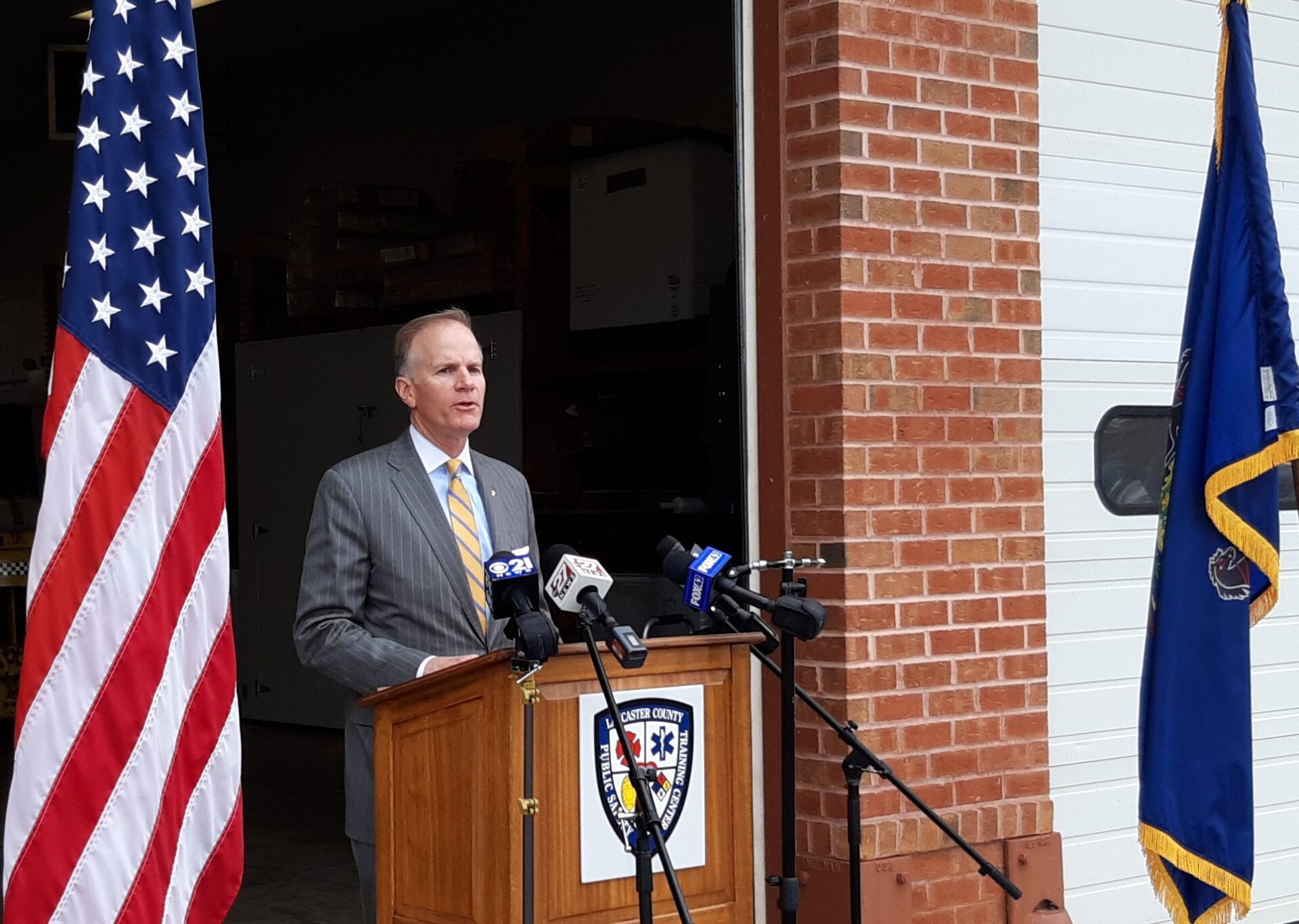 Federal law enforcement will be ready to step in if there is civil unrest here during Election Day or its aftermath, U.S. Attorney William McSwain said Monday.
McSwain is the lead prosecutor for the Eastern District of Pennsylvania, which encompasses Lancaster County. The FBI is setting up command posts "proactively" and U.S. Attorneys offices will be in "constant contact" with them, he said.
"Violence will not be tolerated," he said.
McSwain made his comments during a briefing at the Lancaster County Public Safety Training Center. He joined County Commissioners Josh Parsons and Ray D'Agostino and District Attorney Heather Adams to provide an overview of local election security planning.
McSwain said federal law enforcement is monitoring three potential election threats: overseas efforts, primarily online, to influence outcomes; domestic election fraud; and civil unrest.
The third of those, he said, "concerns me greatly," given the upheavals in major cities earlier this year. He and Adams pledged firm action against disorder or threats of violence from any source.
Adams said local law enforcement is prepared to protect "all aspects" of the election. Her office will investigate any and all complaints and refer cases to federal officials as warranted, she said.
Election resources
If you have a complaint or concern about voting:
If you suspect fraudulent activity, the following resources are available:
Lancaster County District Attorney: (717) 299-8100;
Asst. U.S. Attorney Richard Barrett, Eastern District of PA: (215) 861-8420
FBI field office: (715) 418-4000
U.S. Dept. of Justice, Civil Rights Division: (800) 253-3931
A deluge of mail-in ballots
D'Agostino said the county anticipates dealing with perhaps 120,000 mail-in ballots, a number that would have been "inconceivable" before this year.
To process them as quickly as possible — the goal, D'Agostino said, is to finish no later than the day after Election Day — officials are looking to set up a mammoth counting operation at the Lancaster County Convention Center, employing up to 150 individuals, socially distanced, to open the envelopes.
The county is being as careful as possible about maintaining security and integrity, D'Agostino said. Mail-in ballots will processed under observation by security cameras and by representatives of the candidates and parties, he said.
McSwain emphasized that elections are run by local officials, and federal officials are not involved. However, the FBI, as the primary investigator of election crime, is empowered to intervene when problems arise.
Parsons said this is shaping up to be the county's most challenging election to date for a number of reasons: New voting machines, changes to election laws and associated litigation, and the coronavirus.
Nevertheless, he expressed confidence the county would be up to the challenge.
Election Day Q&A
• Do I have to wear a mask to vote?
Masks are strongly recommended, but not mandated, according to County Commissioner Ray D'Agostino.
• Are firearms allowed at polling places?
Pennsylvania is an open carry state. Nevertheless, firearms are banned at schools and court facilities, and that ban extends to polling places at those sites. At other sites, "use common sense," District Attorney Heather Adams said. Any activity that threatens, harasses or intimidates voters is illegal under state and federal law.