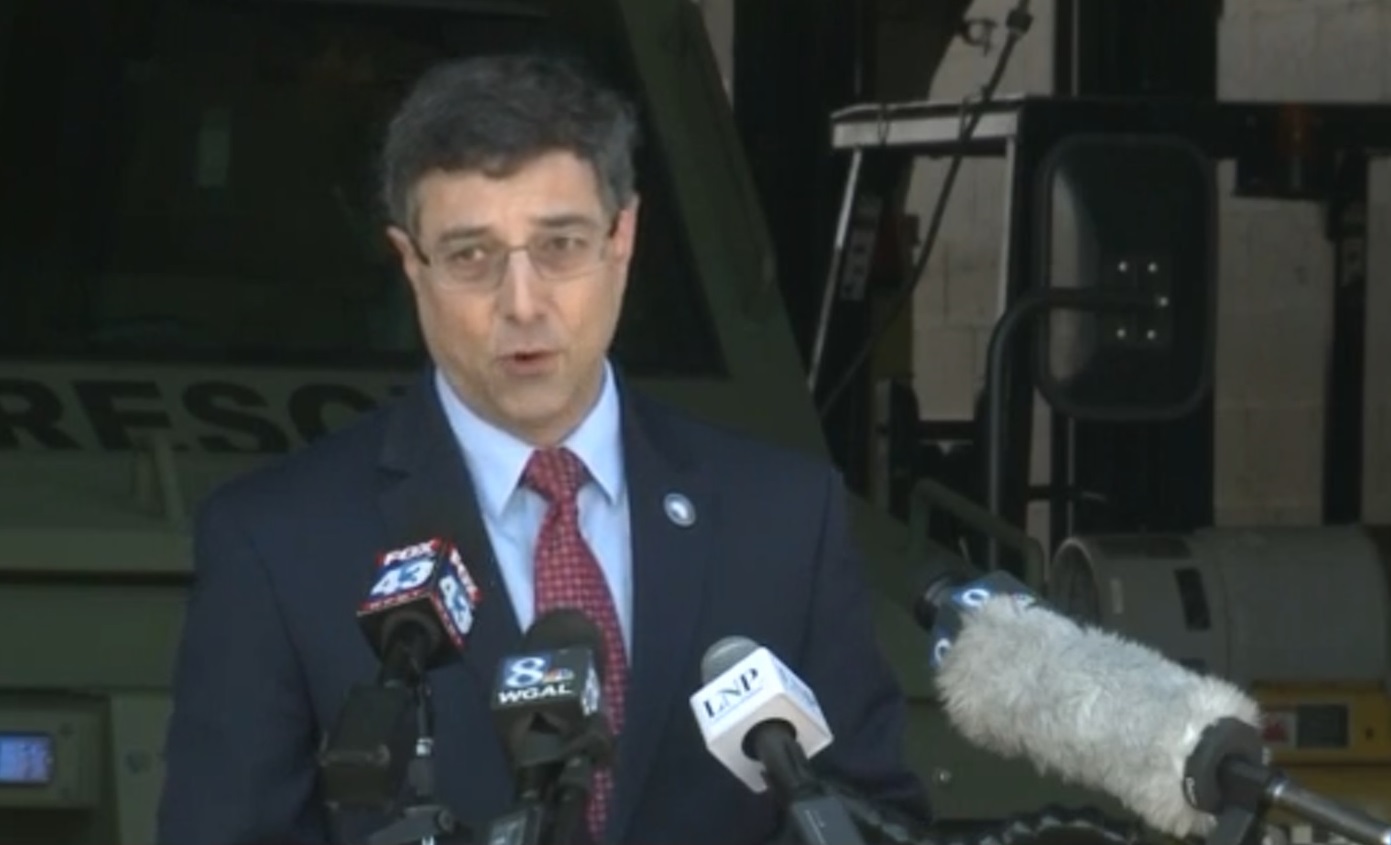 Lancaster County elected officials said Wednesday that they anticipate reopening parts of the local economy shortly, and that it can be done while safeguarding public health.
"These priorities are not mutually exclusive," county Commissioner Ray D'Agostino said at an 11:30 a.m. press conference.
Economic concerns aren't an excuse to let up on social distancing or other anti-coronavirus measures, he and his colleagues warned. On the contrary, they will be essential to successfully transition to a "new normal," they said.
As that transition gets under way, county government will continue to lead, D'Agostino said, pointing to the recent appointment of Edwin Hurston, a retired Air Force Medical Service Corps colonel, as public health emergency advisor.
Lancaster County is among those hardest hit by the coronavirus pandemic. As of Wednesday, the county had 1,326 confirmed cases and 111 deaths.
There are signs the pandemic's curve is flattening, said Dr. Michael Ripchinski, chief clinical officer for Penn Medicine Lancaster General Health, but more widespread testing and contact tracing is needed to track the virus and slow its spread.
Ripchinski noted that Hispanic individuals, who make up about 11% of county population, account for about 25% of LGH's positive tests. Officials are working hard to raise community awareness about Covid-19, "particularly in this population," he said.
Lancaster Mayor Danene Sorace said the city is eagerly awaiting May 8, the date Gov. Tom Wolf says construction in Pennsylvania can resume, and supports the economic reopening plan being developed by the Lancaster Chamber and Lancaster County Economic Development Company.
Lancaster, which faces a potential 30% revenue dropoff, furloughed 69 workers Tuesday to save money. It and other local governments will continue reaching out to federal legislators for assistance as they work to maintain essential services, Sorace said.
The federal government is pouring all its resources into combating coronavirus, U.S. Rep. Lloyd Smucker, R-11, said. But he also said it would be "next to impossible" for the feds to cover all lost local revenue.
Smucker said he was frustrated with some of Wolf's decisions and that the state's waiver program for allowing businesses to stay open has been "a disaster."
"There is no magic wand," for reopening the economy, he acknowledged, but said it's not too early to begin. He called for measures, including tax cuts, to "unleash the ingenuity of American business" and bring back the pre-pandemic economy.
Penn Medicine Lancaster General Health currently has 40 Covid-19 inpatients, Ripchinski said, of whom 16 are in critical care and seven are on ventilators. (See LGH's dashboard here)
Inpatient numbers are holding steady, which is a good sign, he said.
He said LGH is on the verge of introducing plasma therapy, in which people with severe illness from Covid-19 would receive blood plasma from recovered patients to help them battle it.
Commissioner Josh Parsons said six county employees have tested positive for Covid-19: Three prison workers, one at the district attorney's office and one in Behavioral Health and Developmental Services.