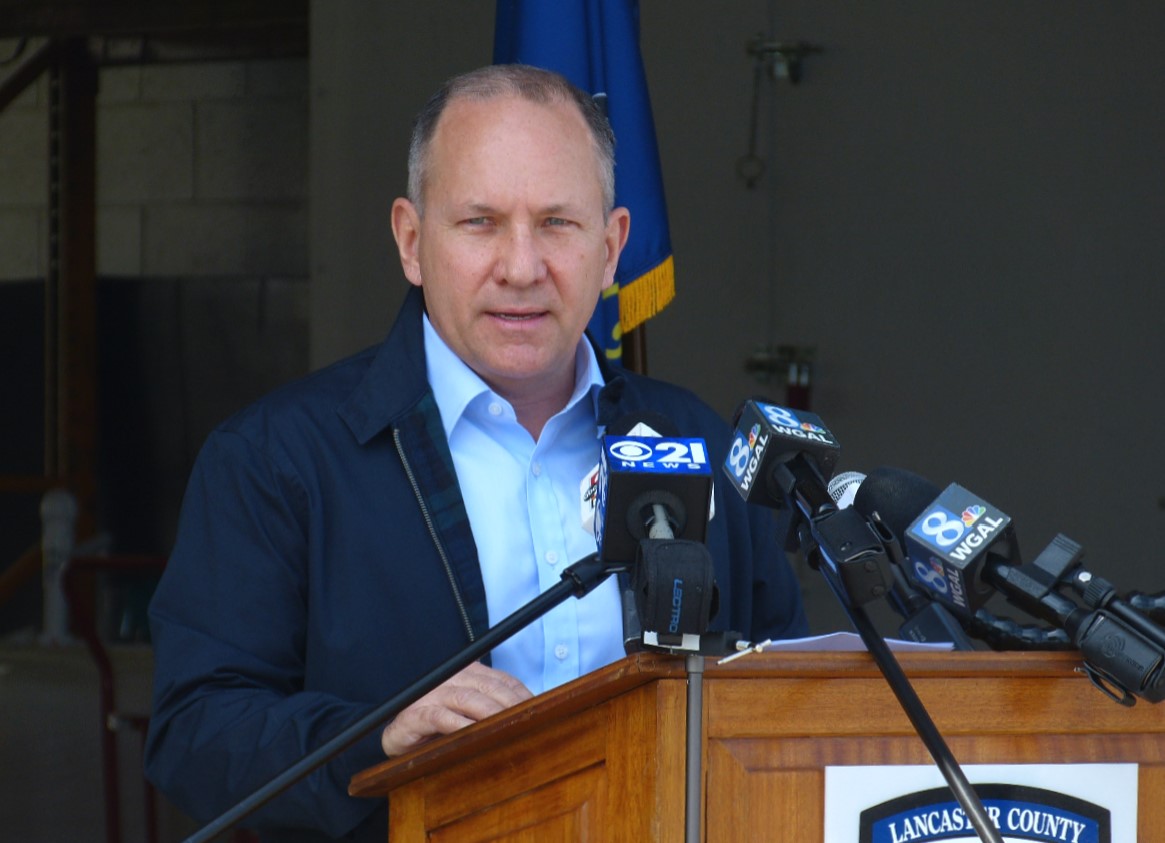 Lancaster County elected officials doubled on their criticisms of Gov. Tom Wolf's coronavirus strategy at a news conference Tuesday, contending that they are ready to begin reopening the local economy  safely but are being stymied by misguided state policy and bureaucratic bungling.
Meanwhile, Dr. Michael Ripchinski, chief clinical officer for Penn Medicine Lancaster General Health, gave the fullest local picture to date of the Covid-19 pandemic. (See related article.)
The Democratic governor's plan to open Pennsylvania calls for doing so in phases, region by region. Lancaster is part of the southeast region that includes Philadelphia and its suburbs. To reopen, regions should have no more than 50 new positive cases over 14 days per 100,000 people. Lancaster County's rate is roughly three times that.
"Is that really the right metric to follow?" asked U.S. Rep. Lloyd Smucker. Lancaster County has a large number of Covid-19 patients in nursing homes, but that, he suggested, is a different issue than whether, with appropriate precautions, restrictions on the general public can begin to ease.
"We simply cannot lock down our economy for months on end," Smucker said.
County Commissioner Josh Parsons said there's no way Lancaster could meet Wolf's target metric anytime soon. He said the appropriate metric in his view should be the availability of health care resources, such as ICU beds and ventilators.
Smucker, Parsons and Commissioner Ray D'Agostino all called for more transparency, consistency and collaboration from state government. The administration's handling of its business waiver program is a "travesty," Smucker said, and could result in businesses that could operate safely having instead to close permanently.
The three Republicans emphasized that, in their view, reopening the economy and preserving public health are compatible goals, not an either/or choice.
"We can do both and we must do both," Smucker said.
In an email, Lyndsay Kensinger, Gov. Wolf's press secretary, said the governor's team and the Department of Health have "maintained consistent contact with Lancaster County officials and will continue to do so."
Moreover, the governor's plan "has always included the flexibility to reopen by region or by county," she said.
(Editor's note: This story was updated at 1:15 p.m. April 29, 2020, to add comment from Gov. Wolf's office.)