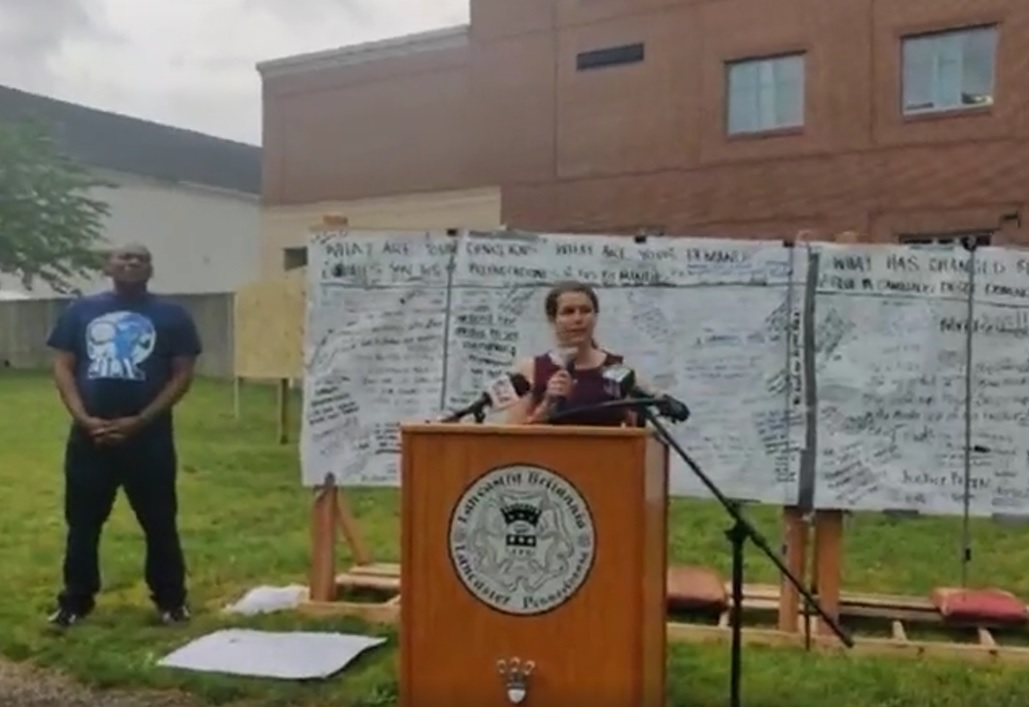 In an emotional  news conference Friday, Lancaster Mayor Danene Sorace pledged to redouble the city's efforts to improve police accountability and promote social justice.
Joined by black and Latino officials and community leaders at the corner of North Prince and East Chestnut streets — the site of a week and counting of protests over police violence, sparked by the death in Minneapolis of George Floyd — the mayor listed roughly a dozen law enforcement reforms.
They include banning choke holds, requiring de-escalation and de-escalation training and comprehensive use-of-force reporting. The majority of the policies are already in place, enacted over the past two years.
Sorace also promised anti-bias and anti-racism training would take place for all city employees, and she highlighted revitalization initiatives such as the city's federally funded lead abatement initiative.
She also announced that protesters will have a chance to meet with a U.S. senator on Monday — namely, Democratic Sen. Bob Casey. City officials have invited Gov. Tom Wolf to Lancaster as well.
Blanding Watson, president of the Lancaster NAACP, and the Rev. Roland Forbes said they stand with the protesters and their goals, and urged them to stay engaged and participate in the ongoing discussions and political activism that will be needed to bring about reform.
"If you are willing to work hard, Lancaster city is going to be a model city for every city in the United States," Forbes said.
"We want you to be a part of change," Watson said. Later, he led the enthusiastic crowd in a call-and-response chant of "No justice no peace."
City Councilman Ismail Smith-Wade-El, a regular presence in the midst of the week's protests, told the crowd never to take "no" as an answer from elected officials.
Praising protesters who helped defuse potential violence in Lancaster, he said history should remember "that everything here stayed peaceful, not because it had to, but because black and brown people decided that this is our city and that is how we wanted it."
Sorace termed systemic racism a disease, "like a cancer that has taken over our bodies."
"The grief, the anger, the rage, the pain, the helplessness, the hopelessness have poured out on these streets and streets across America," the mayor said.
City press conference, June 5, 2020
Soure: LNP + LancasterOnline