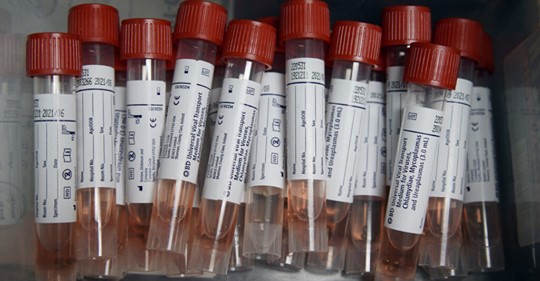 What is Robust Testing? Are the County Commissioners doing it?
When the Lancaster County Commissioners unveiled their plan to begin a partial reopening of business and community life, they emphasized the importance of "robust testing" performed throughout the county by Lancaster General Health and other hospitals.
The phrase is used frequently. Dr. Rachel Levine, state Health Secretary, has promised robust testing in nursing homes. Dr. Deborah Birx, a former county resident who, along with Dr. Anthony Fauci, advises the president, has pressed states to conduct robust testing.
What does the phrase mean? What number of tests amounts to robust? The commissioners and their medical adviser, Dr. Michael Ripchinski, have said they want to do 800 tests a day, maybe as many as 1,000. Is that sufficient?
The short answer is yes. The level of testing the doctors at LGH recommend meets and exceeds the most stringent recommendations of multiple health experts in the U.S.
Testing is critically important for two reasons. First, it helps determine where the coronavirus has spread. It gives a picture of the geographic location of cases. It locates hot spots, like nursing homes and meat processors. Second, it allows medical teams to contact the associates of those infected and warn them to seek care and isolate, stopping further spread.
So, how much testing must be done to be "robust"?
Dr. Birx, the White House Covid-19 response coordinator, said at a news briefing that the Centers for Disease Control recommends a minimum of 30 tests per thousand people per month. For Lancaster County, with 545,000 people, that means about 545 tests per day.
The Harvard Global Health Institute teamed up with STAT, a highly respected medical news site, to determine what level of testing would be sufficient to locate most infected people, assuming that about 10 percent of the population has the virus. They concluded the right number is 45 tests per thousand people per month. Two other organizations – Vital Strategies, a nonprofit headed by a former CDC director, and the Rockefeller Foundation – came up with a similar number. Applying the measure from those three groups to Lancaster County's population, health officials here should be conducting 817 tests per day.
But, because the virus is far more intense in some states than others, STAT went one step further and asked Harvard to estimate the testing requirements for each state. It did, concluding that Pennsylvania should carry out 15,075 tests per day. By that standard, Lancaster County should be conducting 641 tests daily.
In summary: the CDC recommends 545 tests per day. Harvard, Vital Strategies and the Rockefeller Foundation recommend about 800 tests a day. STAT and Harvard recommend about 640 specifically for Pennsylvania.
The County Commissioners have contracted with local hospitals to provide 800 to 1,000 tests per day. When that testing program is fully under way, it will be fair to describe it as "robust."
For more: https://www.statnews.com/2020/04/27/coronavirus-many-states-short-of-testing-levels-needed-for-safe-reopening/?fbclid=IwAR12Qqy6lFIH-1FyX-0qUVZ09TLTsZ7oGqvtEclP93IHTJh48D3d89xfwcE