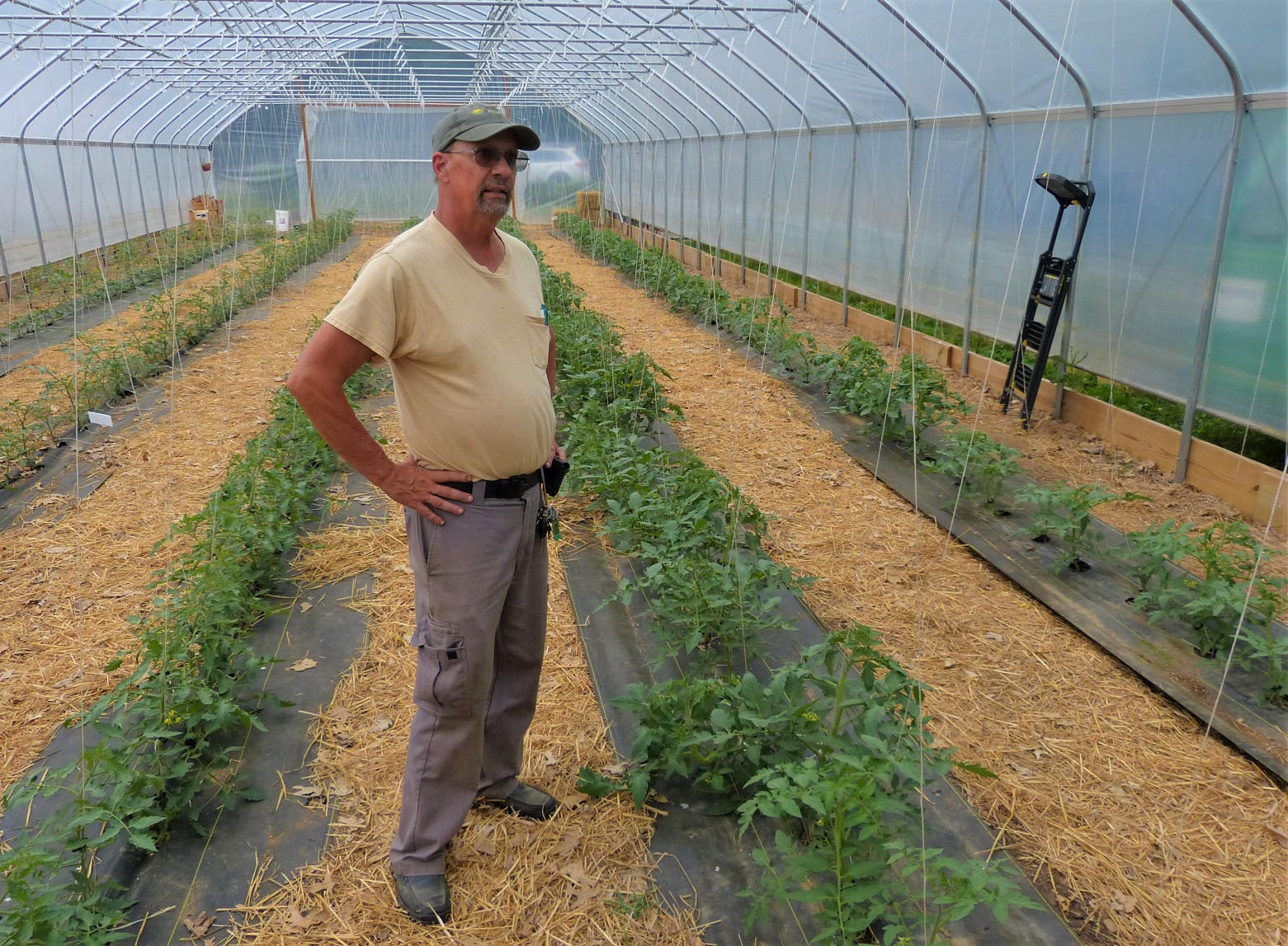 Tucked away on the north side of York is an audacious experiment in nonprofit urban farming.
"We're doing it the right way," said Bruce Manns, co-founder and manager of York Fresh Food Farms, as he gave Pennsylvania Agriculture Secretary Russell Redding a tour on Thursday.

Founded in 2016, York Fresh Food is a one-stop shop for local community agriculture. It intensively cultivates two plots of land in York city, 2 acres on Willis Road and 4 acres on Roosevelt Avenue, producing tens of thousands of pounds of fruits and vegetables a year. Its operations aren't quite 100% organic, but they're close, Manns said.
Six days a week, workers load up one or both of York Fresh Food's Mobile Produce Market vans, which set up for business at pop-up locations throughout the city.
Many of the sites are in urban "food deserts," where fresh produce is hard to come by and many residents lack cars. York Fresh Foods' business model allows it to sell at 50% to 75% below the prices you'd see at suburban supermarkets, Manns said.
Meanwhile, it offers a full slate of agricultural education programs to children and adults, and has plans in the works to relaunch York city's 4H program. It supports neighborhood gardens in the city and maintains a farm tool "library" in partnership with York's government.
It also contributes to local food banks. During the coronavirus pandemic, grant funding enabled it to offer free home delivery to low-income York city residents. Over the summer, it will provide weekly food boxes to 100 families in the York city school district.
All these initiatives stem from a deep love of agriculture and of York city, Manns said: "We're making nutritious food accessible for anyone who wants it."
Photo gallery
One of a kind
York Fresh Foods is believed to be unique in the United States: While there are other urban farms and other mobile pop-up farmers markets, it's the only organization to combine both enterprises in-house.
Agriculture Secretary Redding expressed admiration, saying the farm has "connected the dots."
"The pandemic has made one thing abundantly clear: hyper-local food production is key to addressing food insecurity, especially in urban areas of the commonwealth where food apartheids are a sad reality," Redding said.
In Redding's view York Fresh Foods has developed a "perfect model" for engaged community agriculture. He credited not only the hard work of Manns' team but the support and encouragement of local partners, including city government, other nonprofits, WellSpan Health and local schools.
Several state and federal grants have helped as well. York Fresh Foods has received two state Urban Agriculture Infrastructure grants, of $49,000 in 2019 and $15,000 in 2021. It received $13,000 through the state's Covid-19 Fresh Food Financing Initiative, which was funded through the federal CARES Act.
Established under the Pennsylvania Farm Bill, provides reimbursement grants to individuals, organizations or governments. Priorities include building partnerships, increasing scale, overcoming food deserts and promoting social entrepreneurship. Offers microgrants of up to $2,500 and collaboration grants of up to $50,000. Total funding: $1 million.
Provides one-time grants "to increase access to healthy, affordable grocery food options and to improve economic opportunities for underserved communities." Maximum grant amounts range from $15,000 for single farm vendors and urban farms to $1 million for regional supermarket chains. Total funding: $10 million.
Source: Pa. Dept. of Agriculture
The $49,000 grant allowed York Fresh Food to buy a second "high tunnel" — a large arched canopy — for growing tomatoes; a germination chamber; the tools for the community tool library; and its second Mobile Produce Market vehicle, Assistant Manager Selah Phillips said.
The $15,000 grant will allow it to build raised row beds and upgrade its tunnels to facilitate winter production, she said, while a portion will go toward expanding refrigeration capacity. The $13,000 from the Fresh Food Financing initiative went toward a storage building with hot running water, making it easier to wash produce and prepare it for sale.
Manns said York Fresh Food plans on acquiring more land to put into production. He also hopes to arrange with the York city Housing Authority to install a hydroponic farm in a building it owns next door to the Willis Road farm.
All the while, he has his eye on the bottom line: For the model to work, it has to be financially sustainable, he said. And at age 68, he knows he has to think about succession. He'd like to yield his role to someone new in two to three years, he said.
The goal, he said, "is to make it affordable and make it sustainable so we can sustain our mission and grow our mission."
It's challenging, he said, but "it's a lot of fun."