Pennsylvania's Legislative Reapportionment Commission is holding its second and final round of hearings on its proposed state House and Senate maps this Friday and Saturday, Jan. 14 and 15.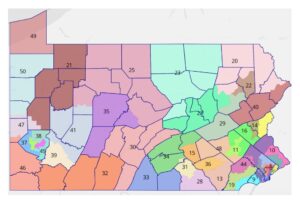 The schedule for the sessions, which will be livestreamed, is as follows:
2 to 5 p.m. Friday, Jan. 14
The second session is limited to invited presenters. As of Wednesday, registration was still open for people wishing to speak during the other two sessions.
To register, click the links above. Speakers are limited to five minutes.
Following the hearings, the commission will have 30 days to make any edits to the maps and approve the final versions.
Republicans have complained the proposed state House map is gerrymandered to favor Democrats. In comments Jan. 6, during a previous round of public hearings, commission Chairman Mark Nordenberg defended his impartiality and the commission's work.
Republican complaints are misleading, he said: The new districts are based on population shifts and overall, the map "continues to favor Republicans but not as much as the current map."
Pennsylvania's Congressional districts are redrawn in a separate process.