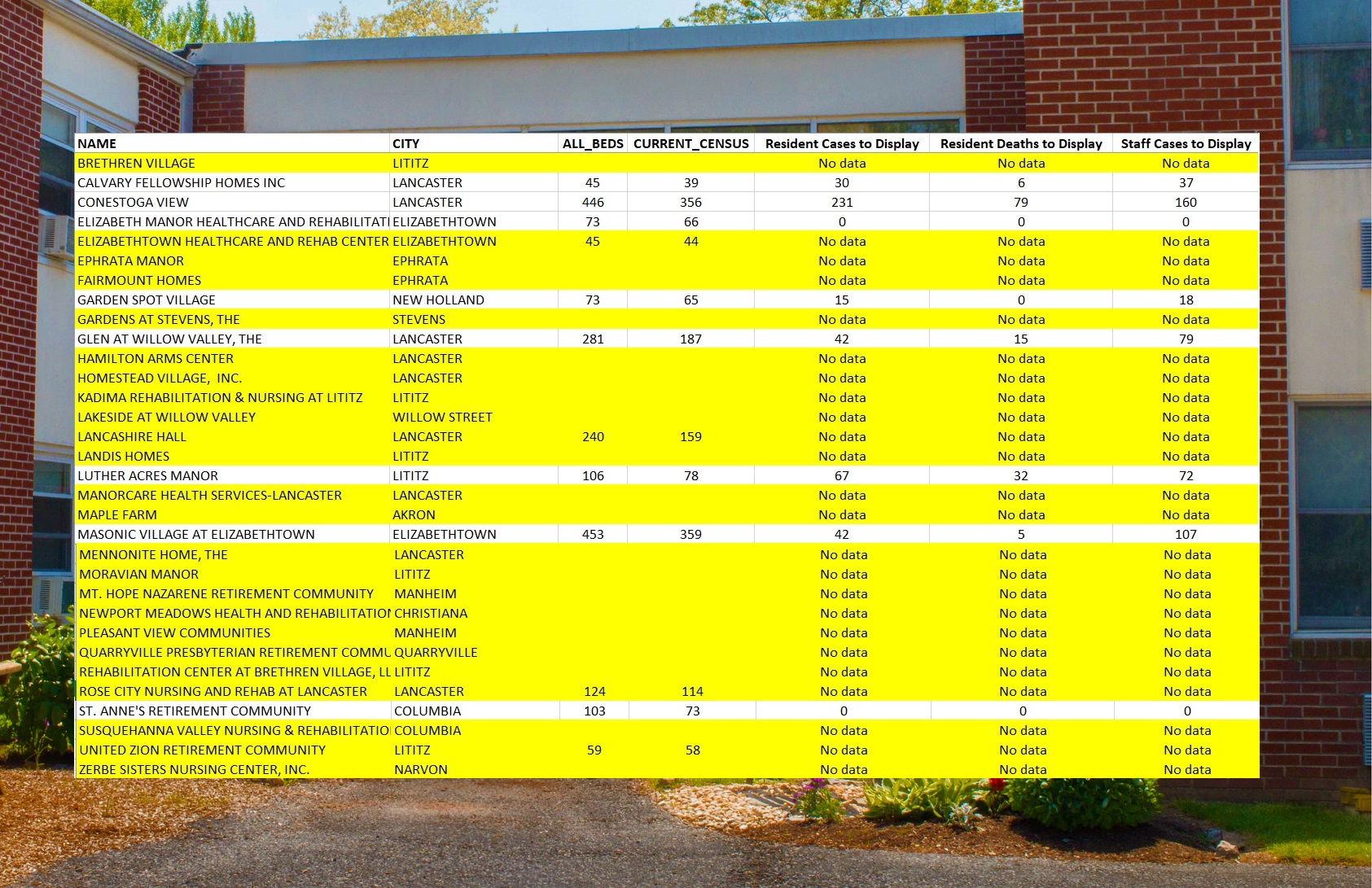 Not long after the pandemic struck in Lancaster County – 10 months ago – it became clear that the elderly, especially those with serious health problems living in group care facilities, were the primary victims of COVID-19.
The trend has remained constant. As of Thursday, 86% of the county residents who died of the virus (727 of the 844) were age 70 and above. Of those, between 60% and 70% lived in congregate care homes.
A similar pattern of deaths among the elderly exists across the state.
Knowing that the elderly living in group settings were at highest risk, it might be expected that the state Health Department would closely monitor nursing home facilities.
But to judge from the state's weekly updates on nursing homes, it has far-from-complete information on cases and deaths at most of these facilities. And, according to a spokesperson, it is not prepared to make any strong efforts to get that information.
According to state regulations, licensed homes must file weekly reports stating the number of cases and deaths among residents, and the number of cases among staff.
For Jan. 21, however, the state Health Department published data on only a quarter of the nursing homes in Lancaster County – just 8 of 32. For the other 24 homes, the department reported "no data." (For Jan. 30, there was data for 9 of 32.)
When Dr. Mary Glazier, the retired sociology professor who tracks congregate care facility data for our group, asked the Health Department for an explanation, a spokesperson replied that "the reality is, we are asking and educating the facilities to report properly, but ultimately, facilities just aren't reporting."
Department officials "have talked about enforcement action," the spokesperson said, "but haven't moved in that direction because of so many other requirements we are putting on skilled nursing facilities right now."
Glazier pointed out that personal care homes, regulated by the separate Department of Human Services, do provide data weekly. (Residents of personal care homes do not required skilled nursing care.)
The spokesman responded that, for the Health Department, publishing nursing home data is "a manual process" that can't be completed on schedule every week because "our team has been very overwhelmed with other aspects of COVID-19."
She suggested that interested persons can check back daily on the LTCF Data section of the department's website to see if the data is updated.
The department's inability to obtain data from nursing homes and provide it to the public is not a new problem. But it is a growing problem.
Glazier first noticed in September that the Health Department's website showed a handful of homes providing no data. When she asked about that lack of information, a spokesman gave several reasons.
"Some of this is facilities not reporting, some is them not reporting accurately, or reporting current data and not cumulative data as they are required," he said. "We are working with those facilities to try to determine what issues they have so we can get every facility to report."
Since then, the number of homes shown as providing no data has soared, from about four in September to 24 now.
The lack of data raises a fundamental question about the value of the Health Department's communication with the public. Presumably, it is publishing the number of cases and deaths in individual nursing homes so that family and friends of home residents can monitor conditions where their loved ones live. The information also should be of value to local officials who would stand ready to assist any home where a virus outbreak occurs.
Based on past experience, the likelihood that the Health Department's data problems will continue seems high.
When our group asked the department for data on vaccinations at county nursing homes – another important piece of information for family, friends and community leaders – a spokesperson said it was not possible to gather that information.
"We do not have that county-by-county or facility-by-facility data for congregate care facilities," she said. "This is also not something we would be able to compile at this time either."
This post is one in a series of reports on the pandemic in Lancaster County prepared by sociologist Dr. Mary Glazier, researcher Erica Runkles and journalist Ernest Schreiber. Our full data sets on daily cases, hospitalizations and deaths, as well as limited nursing home data, is available online.