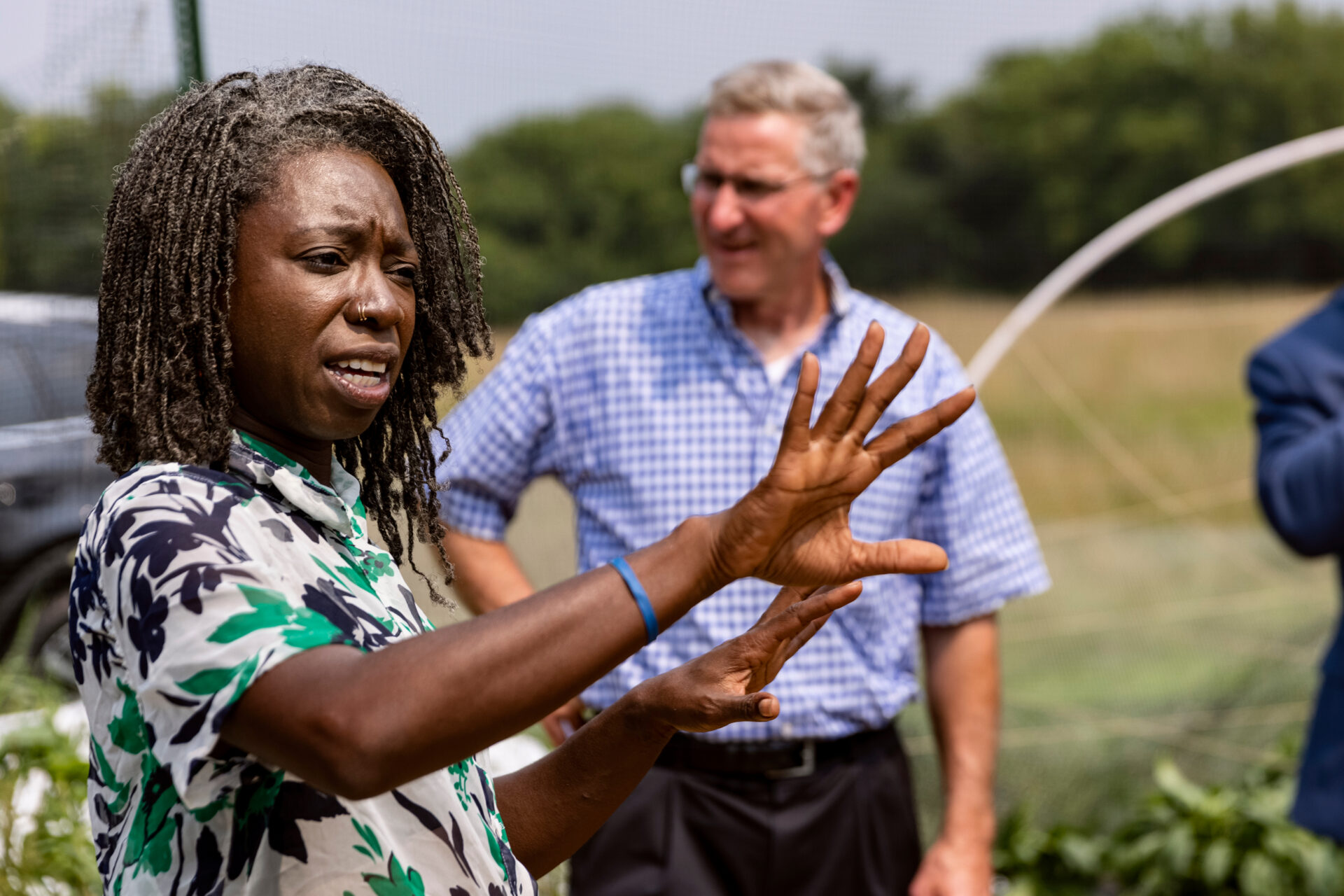 For Hawa Lassanah, food insecurity is an issue that harkens back to her childhood. Her family was struggling, and urban gardening could have eased the burden.
When the coronavirus pandemic spread in Lancaster County, it gave her insight to how this struggle still exists for many.
"I decided I was going to give back," she said. Which posed the question, "How can we make the benefits of gardening accessible for those with limited access?"
Hawa is the founder of DECA City Farms, a urban agriculture venture. "DECA" stands for "Discerning Eye Community Agriculture"; it's adapted from an earlier project, "Discerning Eye Center for the Arts." She is also the founder of Yoga for All.
Great Social Enterprise Pitch
DECA City Farms has been in the works since last year, but its formal launch dates to April 17, 2021, the day after Hawa and DECA City Farms won third place in the Great Social Enterprise Pitch.
Created by Assets, a Lancaster-based nonprofit that nurtures small-scale entrepreneurs in underserved communities, the Great Social Enterprise Pitch offers business training to people interested in launching organizations that combine a for-profit component with a focus on solving social and environmental problems.
Pitch winners receive cash prizes and in-kind donations to help them launch their ideas.
"We all love Hawa!" said Tina Campbell, Assets' CEO.
Besides the support from the Pitch, DECA City Farms has raised more than $7,700 through a Go Fund Me campaign, and has secured partnerships and support with AmeriCorps, the Lancaster City Police Department's Community Engagement Team, The Lancaster City Health Department and The Emerald Foundation, among others.
These resources allowed DECA City Farms to farm and provide space and instruction for others to grow their own food.
It is currently raising produce at the community gardens in Lancaster County Central Park. Meanwhile, it has launched a "Community Supported Agriculture" program or CSA, an initiative in which households sign up to receive a selection of produce during the growing season.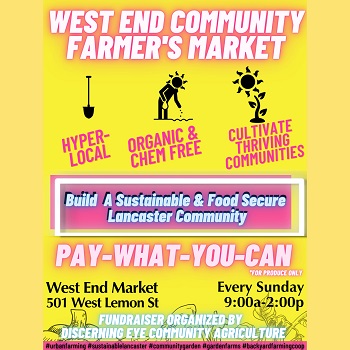 There are four tiers of membership. The CSA has proved popular enough that DECA City Farms is partnering with Sidetrack Farms in Mount Joy to meet the demand, Hawa said.
It also is selling produce every Sunday from 9 a.m. to 2 p.m. at the former Huber's West End Market. The market operation closed in early May; it is vacant and temporarily available until this fall, when its new owners plan to begin renovations for its next use.
The produce is sold on a "pay what you can" basis — if you can only afford a few cents or dollars, that's fine.
The DECA City Farms initiative encompasses the Backyard Farming Cooperative, which aims "to build resilient communities by empowering gardeners and connecting neighbors"; and DECA City Provisions, a branded food line.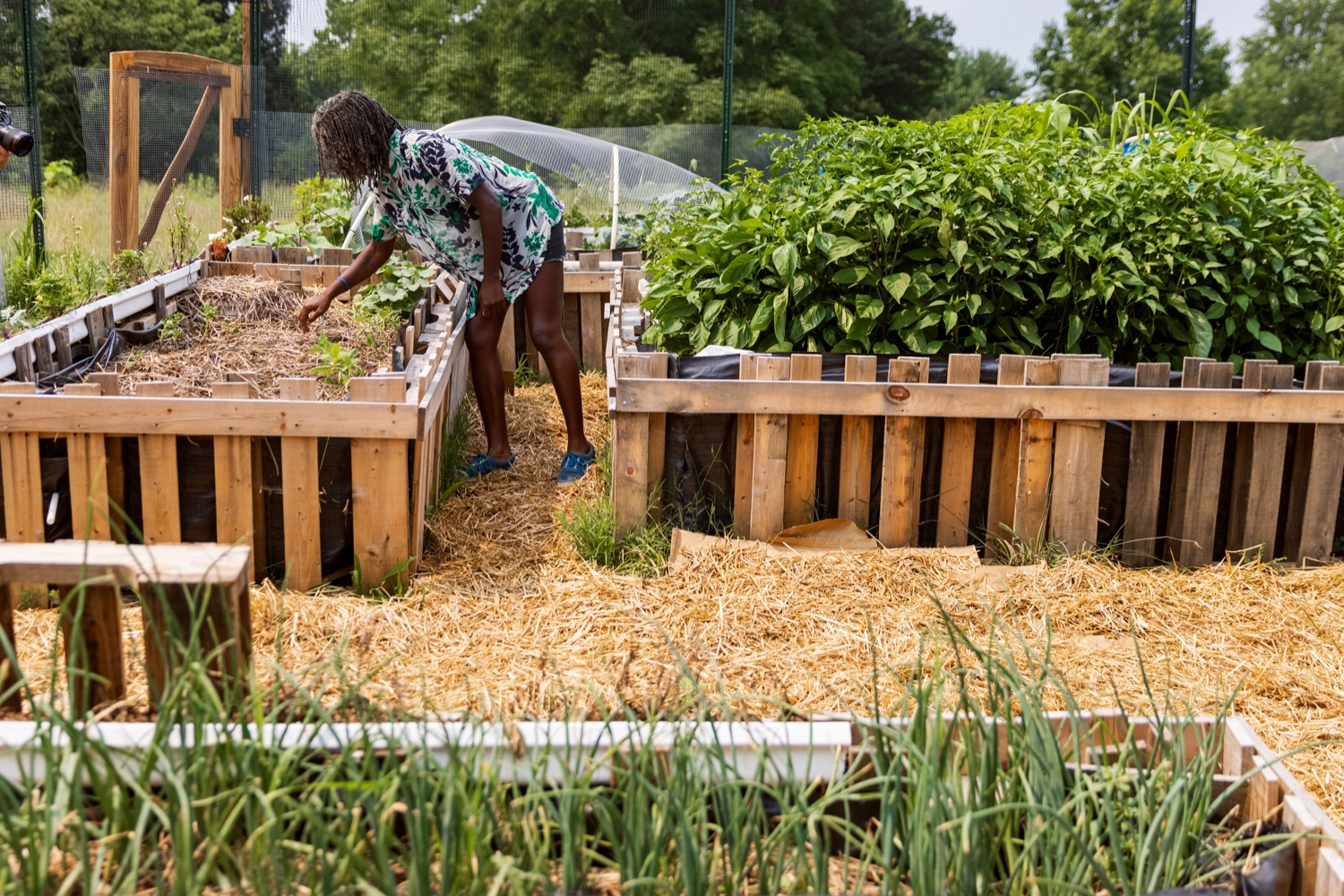 'Leapt into action'
On July 21, Pennsylvania Agriculture Secretary Russell Redding visited Hawa's community garden operation at Central Park as part of a statewide Urban Agriculture tour.
In a Facebook post, he described admiringly how Hawa "leapt into action during COVID to meet her neighborhood's fresh food needs."
"It's hard to believe, but even our most agriculturally abundant counties like Lancaster and Berks are home to food deserts," he said.
Russell told One United Lancaster that he found Hawa's story fascinating, and said he hopes she seeks an Urban Ag grant to assist with future development. It could help with such things as fencing, hoop houses, and protective structures to extend the growing season.
It could also help with water lines: Currently, Hawa and her helpers are rolling large plastic barrels over to a communal faucet, filling them, then rolling them back.
A learning process
Hawa has already learned a lot about the issues that come with urban farming: the many factors affecting produce quality and quantity; pest control; space used versus production output, as with cabbage and broccoli that take up a lot of space but yield little return; nutritional deficiencies in the soil and knowing what the right fertilizer is.
She says that a lack of knowledge allows room to learn and improve methods: "There's nothing wrong with trying it out for yourself to see—to experience it for yourself. I've experienced; I've learned my lesson."
Sometimes, the lessons learned can be rectified with solutions as simple as the use of taller beds and deploying coverings earlier on to keep out animals that view the farm as a personal salad bar.
There have been many successes, including the discovery that some vegetables, such as lettuce, will thrive when planted in a space-efficient A-frame structure; and that deadheading the first buds on pepper plants results in greater growth for the next blossoms and produces more peppers; and that using a planter irrigated from below increases yields.
Hawa pays tribute to a fellow gardener she found on YouTube, who goes by the handle ThePlantCharmer, and from whom Hawa has reaped a lot of knowledge.
Other knowledge she obtained from friends who were already into farming, and from those living in rural areas.  It is something that most drives Hawa's passion in this journey, the "melding of tradition and innovation," which she says has freed up time that might have been spent reinventing the wheel, instead of putting efforts toward moving forward and increasing production.
She emphasizes the importance of taking good notes on "when you're doing stuff, why you're doing it, the effect it had."
"It is important for me to treat it as if it's a repeatable experiment, because I do want to repeat this … in every community that doesn't have access to fresh food, or communities that would like to come together around fresh food."
One more crucial lesson that Hawa has taken from her work so far is the importance of communication and the power of asking for help. By telling friends in the restaurant, yoga, and co-op worlds what she was considering, she has discovered a wealth of information, plus support from those already in the game.
"We've learned so much in a short amount of time," she said. "This is what happens when people get together."