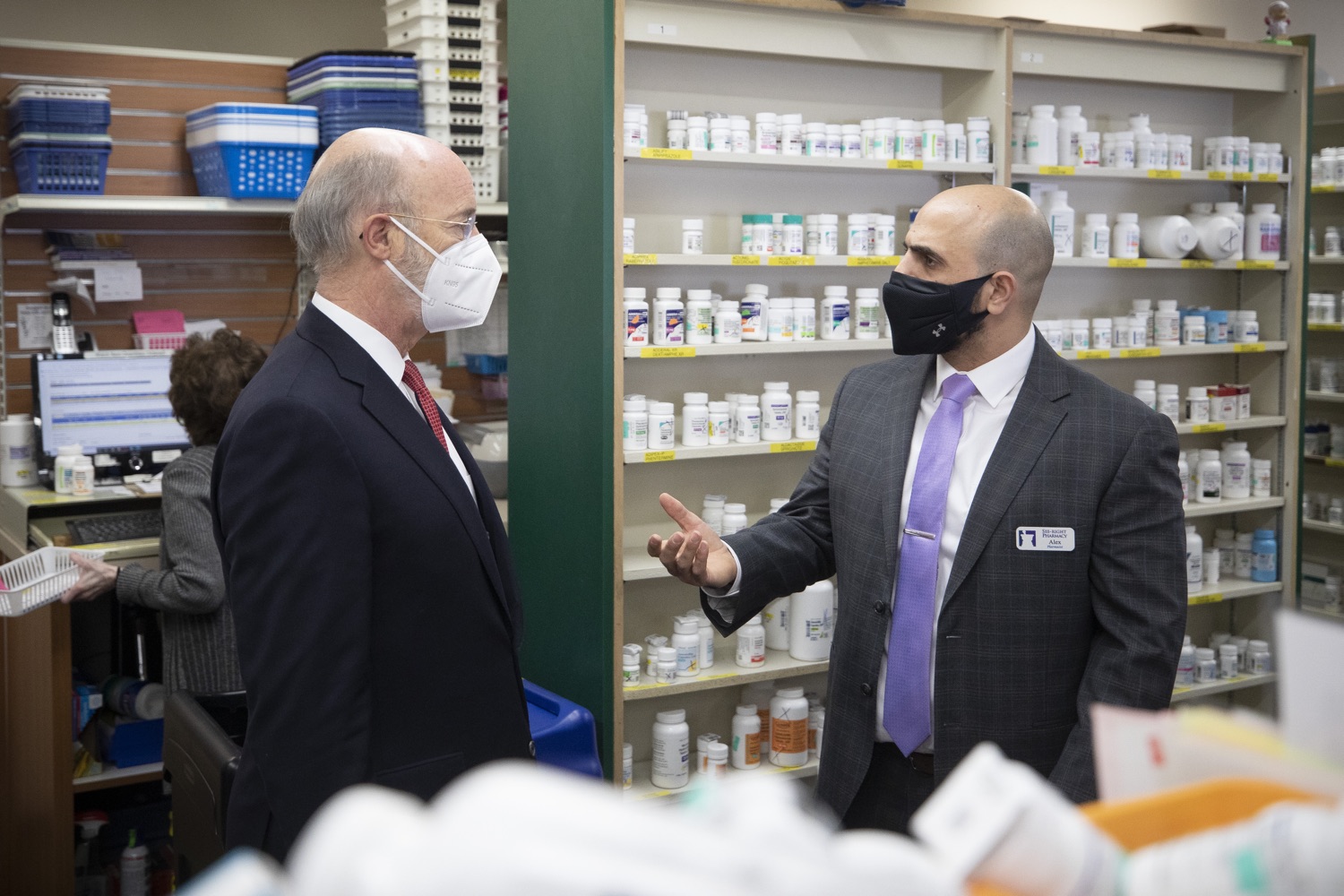 Pennsylvania is counting on local grassroots organizations to help it overcome Covid-19 vaccine hesitancy and reach vulnerable populations, Gov. Tom Wolf said Thursday.
In terms of scaling up vaccination, "Pennsylvania is doing really well," Wolf said during a press briefing at See-Rite, a neighborhood pharmacy in Harrisburg.
Nearly 45% of the population has received at least one dose of the vaccine, and 27.4% of Pennsylvanians are fully vaccinated, ahead of U.S. averages. But there's still a long way to go to reach herd immunity, Wolf said.
"The vaccine is what's going to keep the pandemic from expanding further in Pennsylvania," he said.
Wolf visited See-Rite to promote the state's vaccine access and equity initiatives. Thanks to local community ties and the trust it has built up, the pharmacy has been able to administer more than 2,000 doses of vaccine since late January, 80% of them going to minority populations.
Dan Jurman, executive director of Pennsylvania's Office of Advocacy and Reform, heads the racial equity subcommittee of the state's vaccine task force. He said his team is working with the Department of Health on technical support and grant opportunities for grassroots community partnerships devoted to vaccinating underserved populations. More details will be coming soon, he said.
Wolf acknowledged that many Pennsylvanians seem either uninterested in or opposed to being vaccinated, due in part to the politicization of the pandemic over the past year.
But he said the state is undaunted, and is planning marketing efforts and partnerships aimed at overcoming such reluctance.
"I'm not resigned to anybody not getting a shot," he said. "We really need to do everything we can."