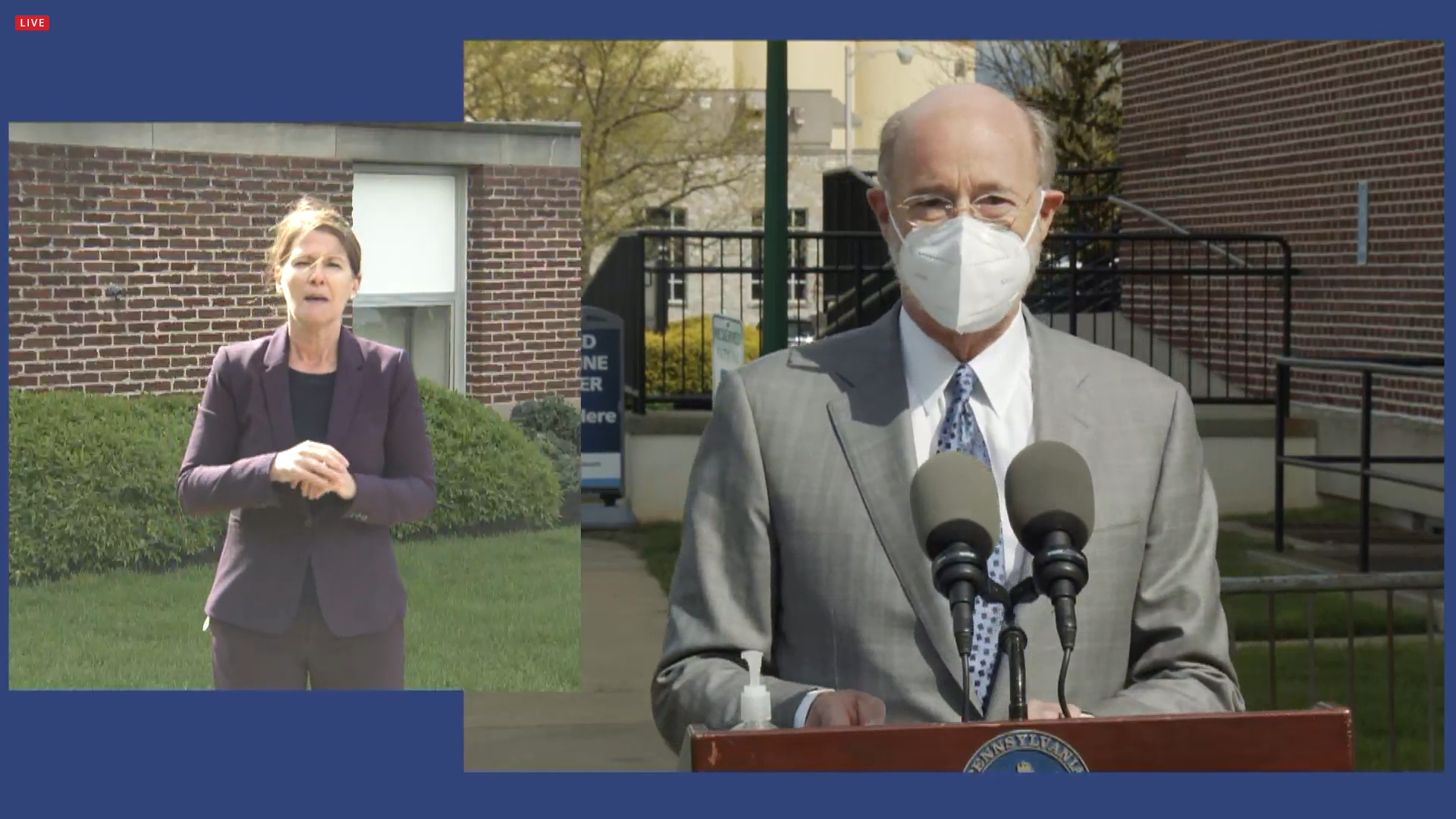 Gov. Tom Wolf is getting his first Covid-19 vaccine shot on Monday, and he encourages all Pennsylvanians to follow his example.
"These vaccines are the way we can fight back" against the coronavirus pandemic, the governor said Friday during a press briefing at Penn State Health's Dauphin County community vaccination center in Hershey. "This is the key to our future."
To date, with 6.7 million vaccines administered, 1.87 million Pennsylvanians are partly vaccinated and 2.55 million are fully vaccinated, according to the state's vaccine dashboard. Pennsylvania ranks No. 10 among states on the New York Times' dashboard for first doses administered and No. 1 among the 10 largest states.
But there are concerns about the state's ability to maintain momentum. Wolf, acting Health Secretary Alison Beam and acting Physician General Dr. Denise Johnson all said they are worried about vaccine hesitancy and are eager to find ways to overcome it.
Vaccine providers are seeing some appointments go unfilled. And the fact that only 53% of nursing home staff members have been willing to get vaccinated, despite being on the front lines of the pandemic and seeing the damage Covid-19 can wreak, shows "how far we have to go," Beam said.
Johnson said the state will launch an extensive media campaign this month.
Penn State's Dr. William Curry said the temporary halt in use of the Johnson & Johnson vaccine shouldn't deter people from vaccination.
Six women experienced blood clots that may be related to the vaccine; one has died. But as Curry pointed out, not only is it unclear whether those six cases, out of 6.8 million J&J vaccine recipients, were due to the vaccine; they must also be weighed against Covid-19 itself. Blood clots are a common symptom of the disease, contributing to its death rate and to the ongoing cardiac, pulmonary and neurological complications suffered by Covid "long-haulers."
"Getting vaccinated is critically important," he said.
Wolf said he will be vaccinated at a federally qualified health center in York — presumably Family First Health, which operates a vaccination clinic at its George Street Center. He said he doesn't know whether he will receive the Moderna or Pfizer vaccine.
At age 72, Wolf falls within Pennsylvania's eligibility Phase 1A, which has been open for months, but the governor said, "I didn't want to butt in line."
Wolf tested positive for Covid-19 in December, but reported no symptoms. He self-quarantined until several negative tests indicated he was no longer a carrier.
Beam said the state had planned to use the J&J vaccine for special initiatives targeting certain categories: Prison guards and inmates; staff at certain Department of Human Services facilities; and food and agricultural workers.
Those efforts are on pause until the Centers for Disease Control and Prevention meets to review the J&J data next Friday, she said. In the meantime, the Health Department is working on backup plans to use the Pfizer and Moderna vaccines for those initiatives if the J&J vaccine remains off limits.