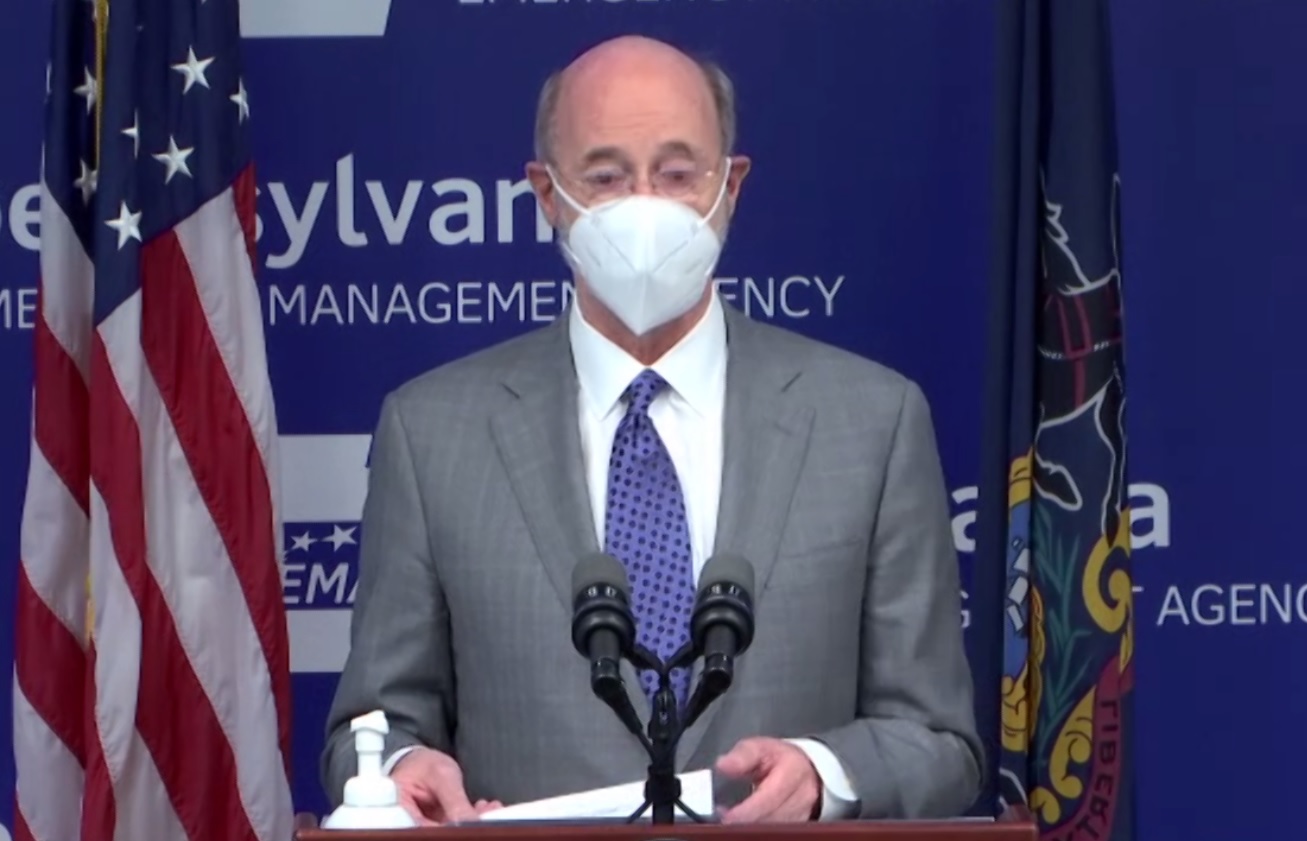 Pennsylvania will use its allocations of the newly approved Johnson & Johnson single-dose Covid-19 vaccine to inoculate teachers and school staff, and those who work with younger children will be among the first in line, Gov. Tom Wolf announced Wednesday.
Vaccinating teachers will allow students across the commonwealth who are learning remotely to return to school, Wolf said. That will not only foster their intellectual development and their social and emotional growth, but will ease the burden on parents who have struggled to balance family and work commitments during the pandemic, Wolf said.
The state is receiving an initial shipment of 94,000 J&J vaccine doses, plus another 30,000 doses being routed through the federal government's pharmacy partnership.
Pennsylvania has a little more than 200,000 teachers and support staff working at public schools and charter schools, according to Department of Education data. Initially, individuals working with elementary education students, students with disabilities, and English learners will have priority.
The initial will run parallel to the ongoing effort to vaccinate individuals in Pennsylvania's Phase 1A — adults over 65 or who have serious health conditions — using the two-dose Moderna and Pfizer vaccines.
The decision to direct the J&J vaccine toward educators was made by the Wolf administration in consultation with the state's Covid-19 vaccine task force, which includes representatives of the state House and Senate Republican and Democratic caucuses.
"We need to be able to get our kids back to school and continue to prioritize our senior citizens with the Pfizer and Moderna vaccines," said task force member Sen. Ryan Aument, a Lancaster County Republican. "This plan allows us to accomplish both goals simultaneously to move our students, families, communities, and our economy forward and beyond the pandemic."
The plan calls for Pennsylvania's 28 intermediate units, known as IUs — a network of regional educational administrative and support agencies — to help coordinate the vaccination program and serve as hubs.
There will be at least one vaccination site per IU region. AMI, a third-party provider, will administer shots, while the state's National Guard will assist with logistics.
Meanwhile, the state will work with the federal pharmacy partnership to ensure child care workers and educators at schools not affiliated with IU's also have access to vaccination.
With the follow-up J&J vaccine shipments the state is expecting, all educators who want a vaccine should be able to get one by early April. Allowing for a couple of weeks for the buildup to full immunity after receiving the shot, that suggests complete vaccination for educators should be attainable by roughly the third week of April, Wolf said.
Lancaster County is served by Lancaster-Lebanon IU13. In a statement, Executive Director Brian Barnhart said the IU "stands ready to serve and support this important work in every way possible."
He said the IU, based at 1020 New Holland Ave. will serve as a vaccination site and will "provide facility support and assistance as may be needed" to AMI and the National Guard.
Wolf said IUs are well positioned to understand schools' scheduling and logistics needs, so using them makes sense, as opposed to trying to deploy vaccine to 500 separate school districts.
The J&J vaccine's less stringent storage requirements — it does not have to be kept at extremely cold temperatures — and the fact it is a single dose makes it advantageous for vaccinating educators, an effort in which time is of the essence, Wolf said.
While the J&J vaccine is less effective in preventing Covid-19 infections altogether than the Pfizer and Moderna vaccines, it is comparably effective in preventing serious illness, hospitalization and death.
"All three are effective," said task force member Rep. Bridget Kosierowski, D-Lackawanna, who is a registered nurse.