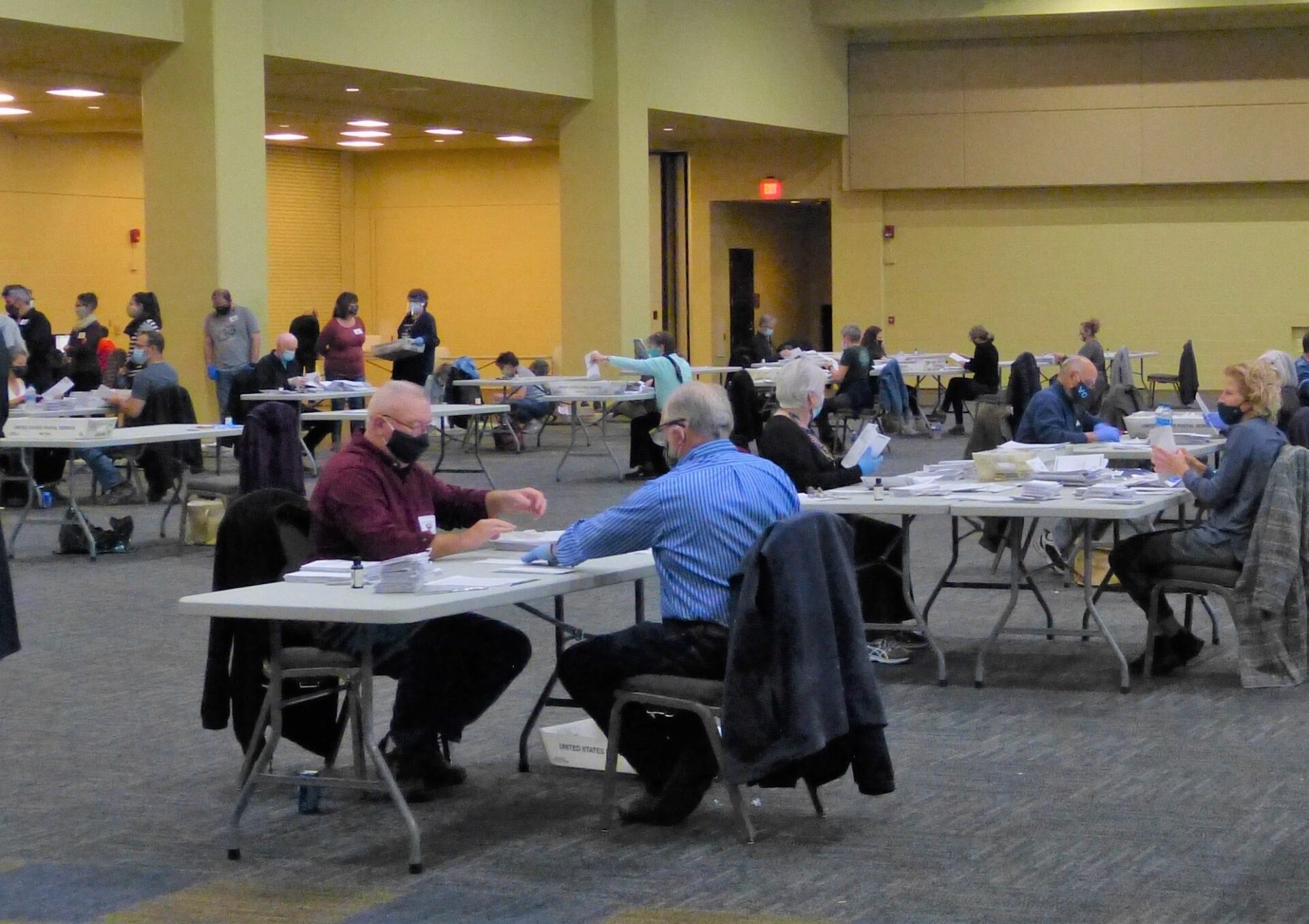 Having wrapped up the bulk of its ballot counting, Lancaster County is now turning to a controversial remnant.
As of early Friday afternoon, Lancaster County had received 561 mail-in ballots that arrived after 8 p.m. on Election Day, Nov. 3, according to Commissioner Ray D'Agostino. (Update: In a subsequent Facebook post later Friday, Commissioner Craig Lehman said the number was now 630.)
"As previously stated, these ballots will be counted unless instructed otherwise by the U.S. Supreme Court," D'Agostino wrote in an update on his Facebook page.
The Pennsylvania Supreme Court ruled that, due to the coronavirus pandemic and concerns about slow mail delivery, otherwise valid mail-in ballots received by 5 p.m. Friday, Nov. 6, should be canvassed and counted. Republicans and the Trump campaign want the U.S. Supreme Court to reverse that ruling.
On Tuesday, D'Agostino said Lancaster County would temporarily hold off on counting those ballots in case the Supreme Court steps in.
Pennsylvania's Department of State has since recommended dividing the ballots in question into nine categories in order to account for possible rulings without compromising election integrity or causing delays, D'Agostino said, adding that the county's election vendor has advised canvassing them over the weekend and counting them next week.
Meanwhile, about 6,700 provisional, military, overseas and federal ballots remain to be processed and counted. They will be completed before the late-arriving mail-in ballots, D'Agostino said.
"The bottom line is that it has not been a matter of whether to count them, it was a matter of how and when based on changing guidance from the DOS due to concerns related to a possible U.S. Supreme Court decision," the commissioner wrote.
Tuesday's turnout in Lancaster County was a record 79%, D'Agostino noted, besting the previous record of 74% in 2016.
Lancaster County election staffers have processed around 280,000 ballots, including more than 90,000 mail-in ballots. The deadline for the completing the count is this coming Wednesday.
'Curing' ballots
Separately, commissioners Chairman Josh Parsons drew attention to a lawsuit filed this week in Commonwealth Court, challenging the constitutionality of "curing" defective mail-in ballots — for example, ones lacking a required signature.
Pennsylvania's State Department advised counties to let parties know when voters' ballots were rejected, so the voters could receive provisional ballots. While some counties complied, others did not, including Lancaster County.
The suit says the department's guidance contradicted state law, and that the mix of responses resulted in the unconstitutionally disparate treatment of voters.
"[N]either the PA election code nor court opinions" allow ballot curing, Parsons wrote on Facebook. "You will likely hear much more about this issue in the days and weeks to come."
On Friday, a judge ordered the provisional ballots separated, but denied the petition to have them thrown out.