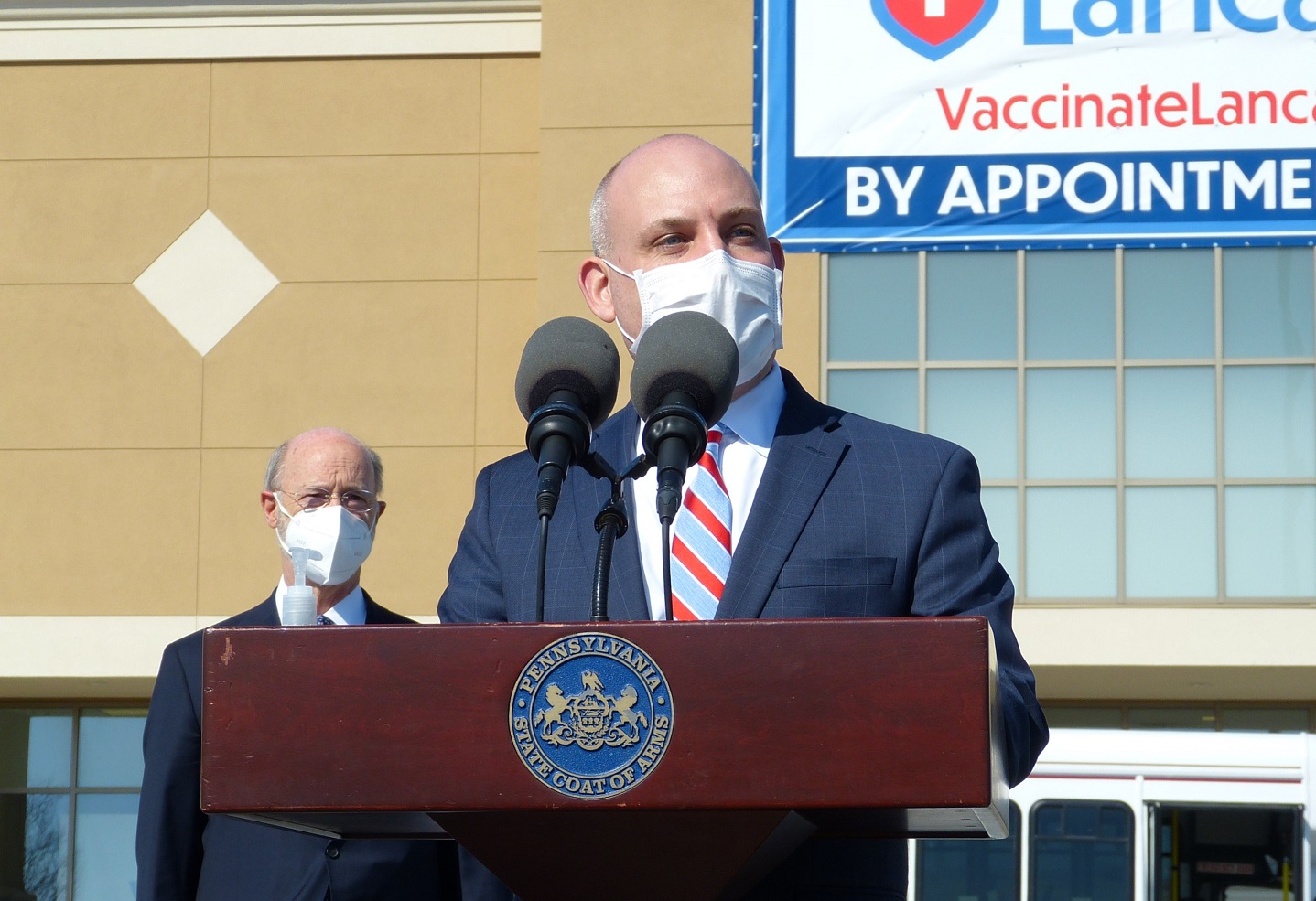 The plan for the next few weeks at the Vaccinate Lancaster Covid-19 community vaccination center at Park city is simple, Dr. Michael Ripchinski said.
"We're going to continue to push as hard as we can," he said.
Ripchinski, chief clinical officer at Penn Medicine Lancaster General Health, is the director of the vaccination site, which occupies 100,000 square feet at the mall, a space that was formerly home to the Bon-Ton department store.
LG Health is lead health care partner in the Vaccinate Lancaster Coalition, which includes county government, three other health systems and the Lancaster City & County Medical Society.
The center, which opened March 10, initially had more would-be patients seeking appointments than it had vaccine doses to give them.
But the situation has reversed in recent days. Last week, the center ordered 20,600 first doses, but administered only about 6,000. This week, it ordered just 3,500 first doses.
With thousands of available appointments are going unclaimed, there is talk of winding down operations ahead of schedule and closing the center in early June, rather than June 30 as had been planned.
In an interview with One United Lancaster, Ripchinski said no decision has been made on a closure date.
"It just really depends," he said, adding that the coalition and the center's staff would prefer to serve the community through the end of June.
To that end, he said, "we're looking for creative solutions to keep the first-dose rates as high as we possibly can."
That includes reaching out to community organizations and business organizations such as the Lancaster Chamber; along with schools (vaccines can be administered to ages 16 and 17 with parental permission) and universities.
Walk-ins increasing
This past Sunday was Super Sunday, with $5 Starbucks gift cards for the first 100 walk-ins and prizes raffled off throughout the day. It attracted more than 150 walk-in patients, coalition spokesman Brett Marcy said.
Another 200 showed up on Monday — an encouraging sign, Marcy said. It's hard to tell what role convenience plays in people deciding whether to be vaccinated or not, but the upward trend in walk-ins suggests that the center's decision to eliminate the necessity of an appointment is paying off, he said.
This Friday is College Day, with 15 institutions from across the region participating.
Ripchinski noted that the volume of second doses — corresponding to first-dose volumes of earlier weeks — will remain strong into mid-May.
The rate of adverse reactions has been low, he said. Most have involved psychosomatic symptoms such as a stress reaction provoked by anxiety over having a shot, and were resolved quickly through deep breathing and other stress reduction techniques. A handful of people have required an epi-pen injection or transportation to LGH's emergency room for evaluation.
Ripchinski pointed out that the community vaccination center is one component of a larger countywide strategy that includes other providers, targeted clinics and other initiatives.
The community vaccine center's inventory has mostly dispensed Pfizer vaccines, plus a few thousand doses of Moderna in mid- to late March. It has not offered the Johnson & Johnson vaccine.
Asked about vaccine hesitancy, Ripchinski said "reasons vary." People can be influenced by social media, by misconceptions about the science, or by fear of potential side effects.
"That's why as leaders in the community, we need to offer that assurance, reduce some of the fear, uncertainty and doubt that people may have," he said.
Vaccinate Lancaster: Registration
To register online for an appointment at Lancaster County's community vaccination center at Park City Center mall, visit VaccinateLancaster.org
To register by phone:

First dose: Call (717) 588-1020
For a second dose: Call (717) 588-1026
Call center hours are 7 a.m. to 5 p.m., M-F; and 8:30 a.m. to 12:30 p.m. Saturdays
The community vaccination center is open from 8 a.m. to 6:30 p.m. daily.