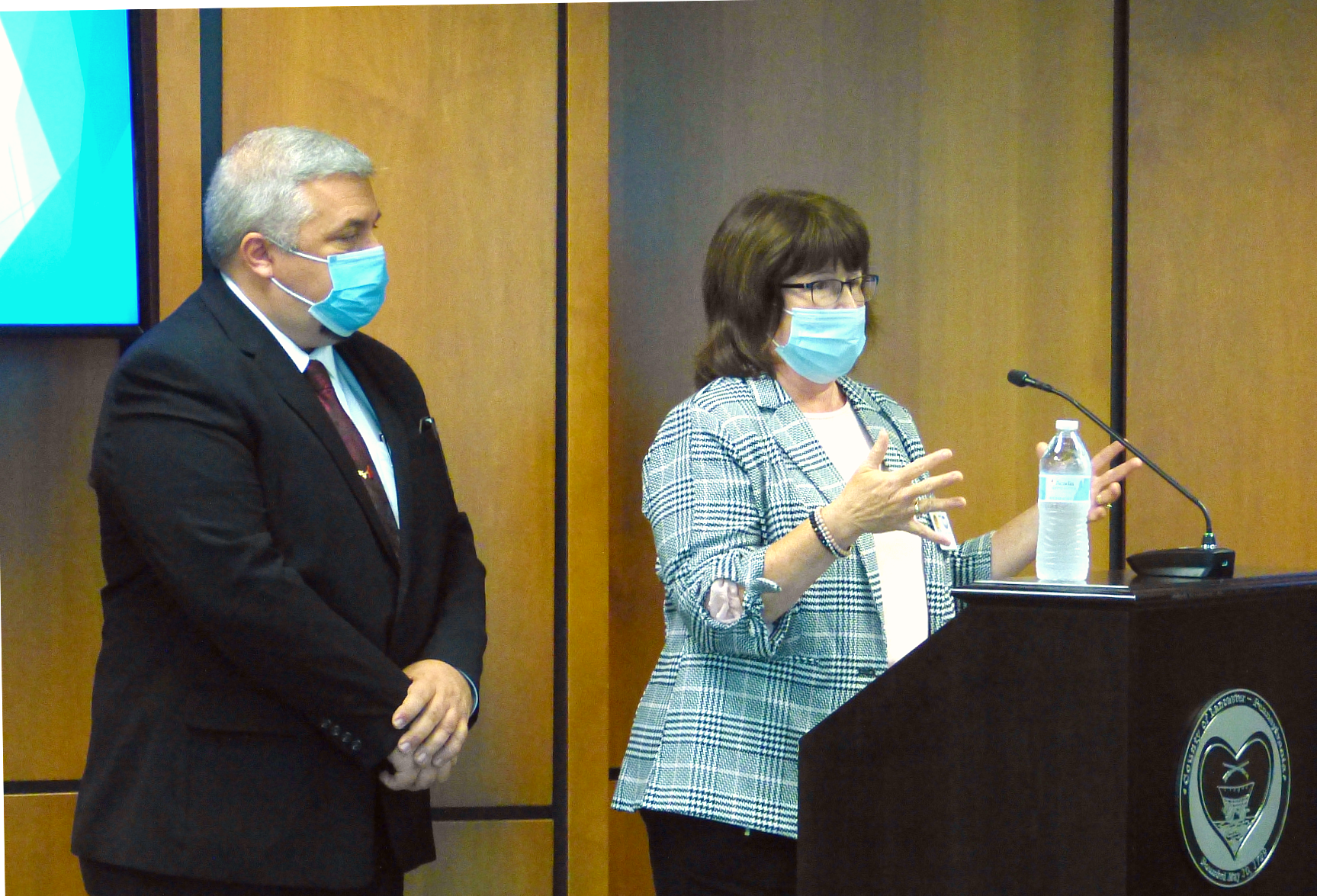 Lancaster County's commissioners plan to vote later this month on a proposal to buy 75 acres of land just south of Lancaster city for a new prison, a move that officials and advocates alike said is long overdue.
The envisioned purchase, which would cost $3 million, was introduced during Wednesday's regular meeting. It will be discussed at two more meetings before a third meeting and vote on May 25.
Commissioner Josh Parsons stressed that "this is a proposal only." County engineer Mark Lauriello of Rettew said that building and opening a new prison will take a minimum of four years, even assuming everything goes as quickly and smoothly as possible.
He said the site could readily accommodate a prison with around 1,200 beds, potentially expandable to 1,500.
Parsons said it's far too early to hazard a guess as to the cost of a new prison. Previous estimates have ranged from $100 million to as high as $200 million.
Family farmland
The site in question is 100 Greenwood Ave., a 75 acre parcel just south of Lancaster city in Lancaster Township, next to Lancaster County Central Park.
It is owned by Clyde and Shirley Kreider of Washington Boro, according to county records. Lauriello said the Kreider family raises corn there and uses the property for recreation. To enable access, the county would also buy an adjacent 3.1 acre property owned by the Fraternal Order of Police.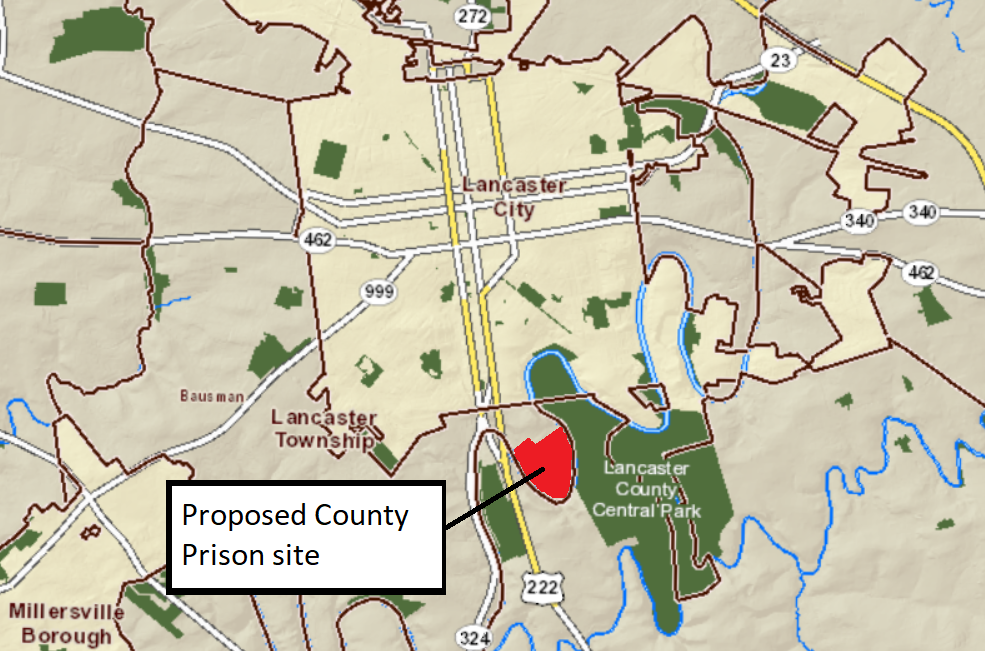 All three commissioners indicated they favor moving ahead with building a new prison.
Parsons said it will save money over the long run. He and Commissioner Ray D'Agostino said they believe it can be built without incurring tax increases.
Lehman said he's been pushing for a new prison since at least 2009, and urged his colleagues not to delay further.
Existing prison outdated, cramped
It has long been conceded that the existing prison at 625 E. King St. in Lancaster is functionally obsolete. Its familiar "castle" facade dates to 1851, though that portion of the facility has not been used for the past eight years, Warden Cheryl Steberger noted.
With a capacity of 1,085 inmates, the building has enough room to house its current population (a little under 700), but its cramped kitchen, offices, activity rooms and other auxiliary spaces are utterly insufficient for the uses they're being put to, she said. Its mechanical systems are old, necessitating constant maintenance, and it has no air conditioning, which leads to more unrest during the hot summer months.
At less than 5 acres, there is no space for expansion on its site, and in any case, the cost of renovation or rebuilding would exceed "any logical measure of a reasonable return" compared with building from scratch, Steberger and Bob Devonshire, county director of facilities, said.
Jean Bickmire, president of Have a Heart for Persons in the Criminal Justice System, said the group is "excited and delighted" at the prospect of a new prison and looks forward to being part of the discussion as plans move forward.
Discussion timeline
There will be three opportunities for public discussion and comment on the county's proposed land purchase for a prison before the county commissioners' scheduled vote.
May 20: Prison Board meeting: Follow-up discussion and recommendation
May 24: Board of Commissioners Work Session: Follow-up discussion
May 25: Final discussion and vote on purchase
Search process delayed
A committee was set up in January 2020 to explore options for a new prison site, but its work was delayed by the coronavirus pandemic, D'Agostino said. Things started up again in earnest last fall.
The county was looking for a suitable site within five miles of the courthouse. A group of 250 candidate parcels was whittled down to a short list of nine that met the county's criteria; of those, the Kreider property clearly stood out, Lauriello said.
It is bounded on three sides by the Conestoga River, but about 45 acres sit above the 500-year flood plain, more than enough for a prison, he said. The riverbank already has a well-developed riparian buffer of trees and thick vegetation, and that won't have to be disturbed.
D'Agostino said: "I do believe this is the ideal site."
The commissioners said they welcome public input as they weigh the proposed land purchase.
If they move forward with it, the next step is further due diligence to make certain the project is feasible on the site and identify any issues to deal with. After that, the design would be developed and the necessary approvals secured.
The county obtained two appraisals of the site, of $2.4 million and $3.36 million. The lower appraisal did not consider uses other than agricultural, solicitor Christina Hausner said.
The agreement with the Kreiders gives the county 90 days for due diligence and 18 months to obtain approval. During both periods, the county has the right to back out of the sale if it needs to. Once approvals are secured, settlement is to occur within 60 days.
Parsons said there has been no discussion of what to do with the existing prison site. City officials have previously said they would welcome an opportunity for it to be redeveloped.
(Editor's note: This article was updated to add information on prison capacity.)