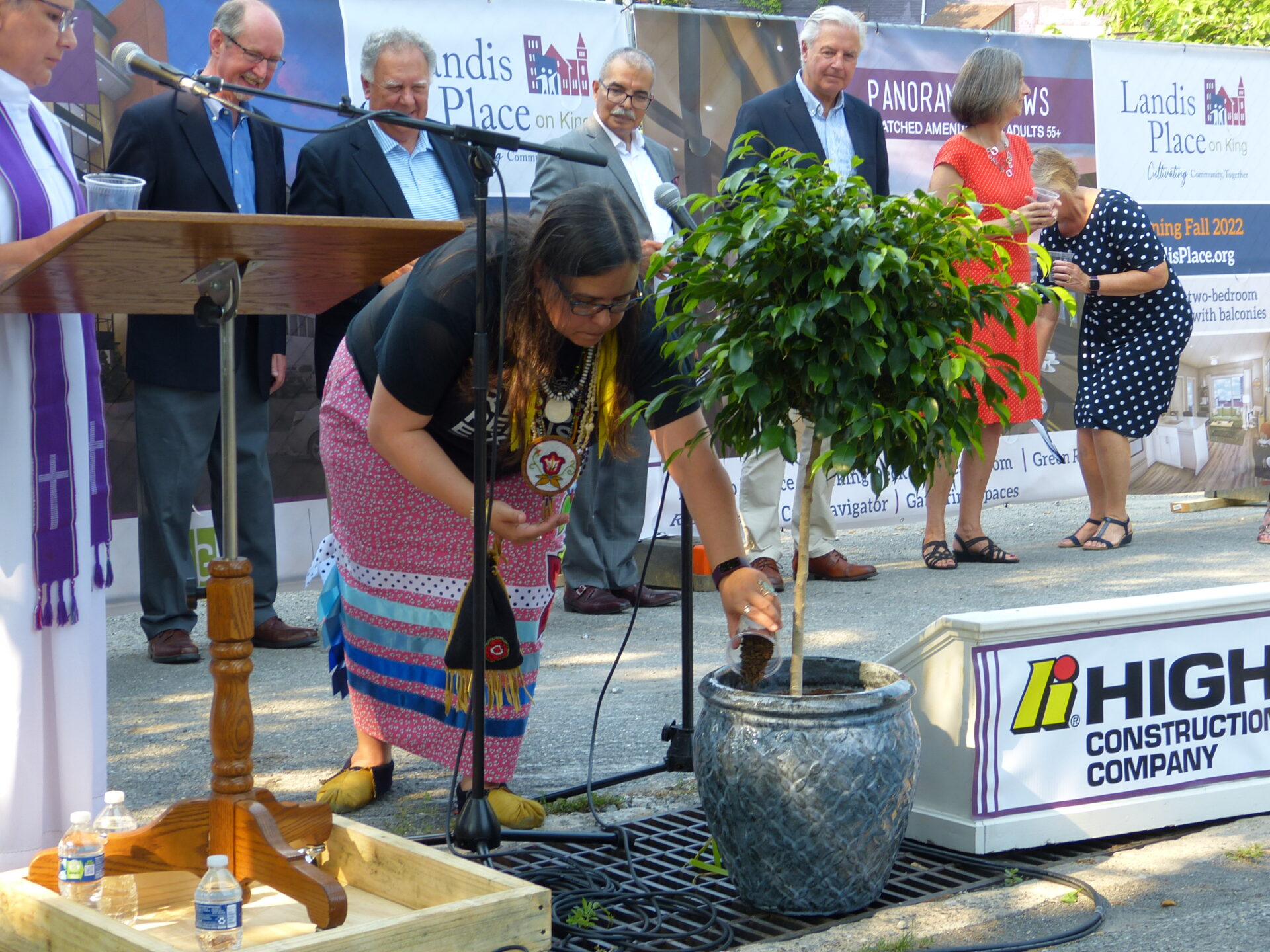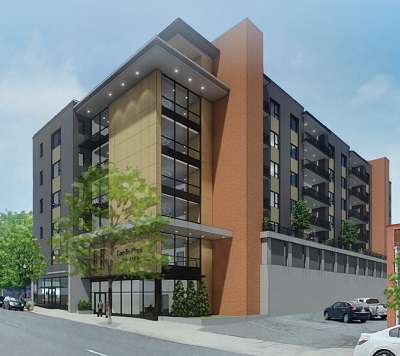 Jess McPherson had a request for those gathered Wednesday to consecrate the land where Landis Place on King will be built.
Due to Covid-19, Native American communities are suffering great losses among their elders, their "culture bearers," said McPherson, of Circle Legacy Center, an artist and Native American activist.
"I ask you today as you build this home for your elders, your knowledge keepers, your culture bearers, please remember how dear and important they must be to all of us," she said.
McPherson joined worship leaders, community representatives and project partners Wednesday for a ecumenical and multi-cultural ceremony at the project site in the 200 block of West King Street.
Slated to open in Fall 2022, Landis Place on King will be a seven-story, 79-unit residential complex for adults age 55 and over. Its developer is Landis Quality Living, a nonprofit affiliate of Landis Communities.
Photo gallery: Blessing the Ground at Landis Place on King
McPherson and the Rev. Elizabeth Soto Albrecht, who has served as Landis Place on King's community and diversity consultant, reminded the audience that the Conestoga tribe had once inhabited the area, and had welcomed the Europeans, only to be paid back with violence.
"We acknowledge the ground we are standing on. ... We acknowledge the pain," Soto Albrecht said.
Landis Quality Living previously developed Steeple View Lofts, a warehouse converted into senior apartments that opened in 2013. It and Landis Place on King are "intentional efforts to create communities of engaged older adults who are active and involved in downtown life," the nonprofit says.
Project leaders stressed their commitment to nurturing relationships both among tenants and with the broader community, and creating a building that fits in with its surroundings.
Most of the apartments will be market rate, targeted at middle-income tenants. However, eight to 10 will be offered at rates affordable for lower-income households, with monthly tentatively ranging from the low $600s to a little under $1,200.
Normally, affordable rentals are underwritten by tax credits or other state and federal subsidies. Landis is taking an alternative approach: It plans to raise $550,000 through the "City Vision" capital campaign. Those funds will help offset enough debt — and thus, debt service payments — to allow the affordability set-aside, said Ed Kaminski, Landis Quality Living's director.
It's a "unique model," one that could be adopted by like-minded developers in Lancaster and elsewhere, City Vision Campaign co-chair Bill Hartman said.
Also helping the bottom line: A $752,000 grant from the U.S. Housing & Urban Development HOME Investment Partnerships program. The High Foundation has invested a little over $1.5 million; the bulk of the project financing, $25 million, is through Orrstown Bank.
About Landis Place on King
Concept: Active urban living for ages 55+
Size: Seven stories, 114,000 square feet
Residential units: 79 one- and two-bedroom apartments, including 8 to 10 affordable units
Cost: $28 million
Mixed-use features: 4,200 square feet for a projected multi-ethnic restaurant, office space and a medical office
Completion date: Fall 2022
Source: Landis Communities
Landis Quality Living is a nonprofit, which allows the financing to be tax-exempt. It plans to pay property taxes, however, the organization says.
Landis Place on King will be built on two adjoining properties, 239 and 245 W. King St., previously occupied by Rendezvous Steak Shop and House of Tacos, respectively. Initially, the project was planned just for 239 W. King St., but at 24 units, "It wasn't big enough," Kaminski said.
When the larger footprint available, planners envisioned a 56-unit project. Adding one more story brought the total to 79 units. A sixth-floor terrace on the West King Street side allows the seventh story to be set back, making for a gentler streetscape presence.
Downstairs, a little over 4,000 square feet will be devoted to business uses: A restaurant and offices are planned, as well as a gerontology office, available to residents and the general public.
Project costs were originally pegged at around $22 million. The increase to $28 million stems from the post-Covid spike in the cost of construction materials, particularly steel, Kaminski said.
On the other hand, Landis Quality Living has secured a lower interest rate on its financing than projected, so there has been no need to adjust rents upward, Kaminski said.
Seniors face immense financial challenges, said Evon Bergey, executive director of Landis Quality Living, citing research indicating that more than half of older adults won't have enough resources to cover their housing and health care. Landis Communities aims to be part of the solution, she said.
Allon Lefever, chairman of the Landis Communities board, quoted Habitat for Humanity co-founder Millard Fuller: "All of God's people should have at least a simple, decent place to live."