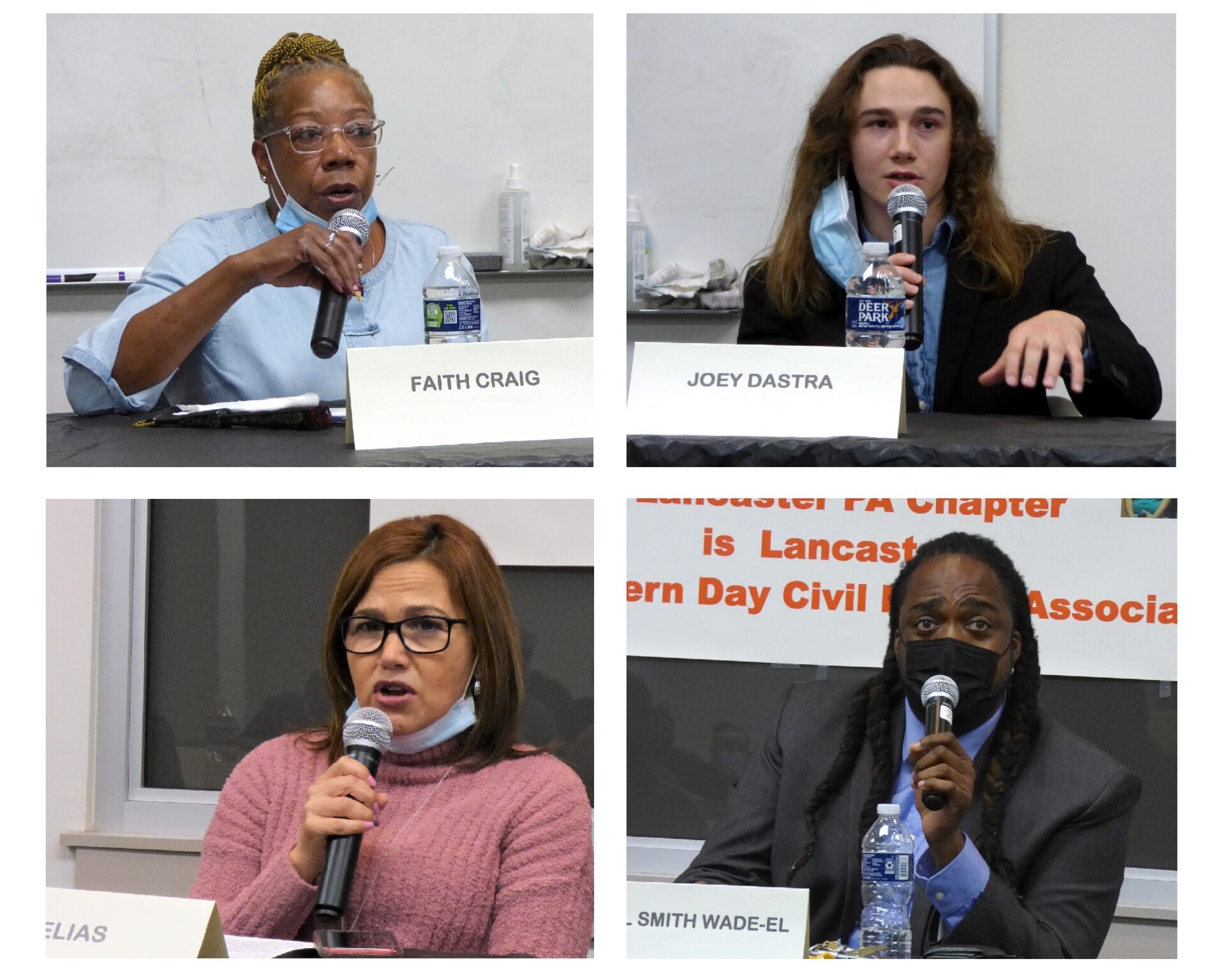 Four of Lancaster's eight City Council candidates met Wednesday evening for a collegial debate that showcased broad agreement on the importance of affordable housing, community engagement, police reform and long-term infrastructure investment.
Incumbents Ismail Smith-Wade-El and Faith Craig, both Democrats, are seeking their second terms. They faced off against Elizabeth Elias, a Republican, and Joey Dastra, representing the independent Gold Goose Party.
Lancaster National Action Network organized and sponsored Wednesday's debate, which took place at Thaddeus Stevens College of Technology. Local media organization TCP Network-The Cultured Professional livestreamed it, and TCP's Whitney Lupton served as moderator.
Smith-Wade-El, City Council's president, said city government has made strides over the past four years: It is investing millions of dollars in affordable housing and lead hazard abatement and has begun reforming its police department in earnest under a new chief. Impetus for those changes came from the community, he said, and he hopes to create more such change over the next four years.
Craig said she wants to continue City Council's work on affordable housing, community policing and economic recovery from the coronavirus pandemic.
Asked how the city should spend its $39.5 million in American Rescue Plan Act (ARPA) funding, Craig cited two priorities: affordable housing and municipal broadband Internet service. Children are the future, she said, and in the event remote education becomes necessary again, "every single child" should have reliable Internet service.
As a third-party candidate, Dastra said he can help bridge entrenched Republican-Democratic divides. He said his goal is a "more holistic and transparent approach" to public participation in local government to foster better problem-solving.
He seconded Craig's call for putting ARPA money toward municipal broadband, saying all city public meetings should be livestreamed, with citizens able to participate remotely. In addition, with municipal broadband, users' fees would remain within the city, he said, rather than being paid to outside providers such as Comcast.
Elias said she would seek to raise awareness of the problems she encounters in her job as a social worker, such as homelessness and drug addiction, and to foster more collaboration between government and social service agencies to solve them.
It's a huge challenge to find housing for people in recovery or recently released from prison, she said, calling for more support to help them. More generally, she suggested ARPA  funding be used to help more people afford down payments and become homeowners, and to aid existing homeowners on fixed incomes to keep their residences.
Like Craig, Smith-Wade-El said ARPA should be used to expand the stock of affordable housing. ARPA could also go toward child-care, he said, making it easier for single mothers to find and keep family-sustaining jobs.
Responding to questions about helping women and minority-owned businesses, Craig said she wants to make sure Southern Market Center delivers on its promises to become a multi-cultural entrepreneurial hub. Dastra said the city must make sure firms commit to paying fair wages and benefits: "If not, they have no business here."
Smith-Wade-El said he wants the city to have a minority contractor set-aside, and plans to enact one in the upcoming legislative term. It should be coupled with investment in trade schools so local firms have the skills and assets needed to compete on a level playing field and do the work, he said.
Elias said she'd like to see more agencies like CareerLink in the community, helping people develop skills and find good jobs. As a Latina, she said, she recognizes the challenges faced by women and people of color and would work to eliminate barriers.
Responding to a question about the city "criminalizing poverty," Smith-Wade-El called for amending or repealing the city's aggressive panhandling ordinance. Asked whether downtown is "healthy," he said it can be considered so "on one definition," but not if you look at the city's unhoused, and at all the vacant, unused space on the upper floors of center city buildings.
Activating those upper floors for affordable housing could make for "a genuinely healthier downtown," he said.
Elias said people she met while canvassing told her that the homelessness and addiction problems they see downtown make them afraid to come to the city. "That needs to be addressed," she said.
Asked pointedly if they would "walk the walk" — deliver on their promises and allay the distrust of ordinary, blue-collar residents, especially those in the southeast — the candidates said they would. They agreed that government remains too distant from ordinary people, and said they would work to change that.
Dastra said he'll stay involved in local politics and government whether or not he wins office. As a "white dude," he said, "I was born with immense amounts of privilege. ... It is my responsibility with that privilege to make sure I'm serving the people who don't have the same opportunities that I do."
Smith-Wade-El said City Council is increasingly heeding citizen input on issues including lead abatement and housing discrimination and pledged to continue doing so. Craig urged community members to step up and be heard.
"Especially people of color," she said. "Get on the boards, do the things that need to be done."
Statements provided by other candidates
Four City Council candidates were not present at Wednesday's debate: Councilwoman Janet Diaz, a Democrat, who is seeking her second term; and three newcomers: Ethan Brown (Republican), Lochard Calixte (Democrat) and Dena Maounis (Republican).
With the exception of Brown, the absent candidates provided opening and closing statements. Calixte's and Maounis' were read by moderator Whitney Lupton; Diaz' was read by campaign volunteer Sean Fiedler.
Calixte apologized for being unable to take time off from his post office job to attend the debate. A Haitian immigrant who speaks French, Spanish and Haitian Creole as well as English, he said his background and experience and his door-to-door campaigning to hear directly from residents will allow him to represent them effectively.
Diaz said she is running to fight for equity in Lancaster's recovery from the pandemic, which exposed the disparate struggles faced by minority businesses and families. She cited her own family's struggles with poverty, her career as a medical analyst and her community volunteering, saying she has "always been a voice for those in need."
Maounis said she was foregoing the debate due to a possible Covid-19 exposure in her household. She said she is concerned about crime and taxes increasing and affordable housing and rental accessibility decreasing. She pledged to be a council member who is proactive and unifying, putting aside party differences to focus on common ground and including the community in decision-making.