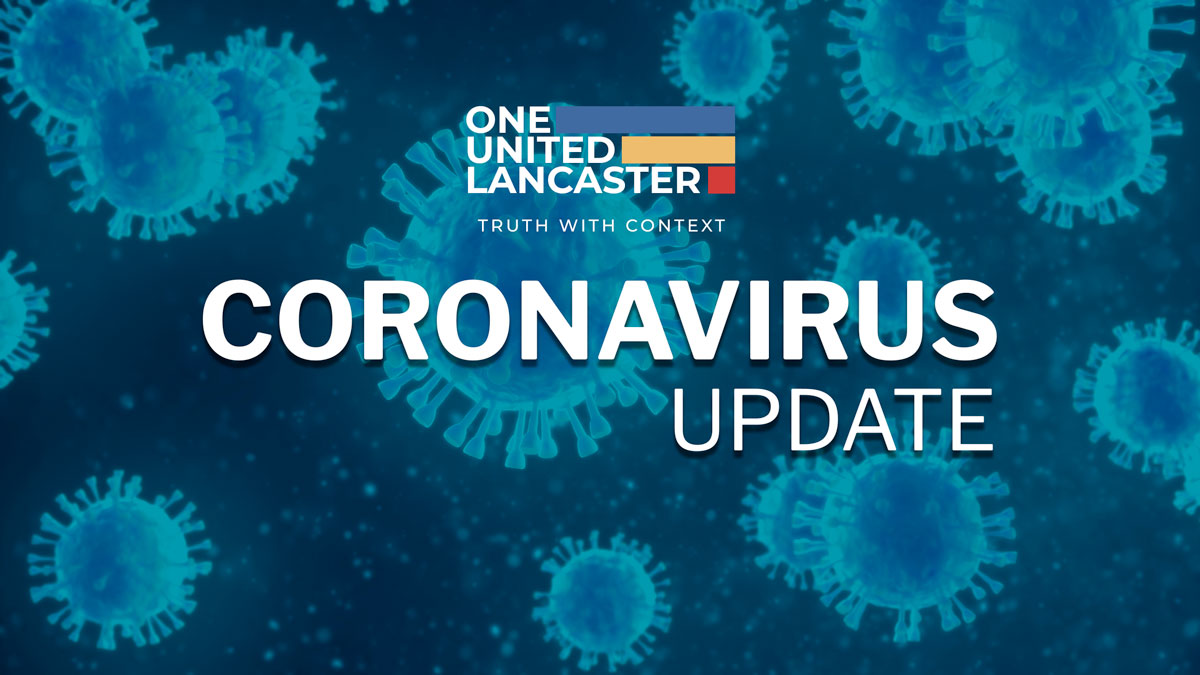 The big picture
A year ago, in November 2020, the pandemic here was surging upward toward the December peak, when 207 county residents died within the month.
November 2021 has repeated that – but with still higher numbers.
This past month 68 county residents died from COVID-19, six more than November a year ago, according to the county coroner's office. And an average of 107 patients were under treatment for the virus in the county's four hospitals each day of this November, compared to 82 a year ago.
These higher numbers correlate with two marked differences in the county now.
First, many, if not most, residents have returned to a more open, near-normal lifestyle. Workers have gone back to jobs. Children are in school. Restaurants, gyms and entertainment venues are open. Mask wearing is often optional. Most people no longer are spending most of their days isolated at home.
Second, a sizable segment of the county's population, about 44%, are not fully vaccinated. At Lancaster General Hospital, the county's largest hospital, they account for 80-85% of those who are hospitalized and 90-100% of the most seriously ill who are on ventilators in intensive care units. (The percentages change as the patient population changes.)
Those hit hardest by COVID continue to be the elderly, as they have been throughout the pandemic, Dr. Stephen Diamantoni, county coroner, said Monday, speaking at an online meeting (Part 1 | Part 2) sponsored by the Lancaster Medical Heritage Museum.
Individuals 65 and over account for 75% of the total deaths from COVID, the coroner said. About 21% are individuals between 45 and 65, and only 4% are individuals under 45.
The other major risk factor for hospitalization and death is obesity, the coroner said.
"Talking to nurses who work in the ICUs who are managing individuals with COVID on ventilators, almost all of them are obese," Dr. Diamantoni said.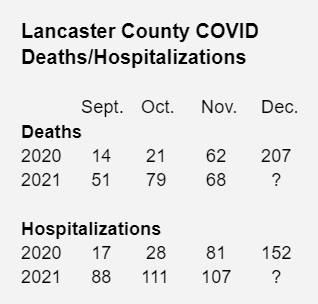 That correlation, seen nationwide, has two underlying causes.
Obesity decreases lung capacity, and it impairs the body's immune response to infection, tripling the likelihood of hospitalization for excessively overweight individuals, according to the Centers for Disease Control.
The chart shows the extent to which deaths and average daily hospitalizations this fall are exceeding those of 2020.
Readers will notice that deaths and cases dipped slightly between October and November of this year, opening the possibility for two interpretations of current trends.
This one-month decline could suggest that serious cases might continue to decline in December. Or the larger multi-month trend might portend that this December will be a peak month, much as it was a year ago.
The latter case is more plausible. An unusually low number of serious cases and deaths occurred in the first two weeks of November. Since then, COVID hospitalizations and fatalities have risen steadily, continuing into the first week of December.
Risk of COVID death by age group
In November, the coroner's office reported 72 COVID deaths – the 68 who died in the month plus four others who died in prior months.
Of those 72, 61 (85%) were age 60 and over. Eleven (15%) were under 60 and over 30. No one under 30 died of the virus.
The exact breakdown:
80+: 23 
70s: 20 
60s: 8 
50s: 8
40s: 2
30s: 1
Seventy of the 72 victims were white. One was reported as Hispanic. The race of one other was not reported.
Since the start of the pandemic, 747 county residents aged 80 and above have died of COVID. On an annualized basis, that's one in every 64 people, or 1.6% of that age group.
For other age groups, the annualized mortality rates, or risk of death, have been:
70s: 1 in 272
60s: 1 in 750
50s: 1 in 2,006
40s: 1 in 4,698
30s: 1 in 9,685
20s: 1 in 61,549
1-19: Zero
Where is the surge?
The increase in cases in this fall surge are occurring countywide, with most communities experiencing a 1 to 2 percent infection rate during the past 30 days (Nov. 8 to Dec. 8).
In raw numbers, the densely populous Lancaster ZIP code areas, rank highest, followed by five boroughs:
ZIP CODE: No. of Cases
Lancaster 17603: 727
Lancaster 17602: 609
Lancaster 17601: 579
Lititz 17543: 557
Ephrata 17522: 538
E-town 17022: 389
Mt. Joy 17552: 320
Manheim 17545: 298
When population density is considered, the picture is quite different. Terre Hill leads the county with an even 2% of its residents testing positive over the past 30 days. Marietta is second highest, with 1.99% of its residents infected.
Rounding out the top ten are East Petersburg, Mount Joy, Ephrata and Akron, all with 1.7%; Reinholds and Bainbridge, and Smoketown, with 1.6%, and Quarryville, 1.5%
The five areas with the lowest reported infection rates were Bird-in-Hand, Millersville, Ronks, Gordonville and Paradise, all less than 1%.
Pediatric cases flat
Since the start of the current school year in September, there has been little variation in the number of children testing positive for COVID.
In September, about 350 to 375 school-age children fell ill with COVID weekly in the 17 school districts here. In October and November, total cases dropped to between 205 and 280 weekly.
Among children ages 0 to 4, about 35 to 70 have contracted the virus weekly since September.
Local hospitals do not report the ages of patients publicly, so it is not possible to know how many, if any, children have been seriously ill with the virus.
The coroner's office has reported no COVID deaths under age 20.
But, Dr. Diamantoni noted, the absence of any childhood COVID deaths here may be linked to the lack of a pediatric hospital in the county. When children become ill with a life-threatening disease, they most often are transferred to pediatric units in Hershey or Philadelphia, he said.
Nursing and personal care homes: A bright spot
In the first three weeks of November, three residents died of COVID in county nursing homes, once the epicenter of the pandemic. This toll was down substantially from the 11 who died in nursing homes during October.
Ten residents and 44 staff in nursing homes tested positive for COVID in November, also down from October, when 59 residents and 98 staff contracted the virus.
Similarly, personal care homes reported 15 residents and 21 staff testing positive for COVID in November, down from 24 and 27, respectively, in October. There was one resident death from COVID in November, the same as in October. The October death was the first in a personal care home since May 2021. (Chart attached.)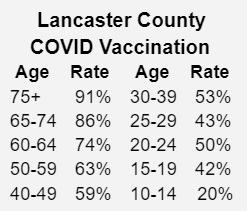 Vaccination
About 56% of county residents are fully vaccinated, and about 6% are partially vaccinated. That rate has remained virtually stable since August. The county ranks 26th highest in full vaccination rates among Pennsylvania's 67 counties. The table shows full vaccination rates by age group.
About 12 percent of children age 9 and under have been partially vaccinated.
This summary has been compiled from records of the Lancaster County Coroner's Office, the state Health Department, the Centers for Medicare & Medicaid Services and the U.S. Department of Health & Human Services by researcher Erica Runkles, sociologist Dr. Mary Glazier, data programmer Penn Glazier, and journalist Ernest Schreiber.
Our thanks to Kim Jovinelli, executive director of the Lancaster Medical Heritage Museum, for arranging Dr. Diamantoni's presentation and posting the online video.