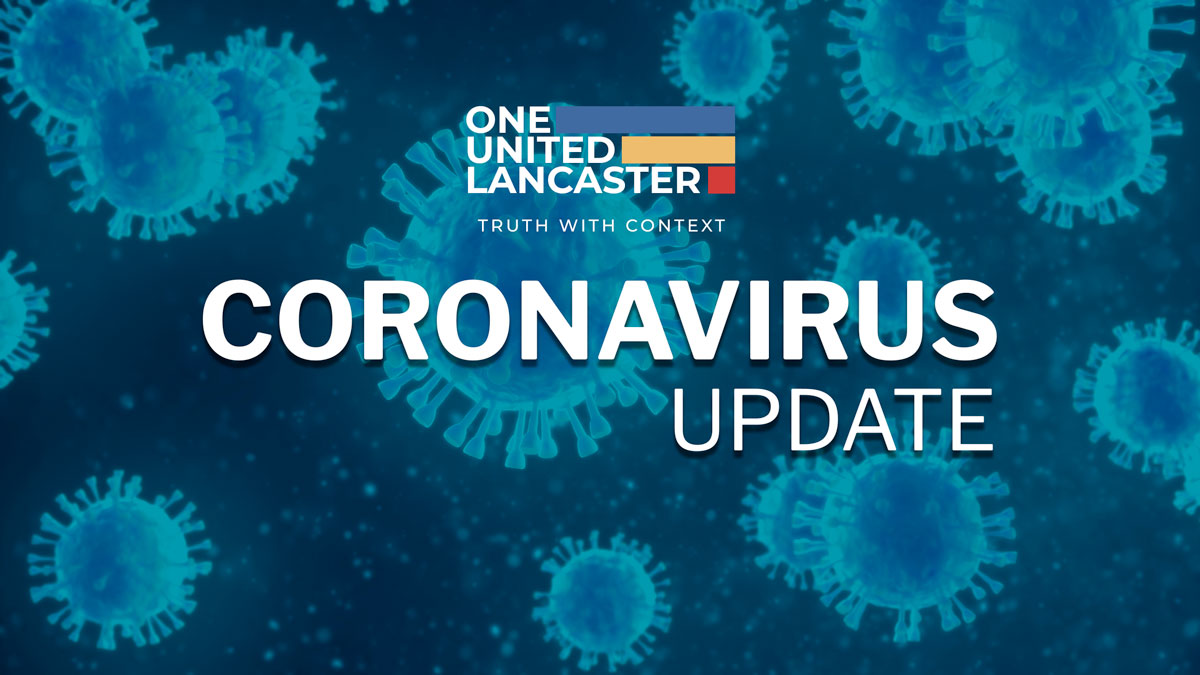 The COVID-19 virus is losing strength in Lancaster County.
Contrary to past predictions, the post-holiday spike of COVID-19 hospital cases and deaths has not materialized:
Deaths here in the first three weeks of January (87) are one-third lower than they were in the last three weeks of December (127).
Daily hospital cases have fallen significantly over the past 10 days, from 137 to 93, again one-third lower.
Daily new cases have plateaued and now are falling slowly, down about 8% from December.
The decline in the two most important measures of the pandemic health threat – deaths and hospital cases – does not mean that the pandemic is near an end or that sensible precautions can be relaxed.
Both measures are still horrendously high when compared to the low numbers of summer and early fall.
But their substantial decline does signify that the county – its people and leadership – are doing the right things in the fight against COVID-19, moving in the right direction, reducing infections and deaths.
It was just three weeks ago that national health officials warned of a new spike in virus cases and deaths.
"We very well might see a post-seasonal – in the sense of Christmas, New Year's – surge, and as I've described it, as a surge upon a surge," the CDC's Dr. Anthony Fauci said in a late-December CNN interview.
Fauci said he agreed with President Biden that "our darkest days in this battle against Covid are ahead of us, not behind us."
Scott Gottlieb, a widely respected former FDA Commissioner, predicted January would be "a grim month."
That surge did not happen.
The number of county residents falling victim to the virus peaked on Dec. 6, when 14 people died of COVID-19. This month the highest number of deaths on any one day has been eight, and the average is between four and five.
Daily hospitalizations at the county's two dominant hospitals – Penn Medicine Lancaster General Health and WellSpan Health Ephrata – did swell in the early weeks of January, rising from 110 at year's end to 137 on Jan. 11.
But the number of hospitalized COVID-19 patients following Christmas and New Year never hit the post-Thanksgiving peak of 155. And since Jan. 11, the number of patients has been falling.
New cases (positive tests) are averaging 337 a day, down from 365 in December.
What accounts for the decline?
Dr. Stephen Diamantoni, the county coroner and a private practice physician, has a theory, based on his conversations with patients during routine office visits.
After Thanksgiving, when the doctor asked those patients what they'd been doing, many told him of traditional Thanksgiving celebrations with family and friends.
After Christmas and New Year, many patients gave a wholly different answer. They had stayed home. They didn't get together with family. They didn't go to any parties.
Diamantoni suspects that a new surge was avoided because people were chastened by the steep rise in deaths after Thanksgiving and took the warnings from health officials seriously.
For perspective:
While COVID deaths are declining this month, they still remain high. At the current rate, the county will see about 130 deaths this month, fewer than the 208 of December but far more than the 13 of September.
Even September's deaths were high in comparison to past years. In 2019, there were a total of 90 respiratory and communicable disease deaths reported by the coroner for the entire year. That's between seven and eight deaths per month.
For the record:
Most of those who die from COVID-19 are elderly. About 86% are over age 70; 13% are in their 50s and 60s, 1% are in their 20s to 40s. No one here under 25 has died from the virus.
Most of those who die from the virus are White (91%). About 5% are Hispanic, 2% Black and 2% Asian or other.
A final note:
Randall Grossman, a Manheim Township data management executive, has seen a similar decline in virus numbers nationwide.
In a public Facebook post, Grossman wrote Wednesday that, "New cases in the U.S. have peaked. In all but a handful of states rates are coming down, some faster, some slower, but all falling. Those rates are still dangerously high"… but …"getting better."
This summary of pandemic deaths, hospitalizations and new infections has been compiled from records of the Lancaster County Coroner's Office, the state Health Department, Penn Medicine Lancaster General Health and WellSpan Health Ephrata by researcher Erica Runkles, sociologist Mary Glazier and journalist Ernest Schreiber.