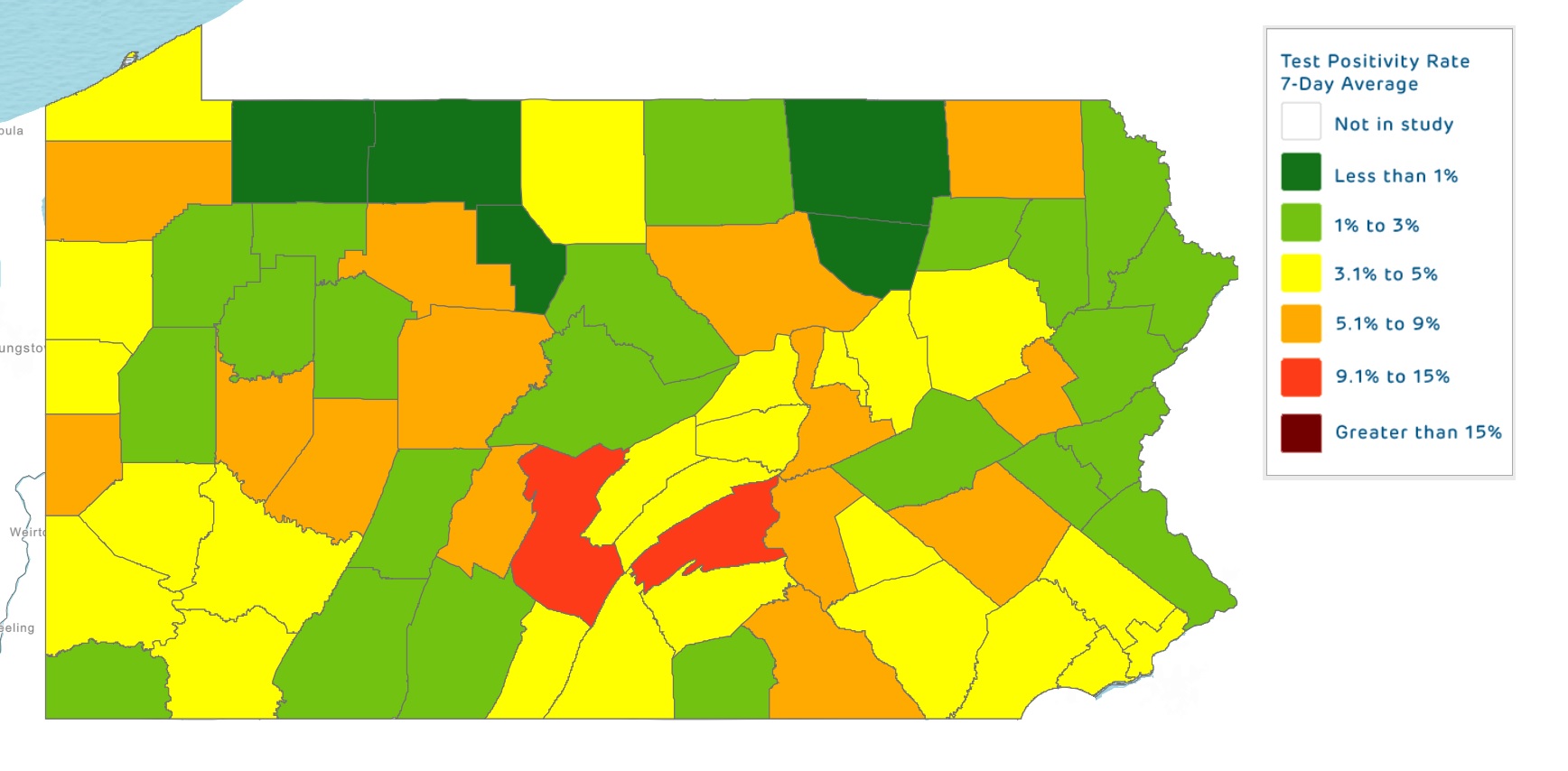 With classes resuming this week in a majority of Lancaster County school districts, health officials are keeping an eye out for any sign of a coronavirus resurgence.
While no one knows for certain how the coming weeks will play out, data released Monday shows the academic year is beginning with the county at a stable, albeit "moderate" baseline of Covid-19 cases, and with a sufficient amount of testing.
According to Monday's update of Pennsylvania's online Early Warning Monitoring System dashboard, Lancaster had 229 new Covid-19 cases during the week of Aug. 21-27, compared with 234 the previous week.
It is one of 44 counties statewide with "moderate" transmission levels, according to the Department of Health. Twenty-two counties had low transmisison. One, Columbia County, had substantial transmission, jumping from 33.6 cases per 100,000 residents to 110.
Lancaster County's Covid-19 incidence rate is 42.1 per 100,000 residents. That's the 11th highest in Pennsylvania, just ahead of Philadelphia, and somewhat above the state's overall rate of 32.5 per 100,000 residents.
For the month of August, Lancaster County averaged about 39 new Covid-19 cases a day, according to state data.
Deaths and inpatients
There were 26 deaths from the virus here in August, according to the county coroner, down sharply from the 187 who died in April, the pandemic's worst month.
Penn Medicine Lancaster General Health has handled the majority of Lancaster County's coronavirus patient care. According to its online dashboard, it had 23 Covid-19 inpatients as of Tuesday morning, of whom 9 were in critical care and 4 were on ventilators. Wellspan Ephrata Community Hospital reported 2 Covid-19 inpatients.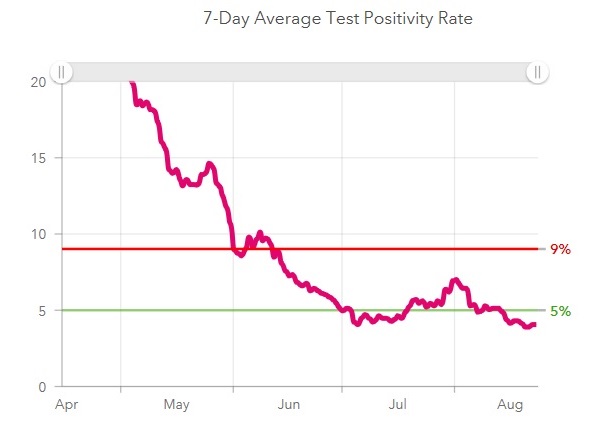 Positivity rate
Statewide, the portion of Covid-19 tests that come back positive decreased for the fifth straight week last week, to 3.2%, according to the state's dashboard. Lancaster County's rate is not far off, at 3.6%.
Health experts say a rate below 5% indicates testing is at sufficiently robust levels.
"This is a testament that our actions are working," Gov. Tom Wolf said. However, he cautioned that Pennsylvanians must continue to keep their guard up: Wash hands, practice social distancing and avoid large gatherings.