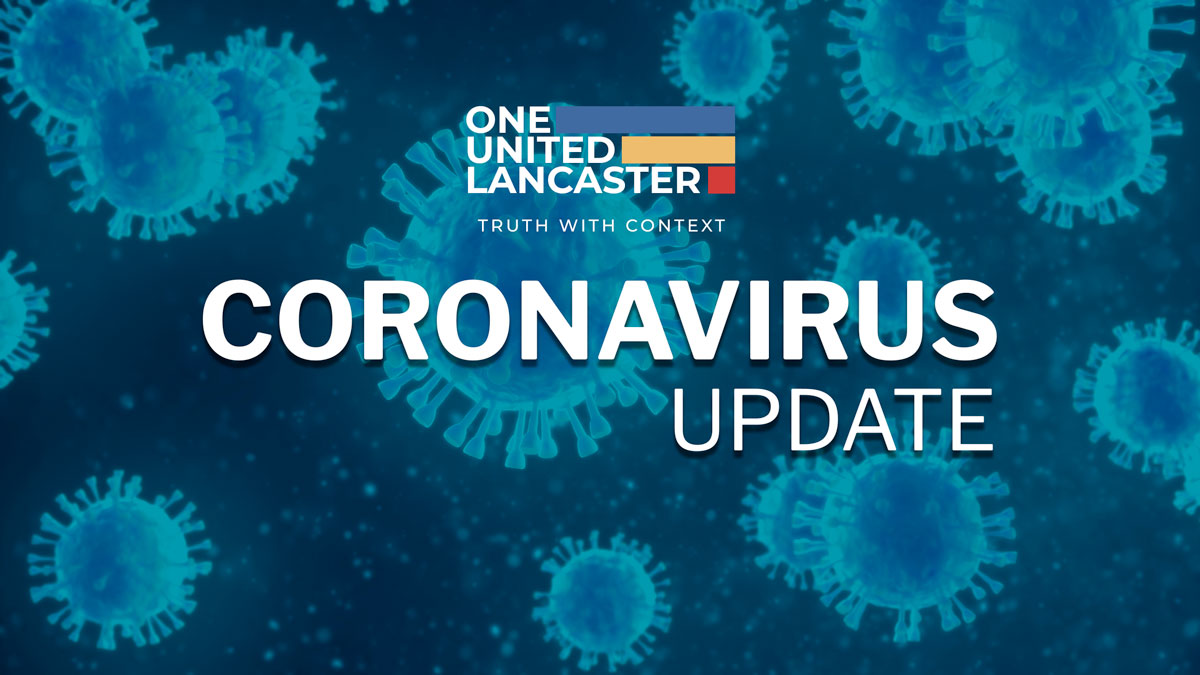 At a glance:
Covid-19 deaths at all-time high; 207 deaths in December neared total of past 6 months
Hospital cases peaked 2 weeks after Thanksgiving, then fell; now Christmas surge has begun
5,400 vaccines in county, most for medical workers, few for county's elderly
New spikes in personal care and nursing home cases
The cold-weather surge of the COVID-19 pandemic, combined with increased social activity over the holidays, propelled a record number of cases, hospitalizations and deaths here in December.
But, unlike some areas of the nation, county hospitals have reported no imminent shortage of beds, and vaccinations began rolling out, primarily for healthcare workers.
Deaths
In December, 207 county residents lost their lives to COVID-19, according to Dr. Stephen Diamantoni, the county coroner. That toll of victims, nearly 90% elderly, nearly matched the 211 who died in June through November.
Throughout the pandemic, the virus has struck most harshly at those age 70 and above. This past month about 70% of victims were age 80 and above. Another 20% were in their 70s. This chart shows the exact percentages for all age groups: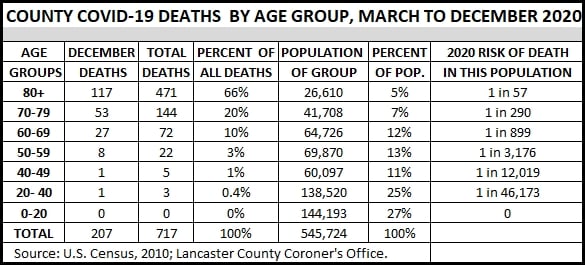 The peak of deaths came in a three-day period, Dec. 6 to 8, when 38 county residents lost their lives to the virus. That surge, about two weeks after Thanksgiving, echoed similar surges in hospitalizations and new cases following the holiday.
A slow drop in fatalities took place in the following 2½ weeks, hitting a low on Christmas Eve and Christmas Day, which saw just three deaths each. Since then, however, COVID-19 has claimed an increasing number of victims – 56 in the 11 days following Christmas.
Dr. Stephen Diamantoni thinks it probable the county the next post-holiday peak will occur in one to two weeks.
"A certain complacency has set in," he said. "People look at their friends and relatives, and they see no one is sick. It seems safe. So they say, 'We'll get together.'
"But it's not safe," the doctor said, because many people carry the virus unknowingly, without symptoms, and they can infect the elderly and those with serious medical conditions.
The hardest hit communities
Six communities reported 10 or more deaths during December: Denver (27), Ephrata Township (20), Columbia (17), Lancaster City (14), Penn Township (12) and Lititz (10).
All are home to congregate care facilities for the elderly, where more than half of all deaths have occurred.
Eight communities had five to eight deaths: West Lampeter Township (8), West Hempfield Township (7), Manor and Manheim townships (6 each), and East Lampeter, Rapho, Warwick and Lancaster townships (5 each).
The other deaths were scattered widely across 27 municipalities. Eighteen communities had no deaths.
Hospitalizations high, but beds available
The number of seriously ill county residents who sought hospital care peaked on Dec. 10 with 155 patients at Penn Medicine Lancaster General Health and WellSpan Ephrata. (UPMC Lititz does not report its case numbers publicly.)
The two hospitals together averaged 131 patients per day in December, about eight times higher than the 16 per day average in September.
The WellSpan Ephrata dashboard shows that patients hospitalized at its facility ranged in age from under 1 to 103 years. Most were ages 55 to 90, and the average was 67 years old.
Despite the significant increase in hospital cases, hospitals here have adequate beds.
Throughout the month, the Health Department reported that hospitals had a daily average of 63 medical beds and 14 ICU beds available. On one day, Dec. 19, the number of available ICU beds did drop to a low of four.
Location of new cases
Hospital and clinic testing sites reported that 11,304 county residents tested positive for COVID-19 in December.
That rate, an average of 365 new cases per day, was about 60% higher than the average rate of November (228) average and six times the daily average of October (61).
In raw number, the top six ZIP code areas for new cases in December were:
Lancaster 17603: 1,305 cases
Lancaster 17602:1,049 cases
Lancaster 17601: 992 cases
Lititz 17543: 777 cases
Elizabethtown 17022: 572 cases
Ephrata: 17522: 572 cases
On a percentage basis, the virus has struck many communities outside the city and large boroughs just as harshly as those in heavily populated areas.
The southeast Lancaster-Lampeter area (17602) has the highest infection rate in the county at 7%.
But Terre Hill, Maytown and tiny Smoketown, along with west Lancaster, have seen almost as high an infection rate, all between 6% and 7%.
Eleven ZIP code areas have seen 5% of their residents infected by the virus: Akron, Columbia, Ephrata, Landisville, Leola, Lititz, Mountville, Mount Joy, New Holland, Reinholds, as well as northern Lancaster (17601).
All other communities saw less than a 5% infection rate.
The areas with the lowest rates are in southern Lancaster County: Kirkwood and Holtwood (2.5%) and Drumore (2.1%).
How you can track progress of a case
For those interested in a timeline that shows the progress of a COVID-19 case, from Day 1 infection through the various outcomes – no symptoms, hospitalization, recovery, death – with probabilities assigned to each outcome, we have attached a chart prepared by analytics expert Randall Grossman.
Grossman, of suburban Manheim Township, has held executive data management positions with HSBC, Bank of America, and Fulton Financial Corp. His Facebook page, which is public, contains additional analysis of national and international pandemic-related information.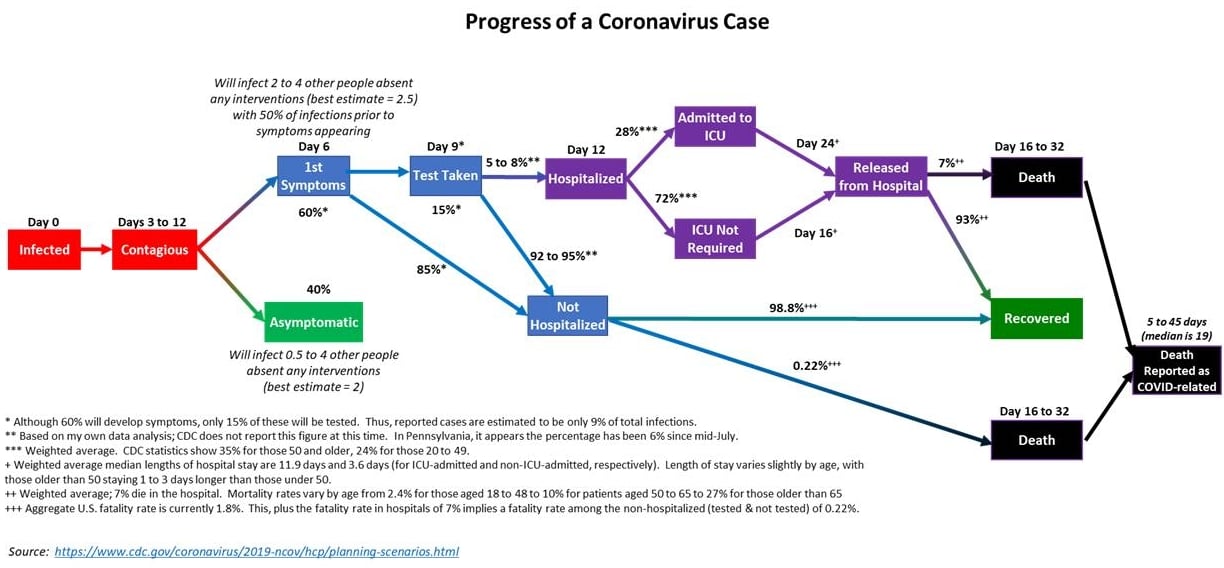 Vaccines
The rollout of vaccines from the state Health Department has reached many health care workers but not the elderly population in any significant numbers.
The Health Department reported today (Jan. 5) that 144,863 people statewide have received the vaccine. That's 1.1% of the state's population.
Most of those inoculated (87%) were ages 25-64, presumably medical workers. Only 851 of the state's 600,000-plus residents age 80 and above have received the vaccine.
In Lancaster County, 5,420 people have received the vaccine as of Jan. 5, according to the health department. News reports indicate that here, as statewide, the first vaccine doses are going to hospital staff, an effort to protect those who are exposed daily to the virus as they care for patients.
Diamantoni, who is a private practice physician in addition to his coroner duties, said he does not understand why the Health Department has excluded doctors from administering the vaccine.
Doctors know who their most vulnerable patients are, and they have the staff to give vaccines, he said.
Nursing and personal care homes/communities
The county's nursing and personal care homes reported a steep increase in new cases among their residents and staff, and a corresponding increase in deaths of residents.
The facilities reported 78 deaths in December, up from seven in November. New cases among residents jumped from 95 in November to 425 in December. Infections among staff at the homes almost tripled, from 147 in November to 420 in December. (An attached chart shows full details.)
In a sign of progress in virus data collection, all but six of Lancaster County's nursing homes had filed weekly reports with the state Health Department by the end of December. Two weeks ago, the department's website showed 21 facilities had not provided weekly reports.
The six homes for which the Health Department showed no December reports are Lancashire Hall, Manorcare Health Services, Newport Meadows Health and Rehabilitation Center, Rose City Nursing and Rehabilitation, United Zion Retirement Community and Zerbe Sisters Nursing Center.
For three of the facilities – Manorcare, Newport Meadows and Rose City – there has been no data available since August.
This summary of pandemic deaths, hospitalizations and new infections has been compiled from records of the Lancaster County Coroner's Office, the state Health Department, Penn Medicine Lancaster General Health and WellSpan Health Ephrata by researcher Erica Runkles, sociologist Mary Glazier and journalist Ernest Schreiber.