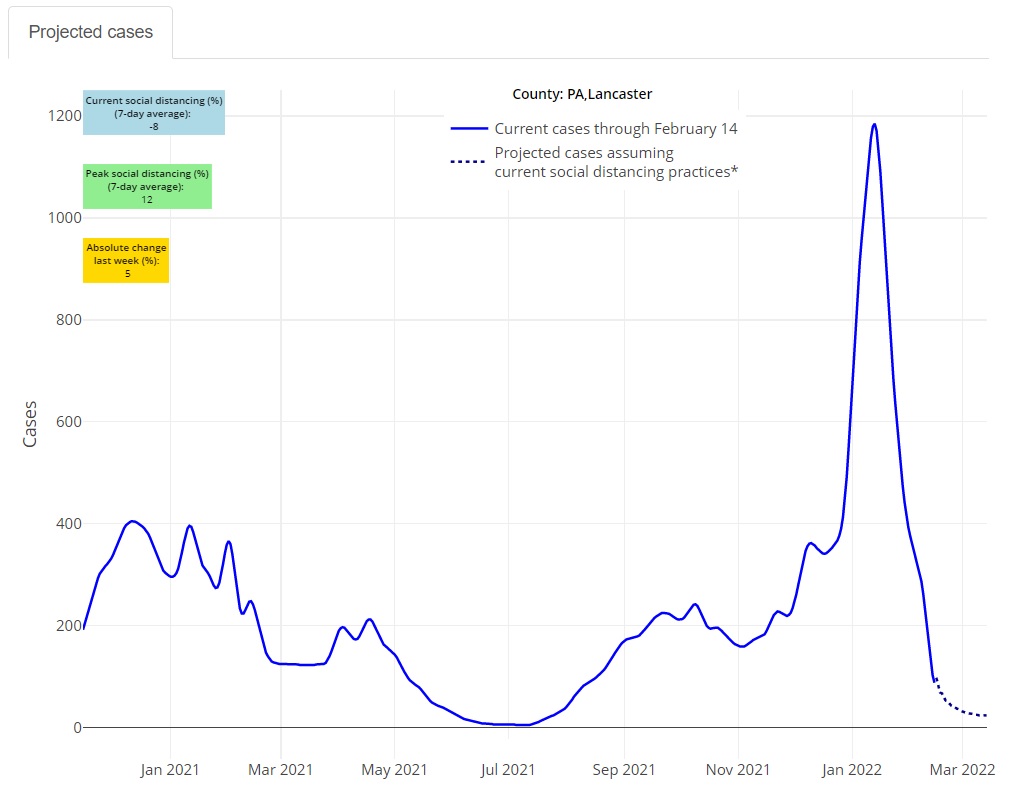 Lancaster County has made it to the other side of the winter 2021-22 coronavirus surge, with cases down more than 90% and hospitalizations down about three-quarters from their mid-January peaks, according to state data.
There were 580 new Covid-19 cases in the county over the past seven days, according to fresh data posted Friday on the Pennsylvania Covid-19 Early Warning System Dashboard. That's down from 7,028 new cases for the seven days ending Jan. 14.
Similarly, as of Thursday there were 61 Covid-19 inpatients in county hospitals, versus a peak count of 233 on Jan. 12.
Deaths tend to be the last Covid-19 trend to ebb, after cases and hospitalizations. The Lancaster County coroner has recorded 39 Covid-19 deaths so far in February, versus 160 for the full month of January.
"All indications show that the county is moving towards a lower level of community transmission," Penn Medicine Lancaster General Health said in its weekly coronavirus update.
Nevertheless, precautions should continue, the health system said: People should continue wearing high-quality masks (medical/surgical, N95 or KN95) in public indoor spaces, and should get vaccine and booster shots as recommended.
Nationally, "we are in the midst of a swift recovery that now involves all regions of the country," PolicyLab, the research center at Children's Hospital of Philadelphia, said Thursday.
There may be a few modest bumps in incidence here and there, but the overall decline is robust and projected to continue, PolicyLab said.