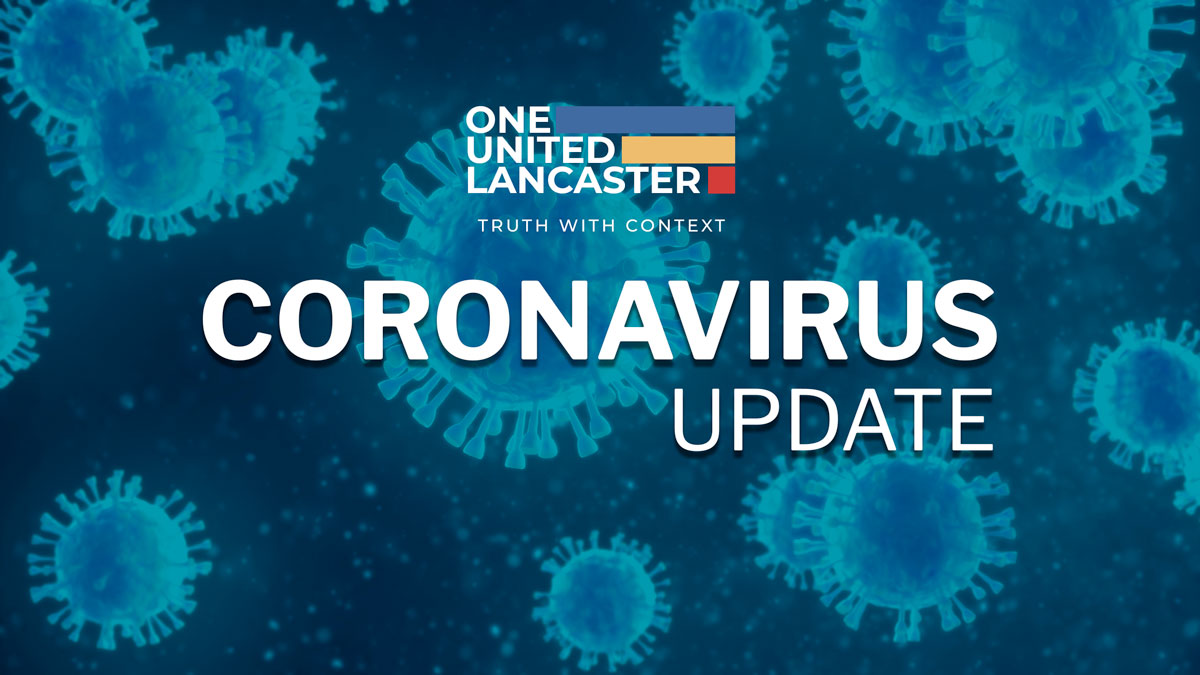 At a glance:
COVID-19 infections soar 8 times higher than in spring
Medical advances neutralized by increased virus spread
Result: Deaths of elderly here mount, 108 in 1st half of December
State unable to report what is happening in nursing homes
The COVID-19 pandemic has fiercely rebounded after the lull Lancaster County experienced in September and October. Here are the details.
Deaths
Halfway through December, the winter surge of COVID-19 has taken the lives of 108 more local residents. That toll is close to the 113 lost in the entire month of May. It is rising at a rate that, unchecked, would surpass the 183 who died in April, the worst month of the pandemic here.
While doctors, nurses and hospitals have more medications and experience to treat patients than they did in spring, the increased number of patients infected with the virus this month has overwhelmed those advantages.
In the last two weeks of May, when our group began tracking cases, Lancaster County health officials reported 637 cases and 30 deaths, a loss of about 1 person for every 21 cases (4.7%).
In the comparable time period this month, there have been 5,267 cases and 98 deaths, a loss of 1 person in every 54 cases (1.9%).
Put in simple terms, hospitals have cut the death rate by more than half, but an eight-fold increase in people contracting the virus has increased the death toll to the levels of April and May.
The worst period of this month occurred Dec. 6 to 8, a week and a half after Thanksgiving, when 38 county residents died.
Those deaths – 14, 13, and 11 on successive days – sharply contrasted with the previous three months, when the death rate was about one per day.
Compared to 2019
Several readers have asked if COVID-19 is taking the lives mostly of residents who in past years might have died of flu and other illnesses. The evidence suggests otherwise.
In 2019, 90 county residents died of all respiratory and communicable diseases. There were a total of 1,202 deaths that year from all causes reported to the Lancaster County Coroner's office.
This year, through November, the coroner has reported 600 deaths from respiratory and communicable diseases and 1,841 deaths from all causes.
In other words, the coroner's monthly reports indicate more than 600 deaths in the first 11 months of this year compared to all 12 months of 2019. Almost all the additional deaths were reported in the respiratory/communicable disease categories. As of Wednesday, the total COVID-19 death toll here stood at 618.
Ages, locations
Consistently throughout the pandemic, the COVID-19 virus is striking hardest at those age 70 and older. According to the state Health Department, which provided information on the 108 who died here as well as three county residents who died out of the area:
60 (54%) were age 80 and above.
30 (27%) were in their 70s.
16 (14%) were in their 60s
3 (3%) were in their 50s
1 each (2%) were in their 30s and 40s
According to the state Health Department, 26 of those who succumbed live in the Denver area, where an outbreak hit a Stevens-area nursing home. The residences of the other victims were:
Nine in Ephrata Township;
Six each in Lititz and Penn Township;
Five each in West Hempfield and East Lampeter townships, and Lancaster City;
Four each Lancaster, Manheim and Manor townships;
Three each in East Lampeter and West Donegal townships, and Columbia Borough.
There were one or two deaths of residents in 19 other municipalities. Twenty-eight municipalities had no deaths.
Hospitalizations
The number of seriously ill county residents who sought hospital care peaked Dec. 10 with 155 patients at Penn Medicine Lancaster General Health and WellSpan Ephrata. (UPMC Lititz does not report its case numbers publicly.)
LGH alone is averaging 116 COVID-19 patients a day, more than double the 46 daily cases it saw in May, the previous worst month for hospitalizations.
The two hospitals together averaged 147 patients per day so far this month, nine times higher than the 15 per day average in September.
WellSpan Ephrata upgraded its COVID-19 data dashboard this month, providing an improved look at the age of those contracting the virus (COVID-19 Data Dashboard - WellSpan Health). It shows that patients hospitalized at its facility ranged in age from 4 years to 103 years. Most were ages 55 to 91, and the average was 67 years old.
Despite the significant increase in hospital cases, hospitals here have adequate beds. As of Wednesday, the state Health Department reported 62 medical beds, 20 intensive care beds, 19 air isolation beds available for use.
New cases (Positive Covid-19 tests)
Hospital and clinic testing sites reported that 6,063 county residents tested positive for COVID-19 in the first 16 days of December. That rate, an average of 379 new cases per day, far surpasses the daily case rate – always under 100 – in the first seven months of the pandemic. It is a reflection both of the spread of the virus and much more extensive testing.
The top five ZIP code areas for new cases so far in December are:
Lancaster 17603: 804 cases
Lancaster 17602: 593 cases
Lancaster 17601: 557 cases
Lititz 17543: 425 cases
Elizabethtown: 17022: 334 cases
On a per capita basis, about 5% of the residents of Lancaster 17602 and 17603 have contracted the virus, as have residents of the small communities of Landisville, Terre Hill, Smoketown, Maytown and Mountville.
About 4% of Lancaster 17601, Akron, Reinholds, Ephrata, Lititz, Mount Joy, New Holland, Columbia, Leola, Manheim, Strasburg, Willow Street, East Earl, Denver, Millersville and Stevens have contracted the virus.
In all other ZIP codes, infection rates range from 2% to 3%.
Nursing and personal care homes
As throughout the pandemic, the state Health Department has been unable to report accurately and fully this week on the status of cases and deaths in the county nursing and personal care facilities.
Of the 32 skilled care communities in the county, there are no reports and no data for 18 of them. Among those for which information was available, the Health Department reported:
2 resident deaths: One at The Glen at Willow Valley and one at Masonic Village.d
3 resident cases: Two at Garden Spot Village and one at Brethren Village Rehabilitation.
23 staff cases: Six each at Conestoga View and The Glen at Willow Valley, three each at Luther Acres and Masonic Village, two at Brethren Village, and one each at Calvary Retirement Community, Garden Spot Village and St. Anne's Retirement Community.
The 18 facilities for which the state failed to report any information are: Ephrata Manor, Fairmount Homes, The Garden at Stevens, Hamilton Arms Center, Homestead Village, Kadima Rehabilitation & Nursing, Lakeside at Willow Valley, Lancashire Hall, Landis Homes, Manorcare Health Services, Maple Farm, Mennonite Home, Moravian Manor, Newport Meadows, Pleasant View Communities, Rose City Nursing Home, United Zion Retirement Community, Zerbe Retirement Community.
Amber Liggett, a public information officer for the Health Department, said this week's data release "was challenged with many facilities not reporting."
The reason for the lack of reports is unknown, Liggett said. The department received no messages about its reporting system being out of service.
In some cases in which the department reports "no data" is available, the facility may have submitted inaccurate or incomplete data, Liggett said. But she stopped short of saying that is the reason for lack of reports on the 18 facilities here.
Liggett said the Health Department is working to improve nursing home reports.
"There is an order in place from the Secretary that requires this reporting," she said. "The department does have steps we can take, but we continue to work collaboratively with nursing homes to assist them with questions and ensure that the data reported is accurate."
This summary of pandemic deaths, hospitalizations and new infections has been compiled from records of the Lancaster County Coroner's Office, the state Health Department, Penn Medicine Lancaster General Health and WellSpan Health Ephrata by researcher Erica Runkles, sociologist Mary Glazier and journalist Ernest Schreiber.