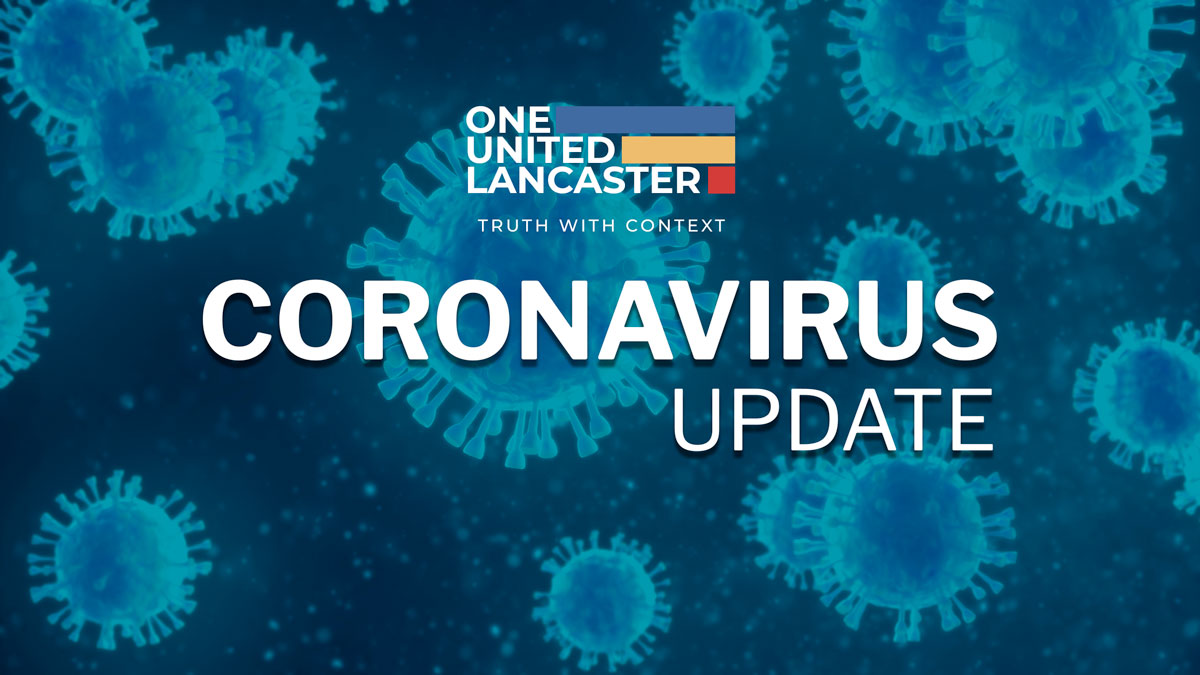 After weakening significantly in September, the coronavirus increased its spread in metropolitan Lancaster and the northeast part of the county in October.
But, unlike many areas of the country, the sharp uptick in cases (positive tests) here did not result in an overwhelming surge of hospitalizations or deaths, although both were up from a month ago. And, while there were isolated cases in the county's nursing and personal care homes, there were no major outbreaks in those facilities as there had been previously.
Deaths
The most important index of the virus's strength – deaths – increased from 13 in September to 22 in October. The October deaths are about a third of the 35 deaths that occurred here in July. They are 12% of the 183 deaths in April, the county's worst month.
As ever, the virus hit the elderly hardest. Sixteen of those who died were age 80 and over. Three were in their 70s, two in their 60s, and one in his 40s.
Geographically, 10 victims lived in the county's northeast (two each in Ephrata, Denver and Brecknock Township; one each in East Cocalico, West Earl, East Earl and Ephrata townships.)
The homes of the other nine were Manheim Township, Lancaster City, Upper Leacock, Warwick, Rapho, East Hempfield and West Hempfield townships. Two died in personal care homes, one at Mennonite Home and one at Oak Leaf Manor North.
But, it is important to note, many – in fact most – communities of Lancaster County escaped the deadly impact of COVID-19 last month. In 46 of the county's 60 municipalities, there were no virus-related deaths.
And, as tragic as the 22 deaths were, they made up a tiny fraction of the county's 545,724 population – just 0.00004. In more understandable numbers, the virus took the lives of one in every 24,806 residents.
Hospitalizations
The second most important index of the pandemic's health impact – the number of hospitalized COVID-19 patients – rose to where it had been in midsummer, after dipping substantially in September.
The number of COVID-19 patients at LGH and Ephrata hospitals averaged 28 daily, slightly less than in July (31) and slightly more than in August (26).
September had seen the lowest number of COVID patients since the pandemic began – an average of just 16 daily.
While there is an increase in hospital admissions, the county is not seeing the level of serious illness that it did in the early months of the pandemic. In May, the worst month for hospitalizations, LGH alone averaged 46 cases daily. That followed a two-day peak in late April, when there were 56 cases.
Still, the trend of hospitalizations at the end of October is upward. In mid-September, the two hospitals averaged about 10 patients in total. In early October, the patient count rose to about 25. This past week, it averaged in the mid-30s. And on Oct. 31 the two hospitals reported 43 COVID-19 patients.
New cases (Positive Covid-19 tests)
Lancaster County hospitals, clinics and doctors reported 1,968 positive tests for COVID-19 in October, up substantially from 1,279 in September, according to the state Health Department.
Medical officials in three ZIP code areas reported more than 200 cases, according to daily Health Department reports tracked by Erica Runkles. And those areas have among the highest number of cases per thousand residents.
Lancaster 17602: 281 cases (34 per thousand)
Lancaster 17603: 281 cases (26 per thousand)
Lancaster 17601: 213 cases (19 per thousand)
The next two highest numbers of positive tests were:
Lititz 17543: 194 cases (18 per thousand)
Ephrata 17522: 139 cases (19 per thousand)
Two ZIP code areas – Bird-in-Hand and Smoketown – had no new cases. (See chart for a complete list of cases in each county ZIP code.)
To keep these case numbers in perspective, about one-fifth of 1% of the Lancaster County population tested positive for COVID-19 in October.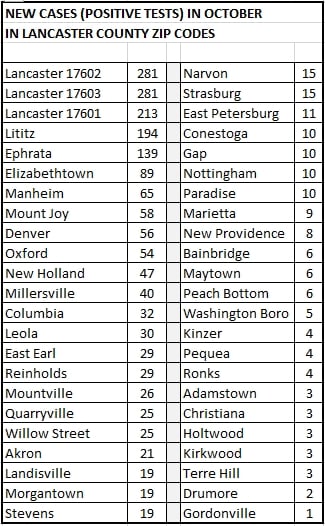 And, as Dr. Anthony Fauci, the CDC's top pandemic expert, has stated, about 80% of those who test positive do well without any specific medical treatment. About 20% become seriously ill.
Nursing and personal care homes
During October, there were no deaths at nursing homes in Lancaster County, and just the two mentioned above at personal care facilities. These very low numbers stand in stark contrast to the first months of the pandemic when more than 50 residents of care facilities were dying each month from COVID-19.
The case numbers from congregate care homes also were low. Among all nursing homes, just three reported new infections – Hamilton Arms, Conestoga View and Luther Acres – and each had just one case.
Five personal care homes reported new cases: Mennonite Home (5), The Glen at Willow Valley (1), Elderwood Senior Living (1), Oak Leaf Manor Personal Care (1) and Welsh Mountain Home (1).
Nine nursing homes reported staff members testing positive: Homestead Village (6), The Glen at Willow Valley (8), Mennonite Home (2), Conestoga View (2), Luther Acres (2), Calvary Fellowship Homes (1), Ephrata Manor (1), Mount Hope Nazarene (1), and Moravian Manor (4).
Four personal care homes reported staff members testing positive: Mennonite Home (1), Paramount Home (1), Muhlenberg Lodge (1), and Elderwood Senior Living (1).
It is important to note that the data provided by the state Health Department on nursing and personal care homes is far from complete.
Throughout the pandemic, many of these homes have not provided information on cases and deaths to the Health Department or, if they did, the Health Department is not posting that information.
In the October report, as in all past reports, there is no information posted from four nursing homes: Manorcare Health Services-Lancaster, Rose City Nursing and Rehabilitation at Lancaster, Susquehanna Valley Nursing and Rehabilitation, Zerbe Sisters Nursing Center.
In addition, there has been no information throughout the pandemic from 23 personal care homes: Acadia Acquisition 1, 2, 3, 4 and 5, Brereton Manor, Cocalico Christian Home, Evergreen Estates Retirement Community, Hershey Mill Home, Juniper Village at Mount Joy, Legend Personal Care and Memory Care of Lancaster, Legend Personal Care and Memory Care of Lititz, Magnolia Manor, Magnolias of Lancaster, Moravian Manor, Our Home of Hope, Red Rose Manor, St Anne's Retirement Community, St John's Herr Estate, The Gardens at Stevens, The Groves, Willow View Home, and Zerbe Sisters Nursing Center.
This report has been compiled from records of the Lancaster County Coroner's Office and the state Health Department by researcher Erica Runkles, sociologist Mary Glazier and journalist Ernest Schreiber. The data charts of county deaths, hospitalizations and cases maintained by researcher Erica Runkles can be viewed online here.