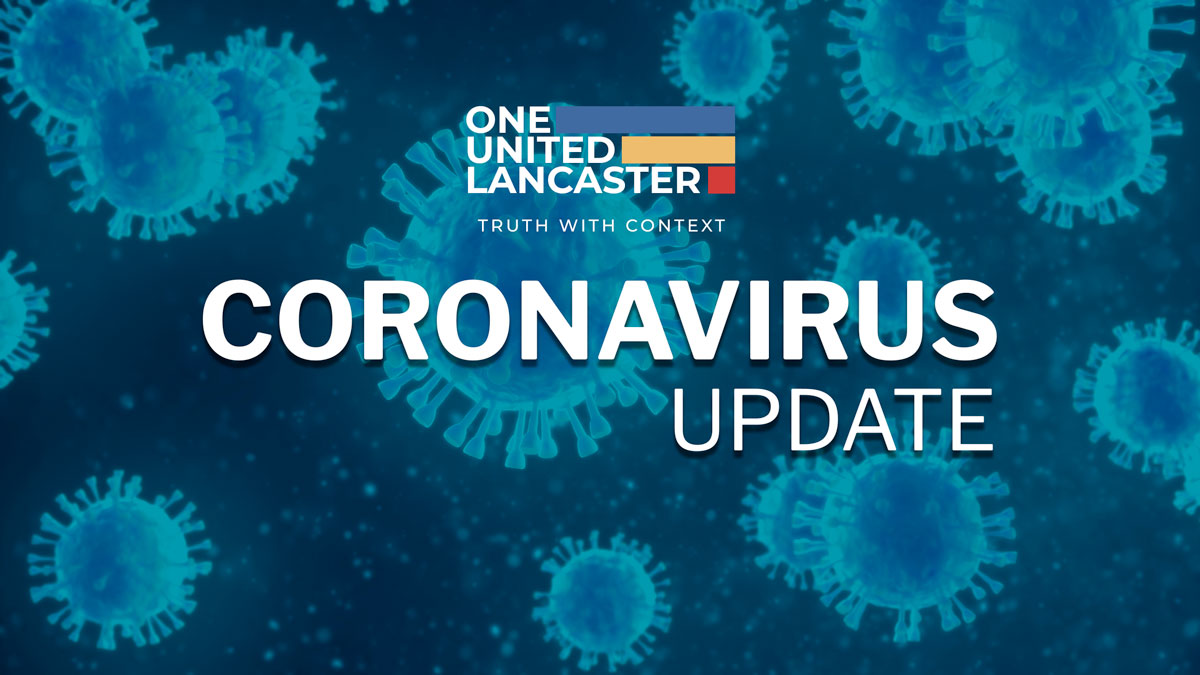 In summary
Deaths, hospitalizations and new cases fall sharply;
For first time in 12 months, no patients on ventilators;
State's nursing home data remains murky;
Only 17% of oldest seniors are fully vaccinated.
Introduction
All significant measures of the COVID-19 pandemic in Lancaster County fell steeply in February, accelerating the decline that began in mid-January:
• Virus-related deaths in February (91) are down by more than half from the December peak (207).
• Hospital cases similarly have dropped by half from a daily average of 130 in December to just 65 in February.
• Total new infections declined from 11,300 in December to 5,090 in February, again a reduction of more than half.
And as a clear sign that the severity of the pandemic is lessening, Lancaster General Hospital reported no COVID-19 patients on ventilators this week, the first time since the pandemic hit.
With the steep decline in new cases and the prospect of mass vaccinations in coming weeks, there is reason for cautious optimism that the worst of the pandemic is behind us and a resumption of normal life is likely by the end of spring, if not sooner.
Premature abandoning of precautions or an outbreak of a vaccine-defying virus variant could end the progress our community – and most of the U.S. – has made. But, at the moment, the numbers show that continually improving hospital care and the rollout of vaccinations are defeating the virus.
With that in mind, this report will look at how Lancaster County residents fared throughout the entire the entire pandemic, from late March 2020 until these first days of March 2021.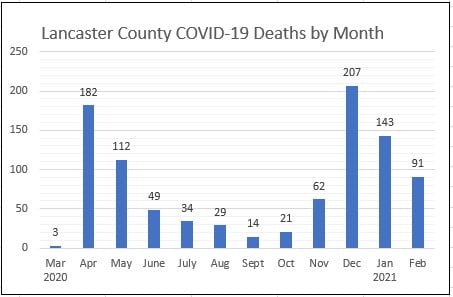 Deaths
The 91 COVID-19 deaths in February occurred at a rate of about three to four per day. That was fewer daily deaths than the four to five in January and six to seven in December.
So far in March, preliminarily, there have been five deaths in the past four days, or about one per day.
Since the pandemic first struck, 949 county residents have died. The worst month for deaths was December with its 207 deaths, followed by April, the first full month of the pandemic, with 182 deaths.
The "Deaths by Month" chart at the head of this section shows how the death rate fell from April through September, then soared at year's end, before beginning to drop this year.
For the record, the two worst days were April 22 and December 6, during the spring and fall surges. On both days, 14 county residents died.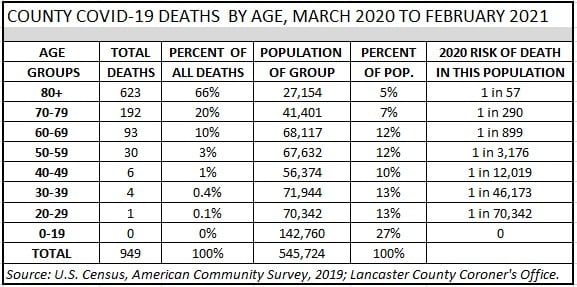 By age
As is well known, the virus struck the elderly most harshly. That pattern has not changed. In February:
• Two-thirds (66%) of county residents who died from COVID-19 were age 80 and above. That age group makes up just 5% of the population here.
• About 20% of victims were in their 70s, and 10% were in their 60s.
• In other words, more than 95% of virus deaths here occurred among those age 60 and above.
On the other end of the age spectrum, no one under 20 has died of the virus in Lancaster County. One person in their 20s, four in their 30s, six in their 40s and 29 in their 50s did succumb to COVID-19.
Put in perspective, about 2% of the over-80 population died from the virus. About one-fifth of 1% of the entire population died from it.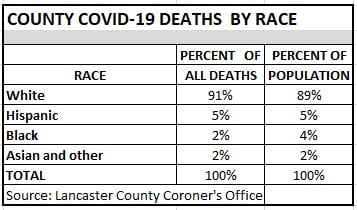 By race
Unlike some areas in the U.S., the virus did not attack minorities here in disproportionate numbers.
Whites, who are 89% of the county population, accounted for 91% of the COVID-19 deaths. Blacks, who are 4% of the population here, accounted for 2% of the fatal cases.
Virus deaths among Hispanics and Asians exactly matched their population numbers here, 5% and 2% respectively.
By Locality
The five communities with the largest number of COVID-19 deaths were Lancaster Township (151), Manheim Township (90), Lancaster City (56), Lititz (56) and East Hempfield Township (54). Most of those deaths occurred in nursing and personal care homes in the suburban communities.
Five municipalities had no deaths: Adamstown Borough and the townships of Conestoga, Conoy, Eden and Little Britain. An attached chart shows the full list of deaths in each of the county's municipalities.
Hospital cases
The number of COVID-19 patients at Penn Medicine Lancaster General Health and WellSpan Health Ephrata illustrates the rapid weakening of the virus here.
On March 3 and 4, there were 25 patients in the two facilities. A week before there were 50 hospitalized. Two weeks before that, there were 93 patients.
In the big picture, the number of seriously ill patients is approaching the lows of early October, before the fall surge began.
The county's COVID-19 patient count is not yet matching the all-time low of seven on Sept. 19. But it is far below the all-time high of 155 patients on Dec. 10.
New cases (positive tests)
The number of new COVID-19 cases, not surprisingly, has fallen in line with serious cases and deaths.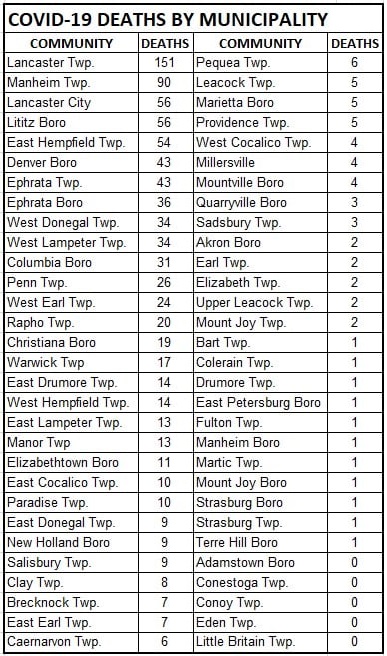 There was one outbreak of COVID-19 in February in the Maytown area. Sixty-three of the community's 790 residents, or about 8%, tested positive for the virus. Six virus-related deaths occurred there.
The daily average of new cases dropped in half from 365 in December to 182 in February. So far in March there is an average of 121 cases daily. As throughout the pandemic, about 80% of cases have mild or no perceptible symptoms.
All other areas of the county saw less than 2% of their population contracting the virus in February.
Throughout the pandemic, there have been 43,951 cases in the county. That's about 8% of the county's 545,724 residents.
With its recent outbreak, the Maytown area has become the community with the highest per capita number of cases throughout the 12 months of the pandemic. Since March a year ago, 16% of the town's residents have tested positive for the virus.
The next highest communities over the past years, by ZIP code, are southeast Lancaster 17602 (10%), and Terre Hill and northwest Lancaster 17603 (both 9%).
The accompanying chart shows the percentage of cases in every county ZIP code area.
Nursing homes
Throughout the pandemic, the state Health Department has failed to report fully on the nursing homes it oversees. Routinely, its posted reports are missing complete data on resident cases and deaths, as well as staff cases.
The most recent report, issued March 4, shows no data for 11 nursing homes: Elizabeth Manor, Elizabethtown Healthcare, Kadima Nursing, Lancashire Hall, Manorcare, Maple Farm, Mount Hope Nazarene, Newport Meadows, Rose City Nursing, Susquehanna Valley Nursing and United Zion Retirement.
The department's data are so spotty that it is not possible to report accurately on cases and deaths in county nursing home facilities. However, we will report on nursing homes in coming days, after federal health officials release their next report.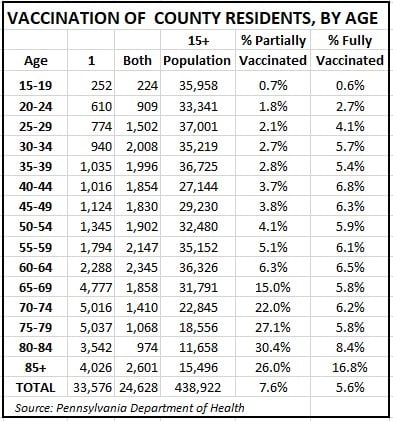 Vaccinations
According to the Health Department, Lancaster County hospitals, clinics and pharmacies have given 67,670 first doses of vaccine and 31,078 second doses. That means 12.4% of county residents have received one dose and 5.7% have received both doses.
The department's breakdown of vaccines by age group shows a lower number of vaccinated county residents, possibly because of data-entry lags.
According to that data, of those age 85 and older, about a quarter (26%) have received one vaccine dose and 17% have received both. Those ages 75 to 84 have received a higher percentage of first doses (27-30%) but a lower percentage of second doses (6-8%). (A chart of vaccination for all age groups is attached.)
The bottom line seems clear: The vast majority of the most vulnerable residents of this county has yet to get vaccine protection.
This summary of pandemic deaths, hospitalizations and new infections has been compiled from records of the Lancaster County Coroner's Office, the state Health Department, Penn Medicine Lancaster General Health and WellSpan Health Ephrata by researcher Erica Runkles, sociologist Mary Glazier and journalist Ernest Schreiber.