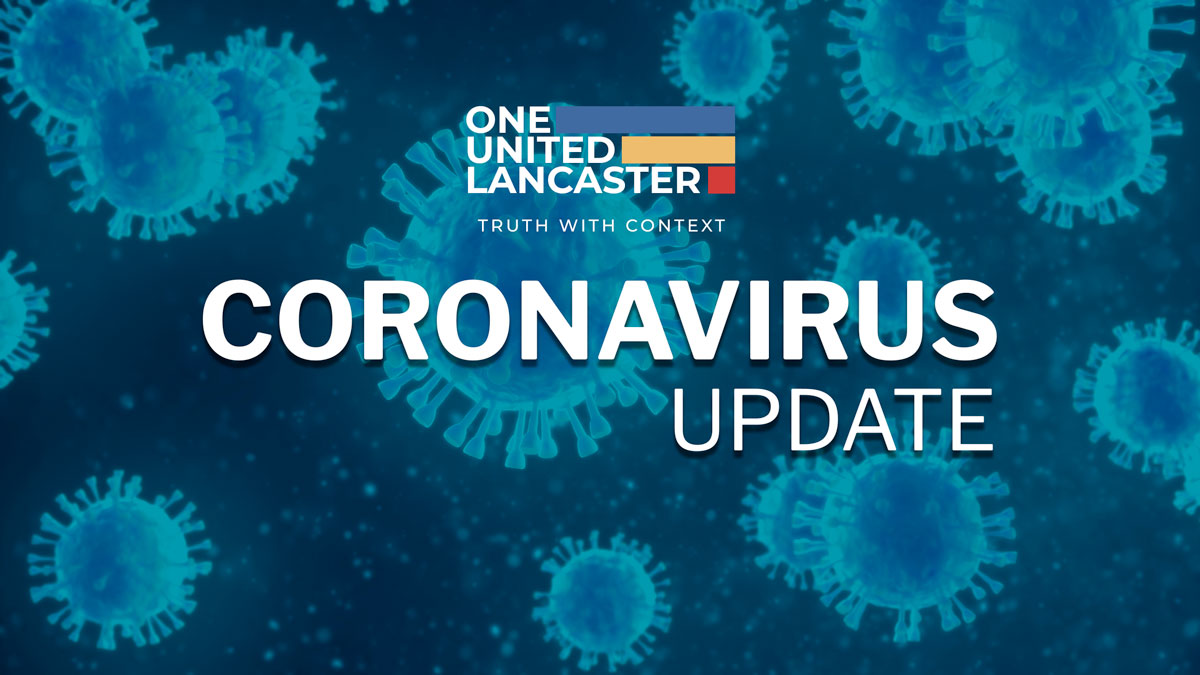 The winter wave of COVID-19 weakened its impact on Lancaster County in January.
Both deaths and hospitalizations – the two most significant measures of the pandemic – fell in the first month of the year.
The 139 virus-related deaths confirmed by the county coroner's office in January were one-third lower than the 208 deaths of December.
The daily average of patients at the county's two major hospitals – Lancaster General Health and WellSpan Ephrata – dropped from 130 in December to 115 in January, down 12%.
Even new cases, the less significant but more dramatic measure beloved by media, fell about 15% from around 11,300 in December to 9,500 in January.
While COVID-related illness and deaths decreased, avoiding the post-holiday spike that many feared, the pandemic's toll here in January still was severe.
Its 139 deaths were more than double the 62 deaths in November and 10 times higher than the 13 deaths in September.
Similarly, the average daily number of hospitalized COVID-19 patients, at 115, was nearly 50% above November's average and nearly four times the 30-patient-a-day monthly average through the summer months.
For the record, there was little change in the age and race of virus victims. Records from the coroner's office show:
•About 86% of those who died from the virus were age 70 and above, 10% were in their 60s and 3% in their 50s.
•About 91% were White, 5% Hispanic, 2% Black and 2% Asian or other.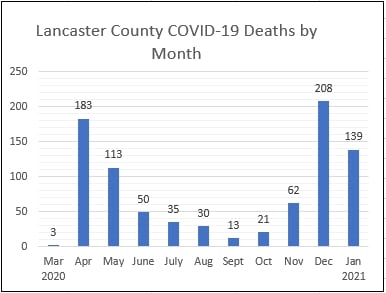 Highest areas of virus infection
The five highest areas of new cases in January were, not unexpectedly, in the county's most populous ZIP code areas, according to the state Health Department:
Lancaster 17603: 1,251 cases
Lancaster 17602: 1,061 cases
Lancaster 17601: 808 cases
Lititz 17543: 606 cases
Elizabethtown 17022: 519 cases
The next highest tier of new cases was the ZIP code areas of Ephrata (460), Columbia (342), Mount Joy (333), Manheim (298) and Denver (218).
Eight areas had between 100 and 200 cases: Quarryville, Willow Street, Leola, Marietta, Mountville, Millersville, Landisville and Akron. All other areas were below 100 new cases in January.
Three areas were in single digits: Maytown (7), Adamstown (5) and Smoketown (1).
Since the start of the pandemic in March, about 8% to 9% of the residents of the Lancaster 17602 and 17603 ZIP code areas have tested positive for COVID-19.
Three towns of much lower population – Terre Hill, Akron and Smoketown – also have seen about 8% of their population infected.
The countywide average is 6.75%, based on state Health Department and Census Bureau records.
This summary of pandemic deaths, hospitalizations and new infections has been compiled from records of the Lancaster County Coroner's Office, the state Health Department, Penn Medicine Lancaster General Health and WellSpan Health Ephrata by researcher Erica Runkles, sociologist Dr. Mary Glazier and journalist Ernest Schreiber.