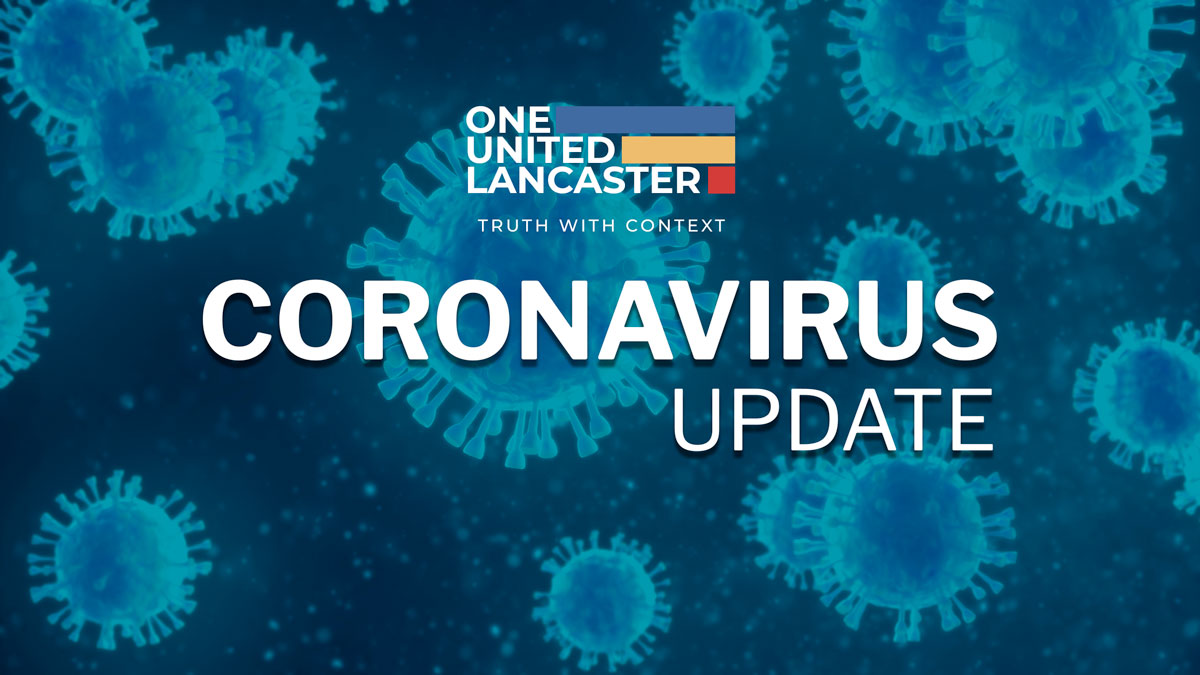 Lancaster County saw a record number of COVID cases and hospitalizations in January – thousands more than any other month.
But, thanks to a milder omicron virus, improved hospital care and vaccination, the number of pandemic deaths, while high, did not hit a record level.
Better yet, the fast-rising January surge is now collapsing just as quickly as it rose. If this cycle of the pandemic follows the pattern of past cycles, Lancaster County should see a largely virus-free summer.
The details
• 24,815 county residents tested positive for the omicron virus in January, according to the state Health Department. That's more than double the 11,304 cases during the delta virus peak in December 2020.
In round numbers, about 1 in 20 residents contracted the omicron variant in January. One in 50 were hit by the delta variant in last year's surge.
• About 1,250 of those omicron-infected countians required hospital treatment, assuming an average five-day stay. During the Delta surge in 2020, about 940 were hospitalized.
• When the two variants are compared, the omicron virus was "milder" than the delta virus. It sent 1 in 20 infected people to the hospital, while delta sent 1 in 12. But because omicron spread so quickly to so many people, it hospitalized more patients than delta did.
• 160 county residents died from COVID during January, slightly more than five per day, according to the county coroner's office.
Only two months have seen higher death tolls. In April 2020, the first full month of the pandemic, 182 mostly elderly, nursing home residents died. In December 2020, the peak of the Delta virus, 207 perished.
• In a strong, positive sign that the omicron surge is withering, the number of daily new cases has plunged from a high of 1,605 on Jan. 16 to 198 at month's end. Likewise, the number of COVID patients in the county's three hospitals already dropped substantially from a mid-month high of 233 to 147 on Jan. 31.
In past surges, a decline in deaths has followed declines in cases by three to four weeks. In the delta surge a year ago, deaths fell 85% by spring and then all but vanished during the summer. (There were only six COVID deaths throughout the month of July 2021.)
Who, where?
For the record, the virus continues to attack the elderly most severely, data provided by the coroner's office shows. Of the 160 who died, 102 were age 70 and above; 51 were in their 50s and 60s; three were in their 40s, three in their 30s, and one in the 20s. There have been no deaths here under age 20.
Over the course of the month, about 4-5% of residents in highly populated areas caught the virus. That included all of Lancaster and its suburbs, and the ZIP code areas of Ephrata, Denver, Akron, Columbia, Elizabethtown, Mount Joy and Mountville.
The areas of lowest reported virus cases were the ZIP code areas of southern and eastern Lancaster County, at 1-3%. Terre Hill had the highest incidence of omicron cases at 5.7%. Bird-in-Hand had a 1.2% infection rate.
Personal risk
With constant media attention on the pandemic, it is easy to overestimate the prevalence of serious COVID cases. So there is value in looking at what percentage of county residents get mild, serious and fatal cases of the virus.
Using the Census Bureau's newly released population figure of 552,984 for Lancaster County, the virus impact on residents here in January was as shown here:

In other words, almost 25,000 county residents tested positive for COVID last month. About 23,600 (94%) did not require hospital care. Of the 1,251 who were hospitalized, 1,091 (87%) survived.
Among those hospitalized patients, about three out of four (74.7%) were unvaccinated, based on cumulative data from Penn Medicine Lancaster General Health.
Local officials do not provide the vaccination status of those who died, but nationwide statistics show 90% of those who succumb to the virus are unvaccinated. Ten percent are vaccinated.
PEDIATRIC CASES
Infections in children mirrored the decline in the general population, the state Health Department reported. Over the first three weeks of the month, cases among children under age 5 dropped from 324 per week to 199. For school-age children 5 to 18, weekly cases fell from 1,297 to 583.
Vaccination
About 67% of county residents have received at least one dose of COVID vaccine. Fifty-nine percent are fully vaccinated.
The vast majority of elderly residents are vaccinated. The least vaccinated are county residents under age 30.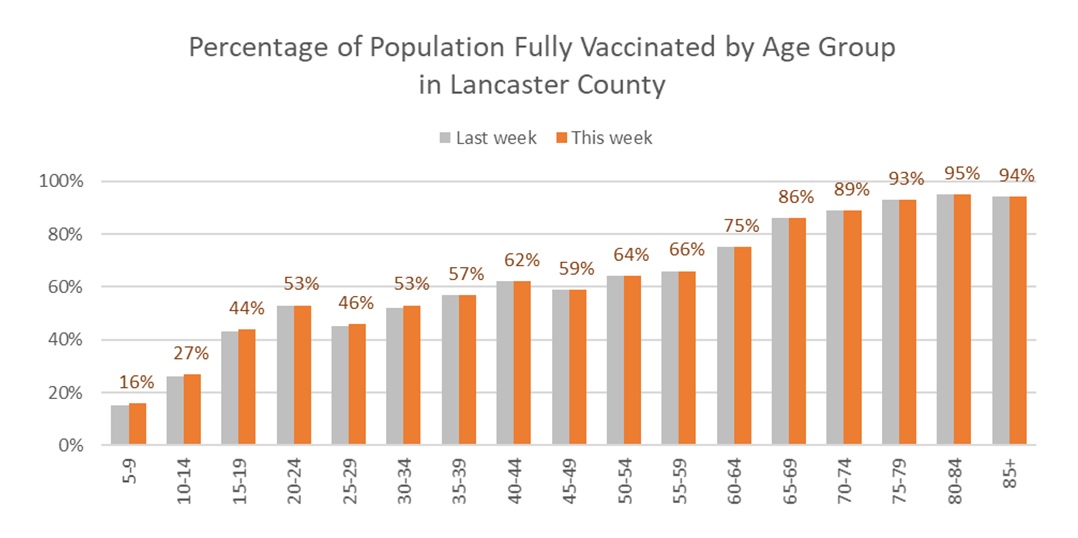 Nursing homes
The county's 32 nursing homes experienced dramatic increases both in resident and staff cases, weekly reports from the Centers for Medicare and Medicaid Services (CMS) show.
Nursing homes reported 249 residents diagnosed with COVID from Dec. 27 through Jan. 23, compared to 66 in December. Staff cases increased at an even faster rate, with 633 reported so far in January compared with 141 in December.
The staff cases were remarkably widespread. Every nursing home in the county reported COVID positive staff in their January reports.
Data were lacking for two facilities: Kadima Rehabilitation & Nursing at Lititz and Landis Homes. Kadima did not report two weeks in January. CMS has not included data from Landis Homes since the Dec. 5, 2021, report because its data has not passed a quality assurance check.
The CMS report for the week ending Jan. 23 suggests that the increase in cases has peaked. Lancaster County nursing homes reported 45 resident cases that week, compared with 85 on Jan. 16 and 72 on Jan. 9.
During the same period staff cases fell from 216 for the week ending Jan. 16 to 135 for the week ending Jan. 23.
Staff cases are still widespread with 27 facilities reporting cases on Jan. 23 in comparison to 28 on Jan. 16.
The news regarding patient deaths in nursing homes remains positive. Despite increased numbers of resident and staff cases, resident deaths have remained relatively low.
Between Dec. 27, 2021, and Jan. 23, 2022, CMS reported nine deaths of county nursing home residents: one each at Homestead Village and Susquehanna Valley Nursing and Rehabilitation, two each at Conestoga View and Manorcare, and three at Masonic Village.
In contrast, in December 2020, when there were 258 resident COVID cases, there were 78 resident deaths.
In a rare event, Fairmount Homes reported a staff COVID death in its report for the week ending Jan. 9. That is only the fourth nursing home staff person to die of COVID in Lancaster County. Last winter, one staff member from The Garden at Stevens and two from Susquehanna Valley Nursing and Rehabilitation died of COVID.
Personal care homes
The situation in January for the 61 personal care homes in Lancaster County is similar to that of the nursing homes. Resident COVID cases increased from 10 in December to 79 in January, according to the state Department of Human Services. Staff cases increased from 38 in December to 147 in January.
As in December, no deaths due to COVID occurred in January in these facilities.
This summary has been compiled from records of the Lancaster County Coroner's Office, the PA Health Department, the PA Human Services Department, the Centers for Medicare & Medicaid Services and the Martin School of the University of Oxford by researcher Erica Runkles, sociologist Dr. Mary Glazier, data programmer Penn Glazier, and journalist Ernest Schreiber.