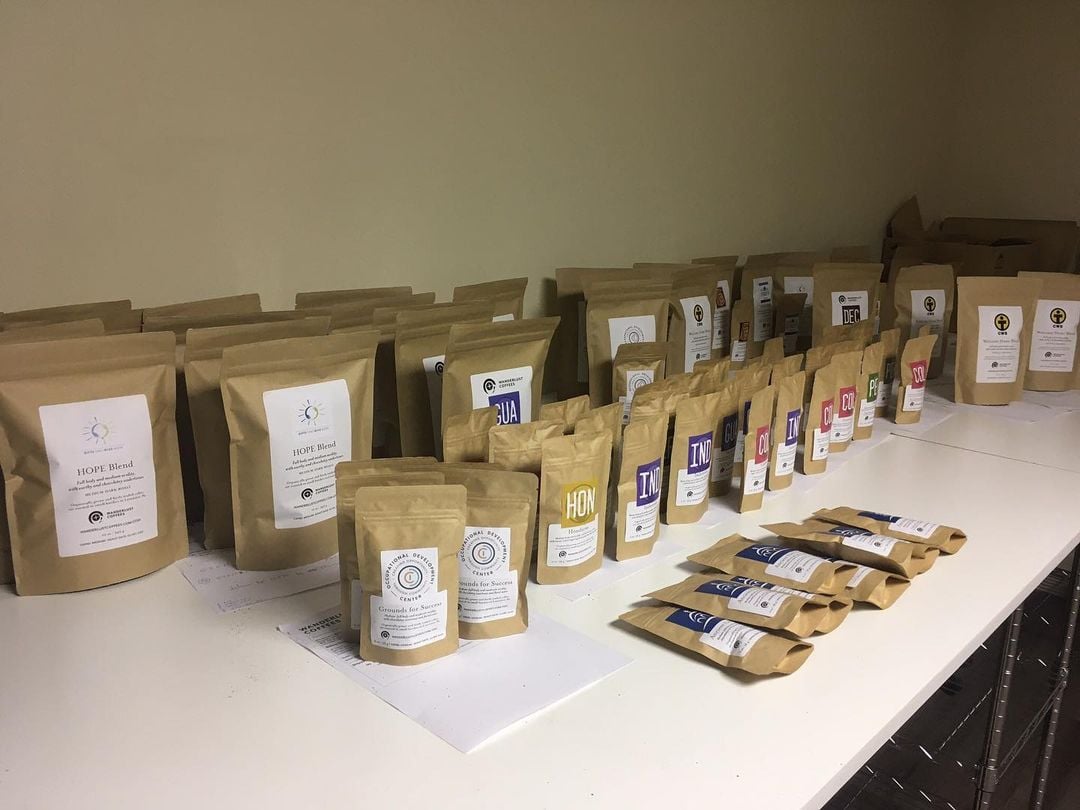 Timm Wenger has been committed to bringing global experiences to the Lancaster community for more than a decade.
Through the "Taste the World" walking tours of downtown Lancaster city and the "Kids & Cultures" program to help children learn about the world beyond their televisions, Wenger and his family have long been in the business of creating "positive change by not just staying in our own little world."
When the Covid-19 pandemic hit — forcing the cancellation of the Taste the World tours — Wenger began to look for a new way to provide for both his family and his community.
After seeing the financial hits that area nonprofits were taking, Wenger, his wife, Kristina, and his son, Thaniel, decided to start a new venture that marries the ideas of community enrichment and entrepreneurship: Wanderlust Coffees.
Encouraging nonprofits through coffee
"We wanted to do coffee roasting as a way to benefit nonprofits who are doing good in the world," said Wenger, who has taken care of most of the roaster's operations and management since it began on Nov. 30.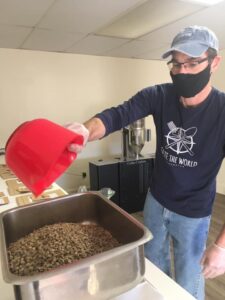 The roaster's mission — and name — come from British essayist Pico Iyer's quote, "A person susceptible to wanderlust is not so much addicted to movement as committed to transformation."
Each of the nonprofits that partner with Wanderlust has its own unique coffee blend, which is sold online. The organizations promote their blend within their communities and at the end of each month, they receive 20% of the profits made from its sales.
All of the partnering nonprofits are Lancaster-based, or at least have locations in the county. There are 10: One of the most recent additions is the United Way of Lancaster County.
United Way's blend, called The Our Way Blend, is a coffee with "medium body and medium acidity, with nutty undertones and a sweet finish," according to the blend's label. It launched last Thursday.
"We were honored to be one of the first organizations Wanderlust reached out to, said Kevin Ressler," the president and CEO of United Way of Lancaster County. "I have worked around the periphery of social enterprises for years and appreciate them so much. Now I know where I can get my next surprise gift for Melissa, my java-loving wife!"
The roasting process
Besides the nine special blends for nonprofits, Wanderlust also offers blends from the six countries that it sources the beans from, a decaf blend, a "standby" blend and several limited-time products.
Creating awareness of the whole process is crucial, he said, for helping others understand other parts of the world and the "impact of coffee growers' lives on the process."
The beans that Wanderlust uses are "organically grown and fairly traded" from locations across the world, said Wenger.
Once the beans arrive, the Wengers roast the beans in small batches using a fluid bed roaster. This method of heating the beans in a column of hot air keeps the beans moving and prevents scorching, which creates a sweeter taste, Wenger said.
Once roasted, the blends are packaged in resealable bags and shipped to over 24 states across the county.
Taking 'doing coffee' to the next level
As with his other ventures in Lancaster, Wenger hopes to spark something bigger in the Lancaster community than just providing good coffee.
"I encourage people to take advantage of 'doing coffee' with people different than themselves," he said, with the hope that the casual act of having coffee with a neighbor could spark community and transformation.
For more information about Wanderlust Coffees, to buy products or to submit an inquiry for a new nonprofit blend, visit wanderlustcoffees.com or the Wanderlust facebook page.
The organizations that have special roasts with Wanderlust are:
Off the Streets Now
Lancaster City Alliance
Northeast Neighbors United
Ancient Faith Radio
Gifts that Give Hope
Church World Service - Lancaster
Occupational Development Center
St. Anne's Church - Lancaster's Brown Bag Lunch program
Lancaster Education Foundation
Orders placed for Lancaster can be picked up curbside at Wanderlust's warehouse at 923 S. Christian St. in Lancaster city or shipped at a $5 flat rate.
Bags come in 12 ounces, two ounces or five pounds and can be ordered one-time-only or by subscription.