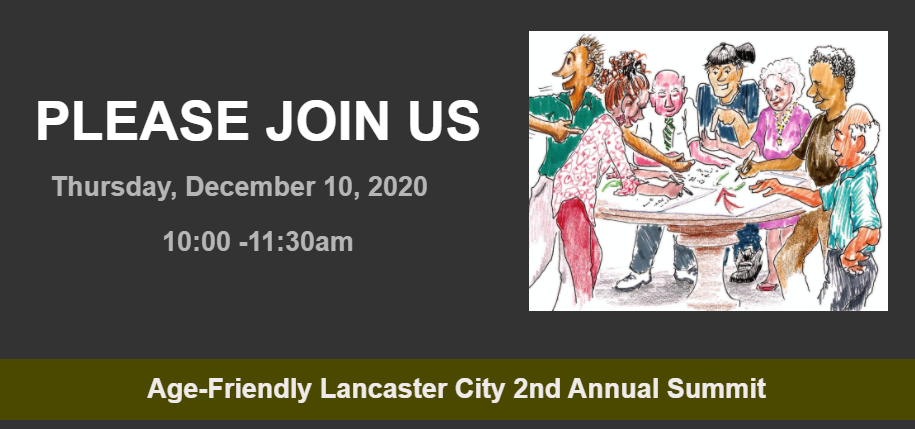 The 2nd Annual Age-Friendly Lancaster Summit will take place online from 10 to 11:30 a.m. on Thursday, Dec. 10.
Co-hosted by United Way of Lancaster County and the Lancaster County Community Foundation, with support from Age-Friendly Lancaster City, the free virtual meeting is open to anyone in Lancaster County.
Registration is open until 5 p.m. Friday, Dec. 4. Those who miss the deadline can join a waiting list by emailing Sara Yoskoski at Yoskoski@UWLanc.org.
This year's theme is "Connecting Generations During Covid-19." The event will feature open discussion on provided topics as well as presentations on projects that Lancastrians of all ages have been participating in this year.
Highlights include "ZTutors," older people reading to children over Zoom; and the project "Racism & the Art of Intergenerational Conversations."
The organizers hope to build upon last year's summit, which gathered participants from 26 organizations across the county and identified three areas to prioritize for Lancaster's older residents: housing, access to services, purpose & meaning.
"It is really important to have diversity in every way in our neighborhoods and our older residents are certainly a part of the diversity, and as such are part of the strength of our city and our neighborhoods," said Lancaster Mayor Danene Sorace.
Lancaster County is among more than 1,000 communities worldwide that are part of the World Health Organization's Global Network for Age-Friendly Cities and Communities.
Network members "listen to the needs of their aging population, assess and monitor their age-friendliness and work collaboratively with older people and across sectors to create age-friendly physical and social environments," according to the Age-Friendly website.
Age-Friendly Lancaster City is led by the City of Lancaster, Landis Communities and the Lancaster Downtowners, with guidance provided by Age2Age Consulting.