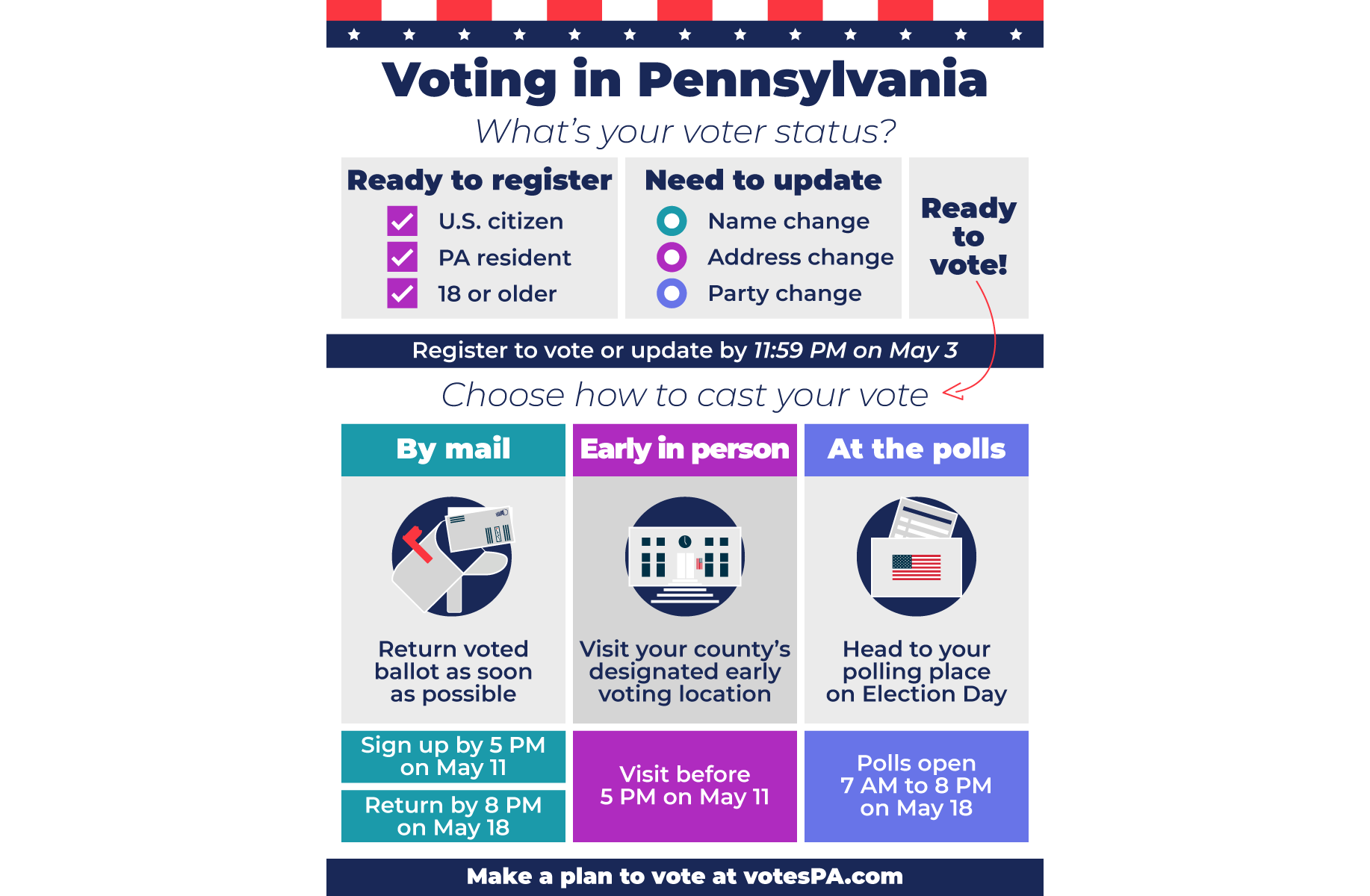 The deadline to register to vote in the May 18 primary is Monday May 3, two weeks away.
Pennsylvanians can register to vote online or submit a paper application to their county Board of Elections, the Department of State said in a reminder Monday.
Online applications must be submitted by 11:59 p.m. May 3; paper applications must be received by the close of business that day.
"I encourage all eligible Pennsylvanians to make sure they are registered to vote by the May 3 deadline so they can participate in the municipal primary," acting Secretary of State Veronica Degraffenreid said in a statement. "Voters will be nominating their party's candidates for local government positions, school board and the judiciary."
Under Pennsylvania law, voters must be registered under a party's affiliation — Republican or Democratic — to vote in its primary.
However, there are also four questions on the ballot, including three proposed constitutional amendments. All registered voters can vote on them, whether or not they have declared a party affiliation.
Online resources
For more information on voting in Pennsylvania and to manage your voter registration status, visit VotesPA.com. The website for Lancaster County's Elections Board is here.
Winners of the May 18 primary will represent their party in the general election on Nov. 2.
To register to vote, you must be age 18; a U.S. citizen for at least one month; and a resident of your election district for at least 30 days as of Election Day.
Pennsylvania saw unprecedented voting by mail in 2020, due to the Covid-19 pandemic and recent changes to state election law. Voting by mail remains popular in 2021: For the May primary, more than 638,000 Pennsylvanians have applied for a mail-in ballot already and more than 25,000 have applied for an absentee ballot, the State Department said.
Mail in and absentee ballot application forms must be received by your county election board by 5 p.m. on May 11, 2021.