When she heard schools and other organizations were closing because of the COVID-19 virus in March, the first thing that entered Karen Schloer's mind was, "what about the kids?"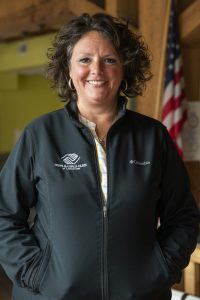 The 23-year veteran of the Boys & Girls Club of Lancaster, Schloer worried about the 300 to 400 kids the Club saw every night at six locations for meals and activities and a reassuring smile.
"What will they eat, how are they going to keep on learning, who is going to check on them for what they need?" she wondered.
Schloer quickly answered those questions herself.
With the help of a $4,500 grant from the newly formed Lancaster Cares Fund – a collaboration between the United Way of Lancaster and the Lancaster County Community Foundation- Schloer, as the Club's CEO and chief problem solver went to work.
"We can't let the kids congregate right now but we can give them something to eat and give them some activities to do at home and, most importantly, we can lay eyes on them," Schloer said. "We know them, and we can see if their basic needs are being met."
She gathered the Club's staff together and figured out a brown bag system that not only had a hot nutritious meal inside, it also had some learning materials for the kids to take home.
Most importantly, the kids would come to the Club to get it and they could maintain the support and the relationships they've already developed with the staff.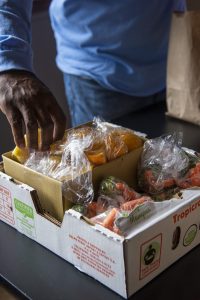 The first week, only four kids came for meals. The second week, the word got out and more came. Last week, the Club provided some 900 meals for kids in Lancaster and Columbia.
The "snack" bags are available at 2 p.m. at the Club's Southeast location, 335 Dauphin St. and at 3 p.m. at their Columbia clubhouse, 248 Locust St.  The front doors to the clubhouses serving the food are open and there is a table and cones to make sure everyone stays six feet apart, explained Schloer. There's also hand sanitizer available as the kids move through the line.
The Lancaster Cares Fund was put together to support Lancaster residents with food, housing and rapid response dollars to address emerging issues. In the six weeks since the community organizations put the fund together, nearly $1 million has been raised.
"We're thrilled to receive support for this program," said Schloer. "For one thing it's helped us not lay off our cook. And it's enabled us to lower our expenses."
Karen is not surprised that a fund came together so quickly and effectively.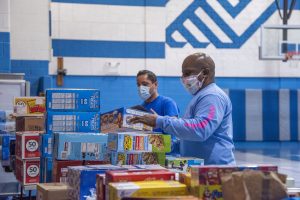 "I'm really proud that United Way and the Community Foundation just jumped in to raise money for our community," said Schloer. "It's absolutely outstanding at a time when we really need it for families who live here.  It's impressive and has made me really proud of Lancaster."
Schloer plans to continue the meals as long as they are needed.
"We're a non-profit for kids who need us most," Schloer said. "Now we're at a time when there are the most needs. The club is going to continue to figure out a way to continue to be a vital part of this community, that's our mission."
~ Susan Baldrige