Cliff Lewis describes himself as someone who writes "weird stories about important things."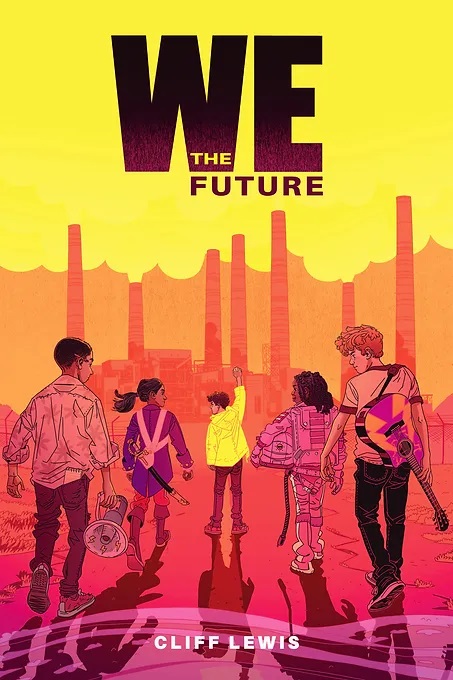 Last month, he launched his debut novel for middle-schoolers, "'We the Future," published by Jolly Fish Press. Lewis describes the book as "Back to the Future meets Newsies," full of fun Easter eggs and true-to-life teenage angst.
Lewis loves stories and storytelling: A few years ago, he won the Lancaster Story Slam's grand slam competition. A writer and marketing professional by trade, he works at Klick, an advertising and marketing firm focused on the life sciences sector.
One United Lancaster recently caught up with Lewis, who explained how a story featuring a time traveler from the future can help avert catastrophe in the present. Clad in a yellow rain jacket, an homage to youth activist Greta Thunberg, he shared the story of his book's genesis. He spoke about the infectious optimism of young people and how kids below the voting age can still demand change.
One United Lancaster: Let's start with the bananas.
Cliff Lewis: When I was growing up, the climate crisis was most often described in terms of sea level rise, which felt like an abstraction, and polar bears, which felt small.
It was rarely conveyed in a way that communicated how it could personally affect me and the people I love. The environmentalist messaging may have done some harm in terms of demotivating people over the years.
I talk about this crisis in human terms. I began my presentation with the concept of endangered species and species that are directly threatened by the secondary effects of global climate change. That's the hook. Then I turn the corner into something that directly impacts human life: bananas.
The banana is a crop that happens to be particularly susceptible to changes in climate. But there are countless things that we take for granted about human life on earth that are just as vulnerable as the banana.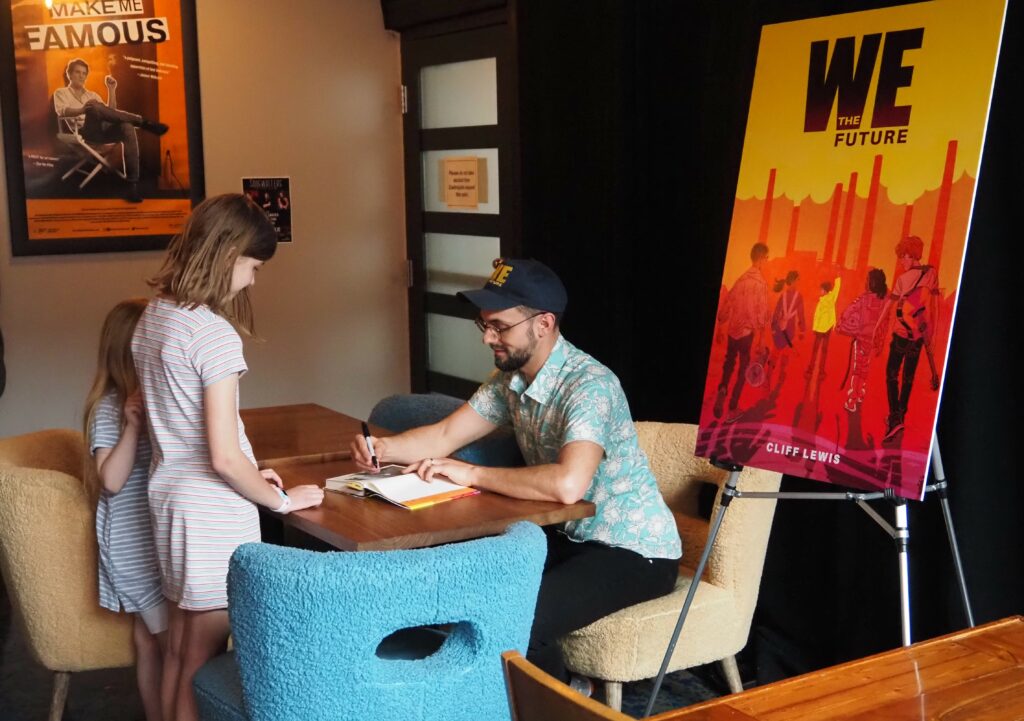 OUL: Do you have a science background?
Lewis: I have a background in storytelling and writing. I became passionate about this issue because I'm a parent.
I have two young kids and thinking about this crisis in terms of their lives really lit a fire within me. I started to ask "What can I do?" Individual consumer choices and carbon footprint shrinking efforts will only take you so far.
I realized there are things that I can do that can actually help effect big structural change.  So I wanted to write a story that helped give people a toolbox for how to fight for that kind of change.
OUL: How do you talk to young people about the climate crisis without freaking them out?
Lewis: I don't wear kid gloves. When it comes to conveying the severity of the crisis, I think they deserve to know its scope.
I don't view children as frail people who are merely acted upon. They have agency and the potential for great power. I want them to have their shot at doing something about it. The sooner the better, because this is a time sensitive crisis that directly affects them.
So I'm pretty blunt in this book about the severity of the crisis. However, I'm also writing this book with the understanding that climate anxiety is a huge problem. 75 percent of kids globally report feeling frightened when they think about the future.
I want to speak to kids who are already shaken, already scared. Not by my book, but by reality. I wanted to show them that when they team up and find community, they can fight together for the future they deserve.
Instead of those feelings of isolation and hopelessness, they can have feelings of power and solidarity, by bonding together with like-minded people and fighting for big change.  
OUL: Tell me about your experience with the Sunrise Movement, the organization that inspired you to write this book.
Lewis: They pushed every Democratic candidate running for president in 2020 to submit a climate plan. I think they are largely responsible for the fact that the Inflation Reduction Act included some of the boldest, biggest, most substantial measures our federal government has ever taken towards building our way out of this crisis.
So, in We the Future we see a similar narrative unfold. It's the story of a group of kids who are too young to vote. But they can't wait until they turn 18 to try and effect change, they see that the clock is ticking. They organize. They build a movement. They pressure a senator to support what they call World War G, a vision for mobilizing the entire economy and national government — like during World War II — to transition away from fossil fuels. 
OUL: "Two Degrees," by Alan Gratz, which bears resemblances to your own book, was recently at the center of a controversy in Kutztown. Are you worried people might call your book propaganda?
Lewis: I definitely found (the Kutztown controversy) disturbing, partly because of some of the rationale that I heard quoted in the press from some of the school board members that were giving pushback. Their concern was that his book would cause students to question the way of life in their community.
Allegiance is exactly what the fossil fuel industry wants. They want people to feel a sense of cultural loyalty to what they're selling.
But the fact is, some of the biggest contributors to climate change and some of the biggest opportunities for reducing global emissions don't immediately require individual people to radically change their personal way of life in their communities.
Activist groups like Sunrise are very concerned with making sure that people's way of life, their livelihood, health and economic stability — especially in more rural areas — is protected. Leaving people behind is not going to be a sustainable path forward for our society. 
OUL: You call "We the Future" a novel about saving the world by making friends and making friends by saving the world. Tell me more.
Lewis: I really wanted to take the idea of unionization and union organizing and package it in a way that is really fun and appealing. But it goes beyond the immediate goal of organizing, to something that can enrich your life in terms of community and friendship.
I was recently listening to an old union song by Pete Seeger and it sums up why I invoke the history of union organizing in my book.
Step by step, the longest march
Can be won, can be won
Many stones can form an arch
Singly none, singly none
And by union what we will
Can be accomplished still
Drops of water turn a mill
Singly none, singly none
That song seems to have been written about union organizing specifically, but it speaks perfectly to the task of climate organizing. Both efforts involve rallying a movement of "little" people to amass their collective power into a force so unstoppable that even the most deeply entrenched corporate power can no longer hold its ground.