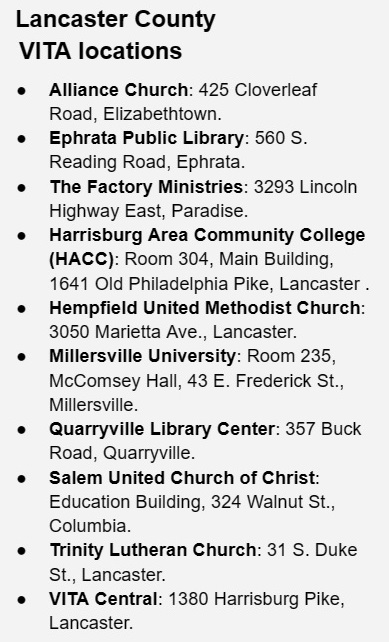 As of today, eligible Lancaster County residents can schedule appointments with VITA to have their 2022 taxes prepared for free.
VITA, or Volunteer Income Tax Assistance, is a program of United Way of Lancaster County. This year it is offering tax preparation at 10 in-person locations, including a new location at Quarryville Library Center to serve clients in the county's southern end.
In general, VITA is available to anyone who makes no more than $60,000 per year. To learn if you qualify, click here.
Appointments can be made for day or evening hours, Monday through Saturday. Exact hours vary by location. At most sites, appointments will begin on Monday, Jan. 30.
To make an appointment, call 211 or use this online scheduling tool.
Taxpayers can also elect to drop off their tax paperwork then pick up their completed returns. There are two locations for that:
Elizabethtown College: One Alpha Drive, Elizabethtown.
United Way of Lancaster County: 1910 Harrington Drive, Lancaster.
To schedule drop-offs and pick-ups at Elizabethtown College, call (717) 361-1270. For the United Way location, use 211 or the online scheduling tool.
For individuals who are deaf or hard of hearing, VITA provides services at Keystone Deaf & Hard of Hearing Services. It can be reached by video phone at (717) 283-4460. Other language services are also available.
This year, VITA has 128 IRS-certified volunteers available to assist clients. Recruitment remains ongoing: For information on being a volunteer, email VITA Director Kim Maldonado at vita@uwlanc.org.
In 2022, VITA staff and 153 volunteers prepared 8,488 tax returns, saving Lancaster County taxpayers $2.3 million in tax preparation fees and securing them $10.2 million in refunds. (Originally, the figure for refunds was erroneously reported as $16.3 million.)