Stephen Sunderlin is a co-founder and the producing artistic director of Vital Theatre Co., a New York City-based theatrical troupe that is expanding into Lancaster. He has a fierce passion for the arts, storytelling and uniting people through theater.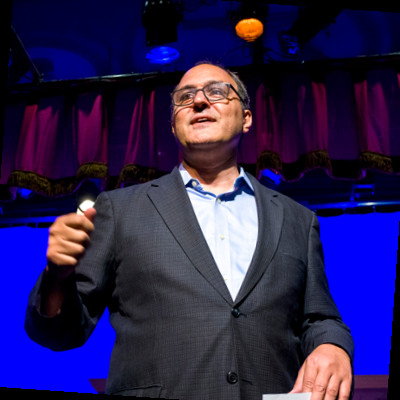 Vital Theater Co. is performing "Fancy Nancy Splendiferous Christmas," a holiday-themed family musical, at Mickey's Black Box on the Rock Lititz campus. It continues through Dec. 22; for details, visit the Vital Theatre Co. website.
One United Lancaster sat down with Sunderlin to talk about his involvement with Vital Theatre Co. and the vision for Lancaster.
This interview has been edited and condensed for clarity.
One United Lancaster: Can you tell me a little bit about the history and origin of Vital Theatre?
Sunderlin: Vital Theatre was founded in 1999 by four young theater professionals that wanted to create a home to do their work. One was a musical theater producer, one was into operas. I was the gritty kitchen-sink drama guy, and another was into comedies. We were kind of an eclectic group that started on 42nd Street on Theater Row in Manhattan. We hit the ground running and have been going ever since.
Our first year, we produced plays almost every month, along with musicals, comedies, one act operas and drag cabaret. A lot of it was original. We probably have about 20 or 30 scripts in print that we developed as original productions and [have been] published and produced all over the country.
OUL: How did your transition into family theater begin?
Sunderlin: We had always done family theater [along with] educational and nighttime adult shows. We also had put on some children's shows, but had never done them based on books. They were original ideas, fairy tales, Shakespeare.
About 15 years ago, a friend of our company wrote a book called "Pinkalicious." My director, producer, and one of our composers went to the reading of this when it first appeared. They said, "Oh my God, we have to make a musical of this." And I said, "You can't make a musical about a little girl who eats cupcakes." …
Thank God, I listened to them. As an artistic director, I like to support ideas that I like, but part of what I do well is support other artists.
We exclusively became a children's theater several years later and started really digging into the picture book market, because our audience is ages 2 to 7. Our sweet spot is 5 years old because that audience is a more captive audience.
It's a successful model because parents are busy raising young kids [and want] a good time for the whole family. We have been very successful with that ever since.
OUL: Could you tell me a little more about how you settled on Lancaster? What factors drew you here?
Sunderlin: Well, the initial impulse was a couple of things. First, my daughter, son-in-law and two grandkids live here and have been here for about four years. So, I'm back and forth on the train all the time.
Second, about four years ago, I was on the way to a conference at the Ware Center, one of the many conferences we travel to, to sell our shows. On the train, I was with a colleague from New York, and we chatted on the 2 1/2-hour ride.
During that time, I thought, "I spend more time with my New York colleagues at these conferences all over the country than I did in New York City. I don't need to be in New York City to do my business. Other people that do what we do, work from all over."
After that, I started exploring Lancaster. I talked to the chamber of commerce and Discover Lancaster, sussing out some partners. …
Then COVID hit, and it was a disaster. We were shut down for two years, came back in August 2021, had three more COVID cancellations, and had to cancel our season. We were a struggling nonprofit that was not making any money. I went to my board and said, "Look, here's some of the things we could do, and I've been looking at this Lancaster thing. So, let's give that a try."
Now, we're co-located [in Lancaster] … where people love their theater. What's even more encouraging is that no one else specifically does family theater. We're hoping this year we're going to see our recovery.
OUL: You mentioned a residency at the Lancaster Bible College. Is this temporary until you get your own building? How will this work?
Sunderlin: We've been having conversations to bring back Fancy Nancy and remount Pinkalicious in January. Rob Bigley, who manages the theater program and teaches at Lancaster Bible College, [and] Randall Frizado, our new general manager, helped us to put this together. …
Lancaster Bible College owns the Trust Performing Arts Center in downtown Lancaster. It has two performance spaces, the Great Hall and the Black Box Theatre. The latter venue seats about 100 people and is where Vital Theatre Co. would perform.
Sunderlin: We're [also] talking about a longer-term residency with the Gardner Theater at Lancaster Country Day School and have had a great relationship with Greg and Heather Woodbridge, the couple that runs it. They built a brand new, $16 million performing arts center on the campus of their high school. It's gorgeous. It's a 600-seat theater, versus Mickey's Black Box that seats 294 and the Trust's 100 seats.
"Lancaster Country Day School's Gardner Theatre is excited to host Vital Theatre Lancaster's performances for the 2023-24 season," Heather Woodbridge said. "When our state-of-the-art theater opened in 2021 one of our key goals was to work with Lancaster community arts organizations. A children's theater company that shares our vision of inspiring and empowering students through the arts is a natural fit for our school."
Sunderlin: The goal is to find something [more permanent]. If we do theater on a regular basis, the right size theater is really important. In New York, we pay a fortune to rent and lease the theater. When I came to Lancaster, [I wondered] where we could put our theater that would allow for a scene shop, prop shop, and location to build our sets.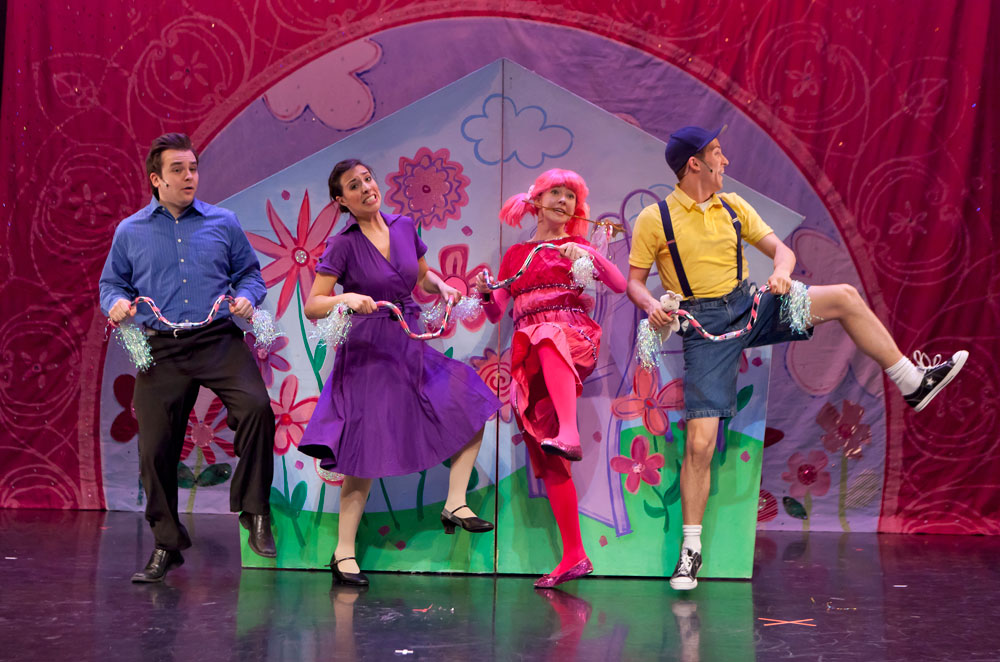 OUL: How many employees have you hired and what is your timeline for producing shows?
Sunderlin: [During the pandemic], we kind of shut down and didn't do any shows. So, in terms of employees, it was just me. Nobody wanted to quarantine in the city. People left town, went back to California or the Midwest.
When we came back, we hired a lot of part-time staff. When we're ramped up, there could be 20 to 100 people — actors, directors, stage managers, and music directors. We just recently hired two full-time staff members, Randall in Lancaster (Randall Frizado, former company manager and associate casting director for the Fulton Theatre) and Ellie (Parker) in New York, and they're doing an amazing job.
We were fortunate to remount our successful shows when we came back. We usually produce and develop three to five original shows every year. We have five to seven shows that have been successful and tour on a regular basis around the country.
This year, we're bringing on three new books, "Myra and the Drawing Drama," "Puppy Pirates," and then one called "The Boxcar Children." Some people of a certain generation are more familiar with it than others.
OUL: Could you tell me more about Randall Frizado?
Sunderlin: Randall was just one of those guys that reached out. He has lived here for 19 years, raising his family. He is from California, spent time in New York, and worked with professionals around the country. He worked at the Dutch Apple Theater and knew the actors here.
When I came here, I reached out to people in theater and heard about a guy from the Fulton that had developed mystery dinner theater at the Strasburg Railroad. He worked with a guy hired from Disney as an experimental thing, and put theater on the train. I was like, 'Wow, that's fascinating. I want to talk to this guy.'
Randall knows the lay of the land here, which is something we're still learning, and has been invaluable to us. When he left the position at the train station, we jumped at a chance to offer him a job. It just kind of was a no brainer.
OUL: How is Vital Theatre Co. different?
Sunderlin: What we do is all original. You can't see these shows anywhere else.
[For] Fancy Nancy, we licensed the property, hired a book writer, composer, and lyricist – all New York professionals, to create one new musical. Pinkalicious is licensed, and the Fulton and Dutch Apple might have done this, but the only place you can see Fancy Nancy is at a Vital Theatre.
Every time I sell a show to somebody who's never done family theater before, people go "Oh, we don't do children's theater. We've never done that." And when they try it, I get a call saying "Where did all these people come from? I've never seen these people in my theater before!"
I can't tell you how many times a parent has said, "I think I enjoyed that more than my child because they're just so clever."
OUL: As a nonprofit, what kind of grants or other funding sources make your company sustainable?
Sunderlin: We've been lucky to have produced very successful shows. That's one of the reasons we made the transition to doing children's theater, because it was so successful. We were losing money on all of our adult shows, so we just kind of came to the decision that we need to focus on [children's theater] because we were kind of shortchanging the family programming to do the adult programming.
[While] it was great [and we] were producing great art, it's a more competitive market in New York City. Our peak budget was about $2 million a year and 95% of that was earned revenue. Usually it's 30-40% to 50-60% earned revenue and contributed revenue. We would raise about $200,000 a year but all of that went into our education program. …
We got foundation and education grants and $750,000 grant from the borough president of Brooklyn to renovate a theater. We were successful with that. All of that money helped address our mission of using Theatre Arts to educate young people.
OUL: Is there anything else that you would like anyone to know? Any upcoming events?
Sunderlin: I'd love to get people to come to our website vitaltheatre.org to learn all about the shows. We have Facebook, Instagram, TikTok, we're all over social media. Reach out, we're very approachable, open, and accessible. Watch out for our camps and classes coming in the summer of 2023.
We would love people to learn about us, to come see a show, [and] reach out they have any questions because we love making theater happen.
We're really excited about being here. We're looking forward to settling in and hopefully, this year will be a continuing and ongoing new chapter in the history of Vital Theatre Co.
(Editor's Note: This article was modified on Dec. 4 to update a link, correct the spelling of Randall Frizado's last name and correct several other typos.)