Laura Pauls-Thomas lists some of the obstacles facing bicyclists in Lancaster:
Many of the major thoroughfares (Fruitville Pike, Manheim Pike, Oregon Pike etc.) are unsafe for those traveling without a car.
Not all motorists know or obey the laws regarding cyclists (e.g., motorists must allow 4 feet of space when passing a cyclist).
Many cyclists — especially novices, the elderly and families with young children — simply do not feel safe without dedicated biking infrastructure.
Pauls-Thomas, an avid cyclist, is curator of Global Shapers Lancaster. It's one of some 500 "hubs" in the World Economic Forum's Global Shapers community, which encourages young adults aged 18 to 30 to take an active role in solving community problems.
For May, which is National Bike Month, the Lancaster hub organized a "Ride, Roll & Stroll" campaign.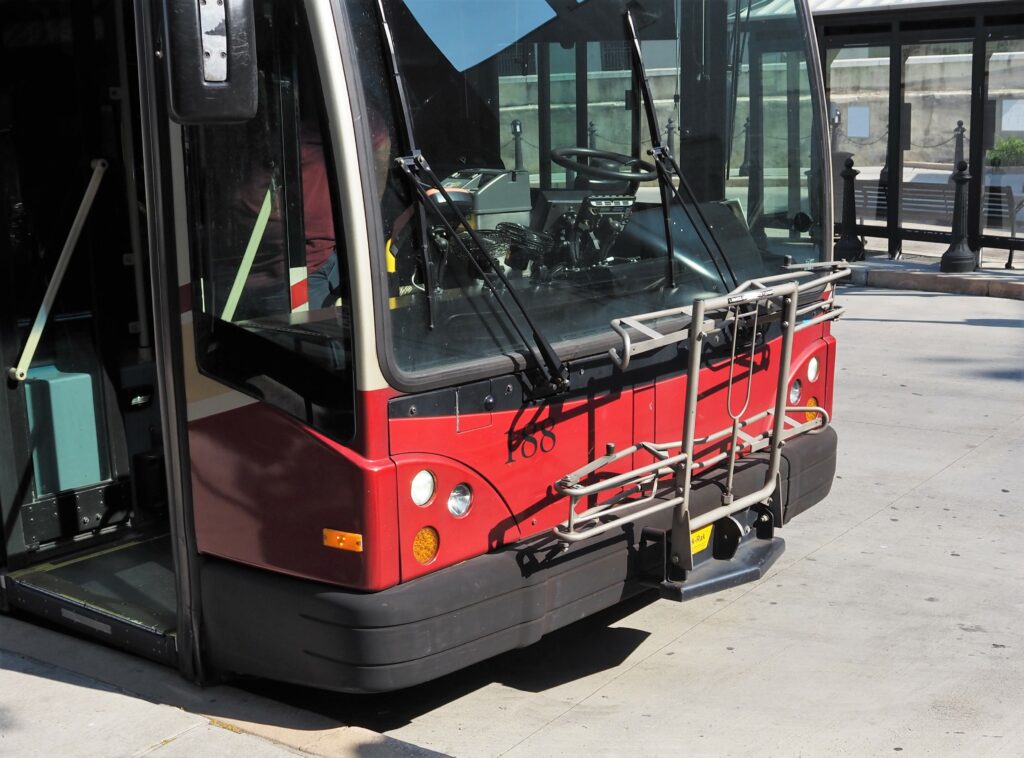 Participants can download a passport to fill with stamps from destinations around Lancaster County that are accessible without a car. (Support for the program came from the Lancaster Bicycle Club, which provided a grant.)
A wrap-up party is scheduled for 6 p.m. Friday, June 2, at the Common Wheel, 324 N. Queen St., Lancaster. Participants can bring their stamped passports to exchange for raffle tickets. For details and to RSVP, click here.
Cycling advocates describe the prevailing culture on Lancaster's roads – and roads all over the world – with the word "motonormativity." The phrase's proponents claim it expresses a fundamental assumption shared by drivers: that roads exist solely for cars.
The team behind Ride, Roll & Stroll believes Lancastrians should adopt more sustainable and active modes of transportation.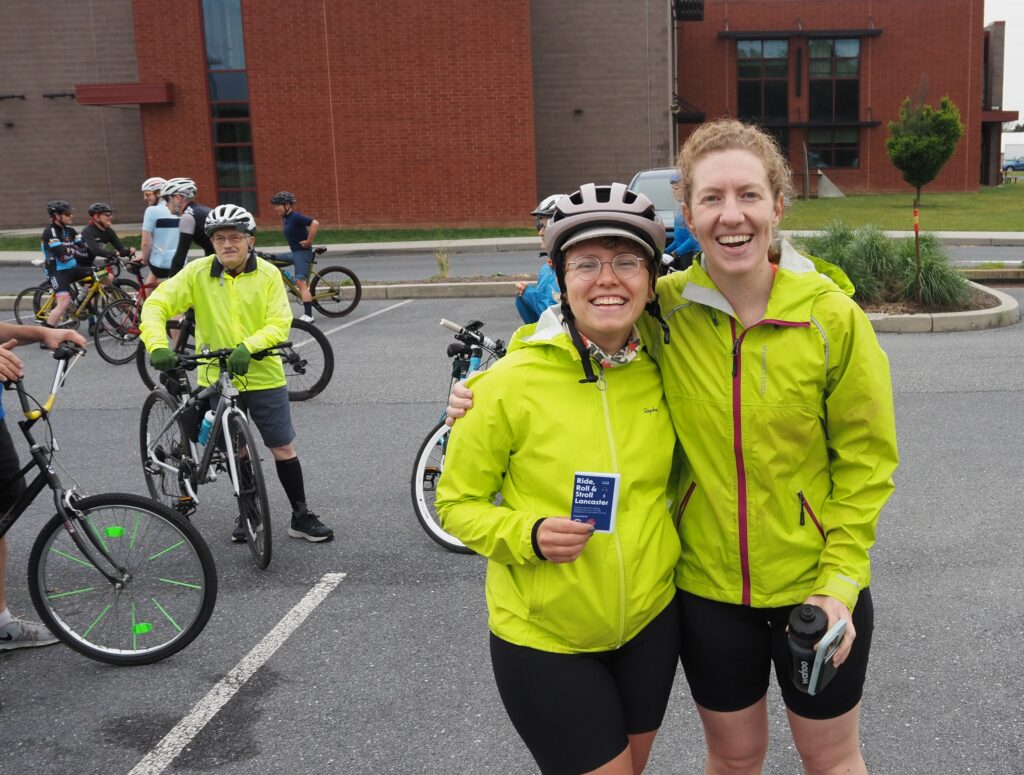 "A reduction in car traffic leads to a reduction in greenhouse emissions, and some of the pollutants that cause Lancaster to have such poor air quality," said Kelsey Gohn Irvine, Global Shapers Lancaster's vice-curator.
"In terms of equity and access, the price of owning and operating a new car is prohibitively expensive for many," she said. (AAA estimates the annual cost reached $10,728 last year.) "Smooth public transit options and active transportation infrastructure create a better community for everyone."
Policy makers characterize cyclists as one of four types:
Strong and fearless
Enthused and confident
Interested but concerned
No way no how
While surveys differ slightly from region to region, the third category, "interested but concerned," tends to predominate. Pauls-Thomas believes it is possible to woo this large portion of the population, and that cycling infrastructure should prioritize that conversion.
Improving cycling safety is part of Lancaster city's larger goal of eliminating traffic deaths and serious injuries through its Vision Zero strategy. It has received $12.7 million for Vision Zero from the federal government, the largest grant in city history.
Currently, the city has a westbound bike lane along Walnut Street. The Department of Public Works plans to add a complementary eastbound lane on Lemon Street later this year. Underground utility replacement work is in progress on the street; after that, it will be repaved and lane lines painted, in late summer or early fall.
Meanwhile, the "Broad & Chesapeake Streets Corridor Project," which will connect Washington Elementary and Jackson Middle Schools at its south end with McCaskey High School in the north, is in the public outreach phase. A Visioning Session and data gathering was held on April 6; a second public meeting will likely be in June.
A close call
As part of my reporting for this story, I joined Laura Pauls-Thomas on a "Fun Ride" in East Petersburg organized by the Lancaster Bicycle Club.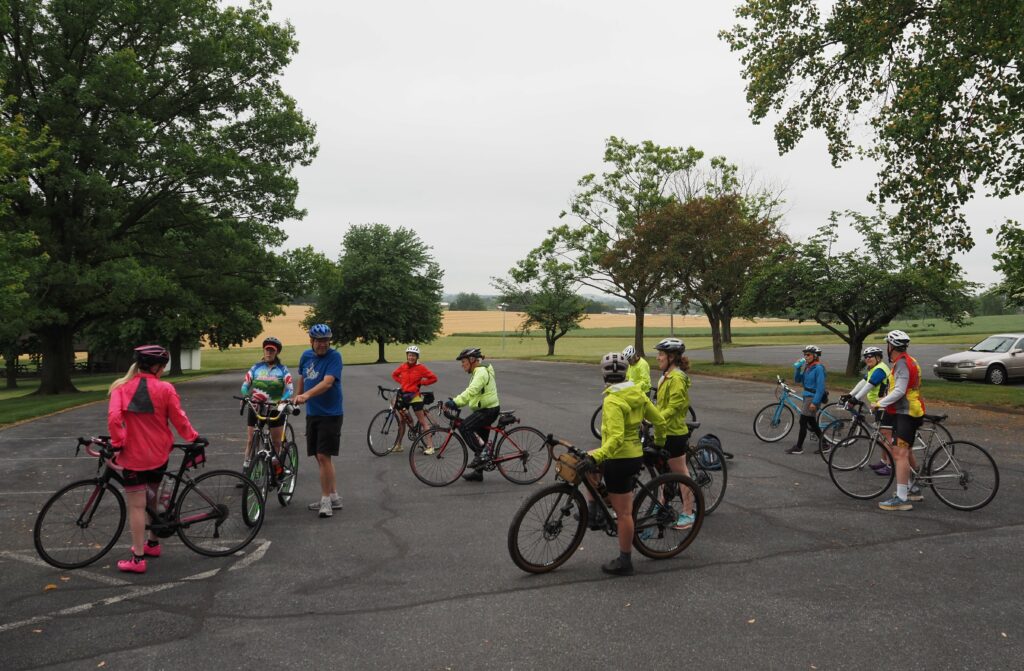 Between lessons on policy and statistics, she extolled some of the less quantifiable virtues of cycling: a more tangible connection to the land and a profound empathy for all those who use the roads, especially the most vulnerable.
As half of our group passed a box truck at a stop sign, the driver — not seeing the rest of us — began to pull directly into our path. Laura stopped him with a quick shout, and he made a hand gesture professing apology.
It was clearly an honest mistake, but it served as an unsettling reminder. I resolved, the next time I passed a bicycle in my car, to remember that feeling of vulnerability and give a wide berth.
— Max Weidman
Stephen Campbell, director of the Department of Public Works, noted that bicycle infrastructure creates some challenges that are unique to it: The department uses a specialized tool for snow removal in the lane, and provides specific signage that warns cyclists of lane closures during construction.
In addition to new construction, the department also makes adjustments to existing infrastructure. For example, it is adding "daylighting" to the bike lane on Walnut Street this season, a pavement marking that usually involves white diagonal lines and vertical uprights to discourage parking around high-conflict intersections.
While much of Lancaster County's cycling infrastructure is concentrated in its urban core, scenic trails like the Warwick to Ephrata Rail Trail delight commuters and recreational users alike. The Conestoga Greenway, Enola Low Grade Trail and Northwest Lancaster County River Trail and many others give cyclists beautiful, protected access to much of the county.
In the long term, the city Public Works Department hopes to strengthen bicycling connections between Lancaster city and the rest of the county, Campbell said.