The authority that operates the Red Rose bus system and Red Rose Access transportation service is encouraging the public to offer input as it updates its Transit Development Plan.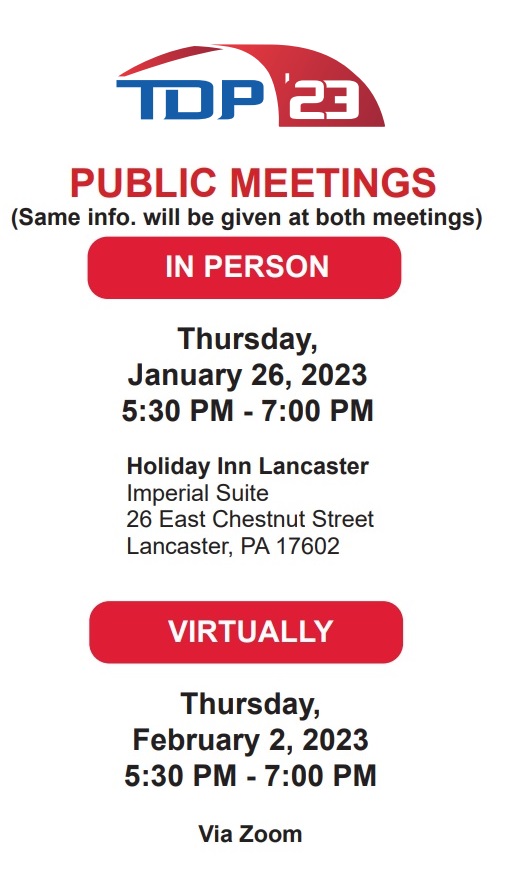 Officials have scheduled two meetings in coming days. People can attend either an in-person session from 5:30 to 7 p.m. Thursday, Jan. 26, at the Holiday Inn Lancaster, 26 E. Chestnut St.; or an online Zoom meeting two weeks later, from 5:30 to 7 p.m. on Tuesday, Feb. 7. The Zoom meeting will be accessible via this link.
The update will be the system's first revision since 2018. (The 2018 report is available here.) The process gives administrators the opportunity to review routes, quality of service, bus stations and other infrastructure. They can evaluate whether existing service meets community needs and plan modifications as needed.
Public transportation plays an important role in metropolitan areas' economies and job markets. A lack of reliable and accessible is consistently identified as a barrier to individuals and households seeking to escape poverty. Vehicle ownership is expensive, jobs are often many miles away from affordable housing, and public transportation schedules frequently match up poorly with shift schedules.
Microtransit
Among the ideas being considered in the Transit Development Plan is microtransit: A form of flexible, on-demand transit using minibuses or vans.
In 2019, High Concrete Group and Four Seasons Produce experimented with a shuttle service to bring workers from Lancaster to their northern Lancaster County campuses.
In Lancaster County, the Red Rose Transit Authority operates daily fixed-route bus service and Red Rose Access, a van service for senior citizens and individuals with disabilities.
The Red Rose Transit Authority and Berks Area Regional Transportation Authority together form the South Central Transit Authority. The SCTA is crafting the Transit Development Plan, which will cover its two subsidiary entities.
Its timeline calls for completing the plan late this year.