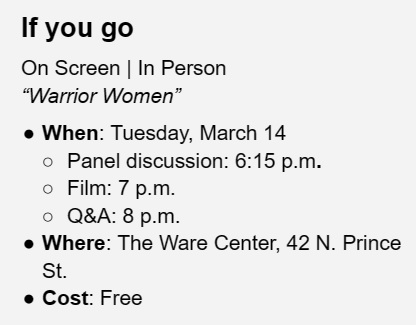 The struggle for Native American rights is the topic of the next film and panel discussion in Millersville University's "On Screen / In Person" series.
"Warrior Women" tells the story of Madonna Thunder Hawk and her daughter, Marcy Gilbert. It will be screened this coming Tuesday, March 14, at the Ware Center, 42 N. Prince St. Lancaster.
The evening will begin at 6: 15 p.m. with a panel discussion. The film will begin around 7 p.m. and runs about an hour. It will be followed by an in-person Q&A with Elizabeth Castle, the documentary's co-director and co-producer.
The panel discussion features the following guests:
A'lice Myers-Hall, President of the American Indian Society of Washington, D.C.;
MaryAnn Robins, President of Circle Legacy;
Marlene Arnold, Professor of Anthropology, Millersville University;
Curtis Proctor, Professor of Social Work, Millersville University;
Sheila Hanson, Elder & Second Vice President of the American Indian Society, Founder of the United Tribes of the Shenandoah
The evening is free, but advance registration is recommended. For tickets, click here.
Madonna Thunder Hawk, a Lakota, was an outspoken leader of the American Indian Movement for native sovereignty in the 1970s. She and others organized the "We Will Remember" Survival School as an alternative to mainstream education.
She and her daughter, Marcy, fought together for native rights. Today, as grandmother and mother, remain active champions for their community.
"Warrior Women" has received numerous film festival awards. Castle is the author of the book on which it is based, "Women were the Backbone, Men were the Jawbone: Native Women's Activism in the Red Power Movement." She developed the movie in partnership with co-director and co-producer Christina King.