"I love being me," Julia Scotti, speaking via Zoom, told the audience members at the Ware Center last Wednesday evening.
They had just finished watching Susan Sandler's documentary "Julia Scotti: Funny That Way," which traces Scotti's long journey to self-acceptance and fulfillment as a transgender woman.
As the film depicts, Scotti lived into middle age as comedian Rick Scotti, despite never feeling quite right as a male. Following divorce No. 2, Scotti made the decision to transition, a choice that led to a 14-year separation from children Matt and Emma and a long hiatus from comedy.
Eventually, Scotti and the children reconciled, and both Matt and Emma appear on screen. (Scotti said that since then, she and Emma have once again grown apart.) The film shows Scotti's return to performing, which received a significant boost when she wowed the judges on America's Got Talent; and her recovery from quadruple bypass surgery.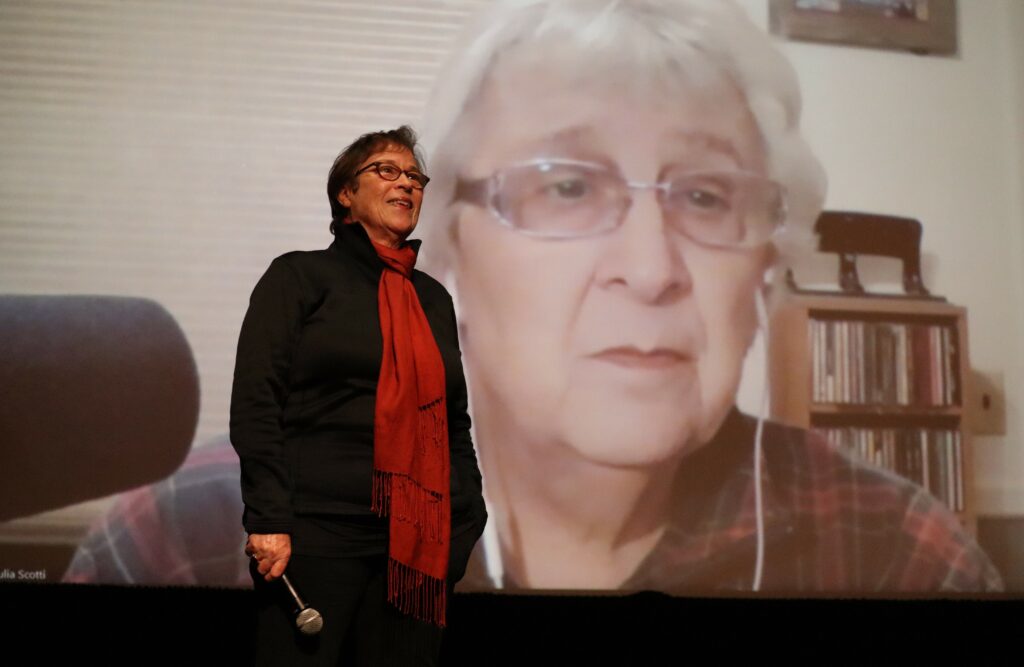 Sandler, who was at the Ware Center for the screening, said it took six years to make the documentary, and that she felt she could have continued shooting footage indefinitely.
A panel discussion featuring four local activists, three of them transgender, preceded the film. They had already viewed it, and said it powerfully conveyed key aspects of the trans experience.
"You go through a lot of life stages that are pretty typical before you finally figure it out, said Rachel SteelHeart, a transgender woman who is program director at the Lancaster LGBTQ+ Coalition.
Joanne Carroll is executive director of Trans Advocacy Pennsylvania and heads the Pennsylvania Commission on LGBTQ Affairs. She transitioned some 22 years ago at age 60. Before that, Carroll's outward presentation of self had been determinedly masculine — joining the Air Force, owning a rodeo company — but none of it erased the intense, desperate feelings that led to four suicide attempts.
"Everything I did was about trying to own my maleness," Carroll said. "And thank God I failed, because the last 20-plus years have been the best years of my life."
J Whitlow, a Black transgender male who is director of campus life at Millersville University, said he experienced Scotti's story as it related to "all the multiple marginal identities that I have." Whitlow noted that Scotti lost elements of her pre-transition life and had to grieve those "to be able to fully embrace what she was."
The fourth panelist, Blaise Liffick, is a committed LGBTQ+ ally: He and his wife, Alanna Berger, co-founded Silent Witness Peacekeepers Alliance, a volunteer organization whose members serve as buffers when anti-LGBTQ+ protesters attempt to harass and disrupt Pride or similar events. In 2016, Liffick and Berger adopted a transgender daughter.
"The enthusiasm of Julia to be who she is … is a wonderful example to my daughter to be her best self," Liffick said.
In a Q&A that followed the showing, audience members praised Scotti for her humor and her willingness to open up before the camera. "Thank you for saving lives," said the Rev. Susan Minasian, chaplain resident at Penn Medicine Lancaster General Health.
Scotti said her audiences are predominantly cisgender people, often attending out of sheer curiosity. In meet-and-greet events after her shows, many tell her they now see her as a comic and just a regular human being — her transgender identity is no longer a big deal for them.
"My job is to continue to do that. … It's a form of missionary work," she said.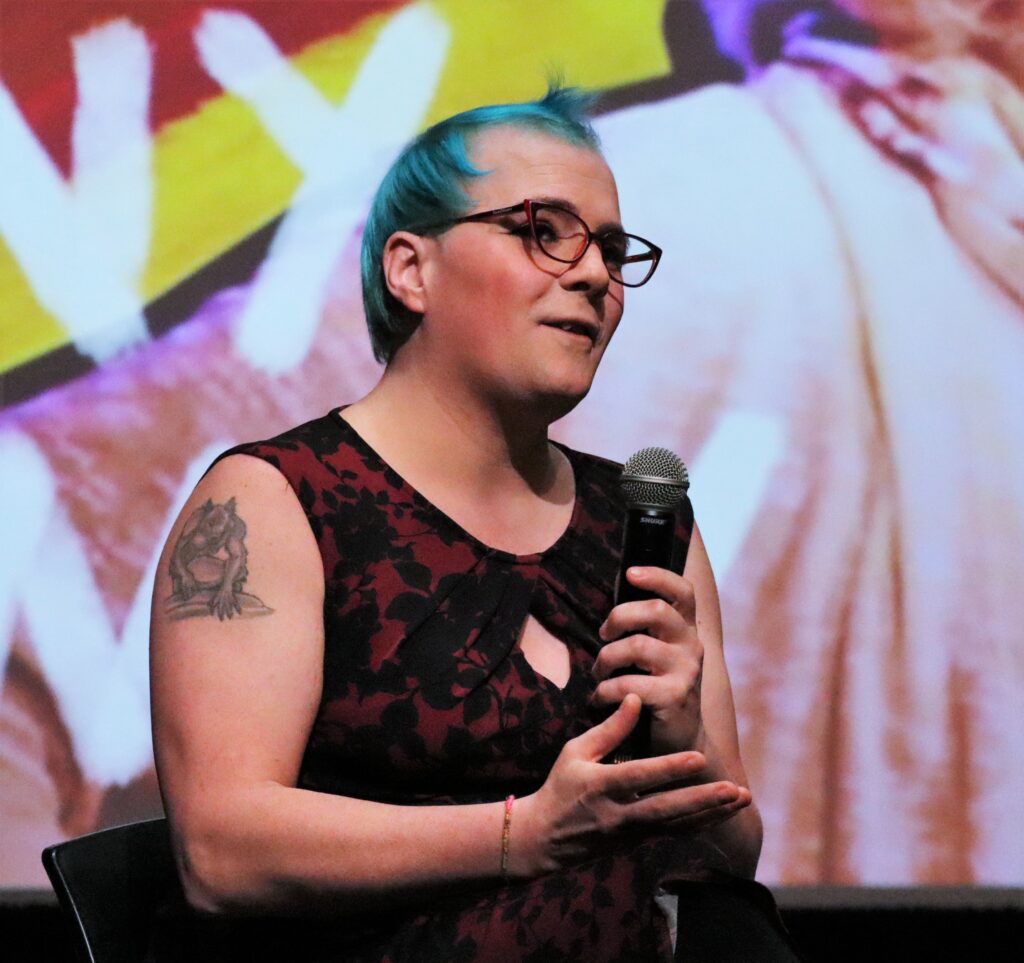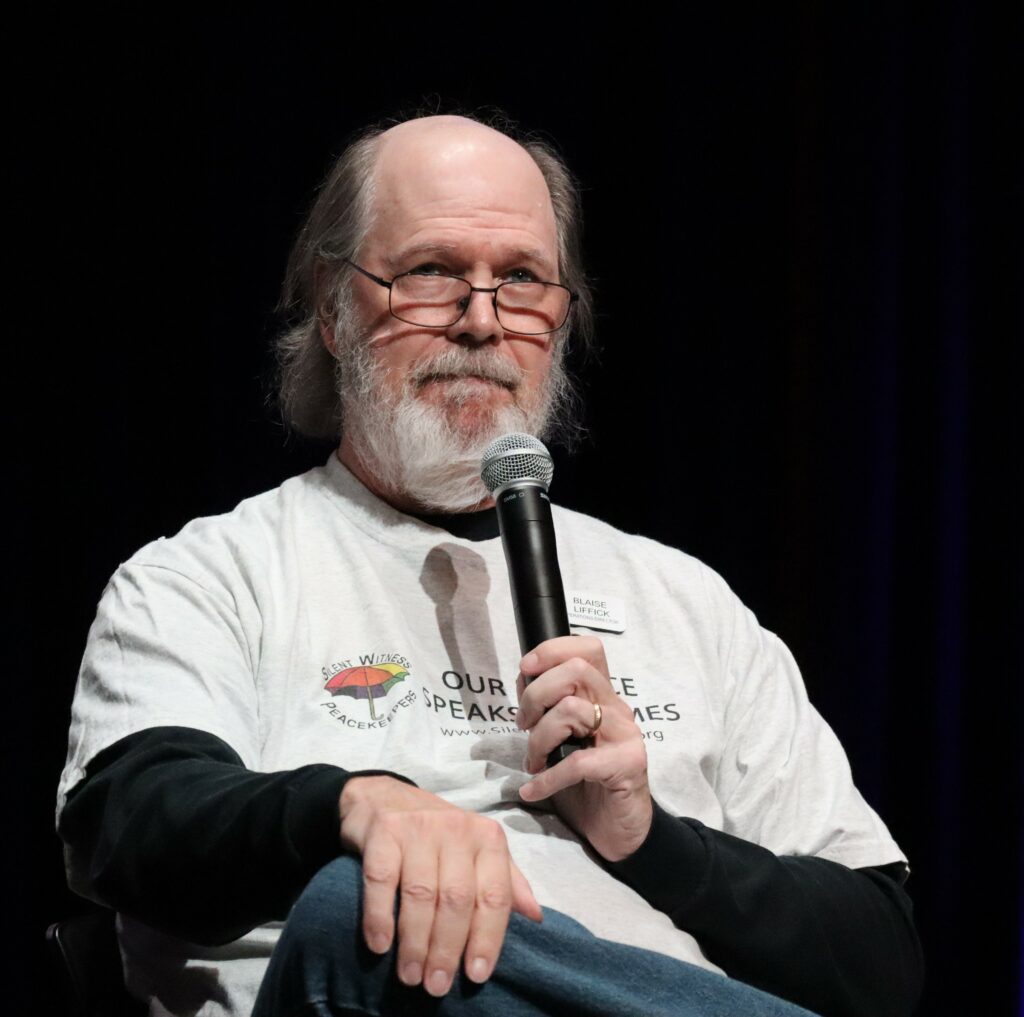 LGBTQ+ rights, and transgender rights in particular, continue to be hot-button topics in U.S. society. In Lancaster County, there are ongoing debates at school districts regarding transgender athletic policy and transgender policy in general.
LGBT issues have also played into the Lancaster County Community Foundation's ExtraGive: This year, several conservative Christian organizations pulled out of the event, alleging the foundation's anti-hate and nondiscrimination protections around gender identity and expression unfairly proscribe their right to promulgate traditional religious teachings around sexual morality. (The foundation says those concerns are groundless.)
Wednesday's screening took place during Transgender Awareness Week, which culminated Sunday with the Transgender Day of Remembrance. Overnight Saturday, a gunman killed 5 people and wounded 19 at Club Q in Colorado Springs. Two of the five victims were transgender.
Authorities are still investigating the motives of alleged shooter Anderson Lee Aldrich, 22, but the preliminary charges filed against him include five counts of "bias-motivated" crime — Colorado's term for hate crime — causing bodily injury.
Contacted this week, filmmaker Sandler said she and Scotti were devastated by the Club Q shooting. Liffick called the shooting "the latest attempt to reverse the growing acceptance and equality for LGBTQ+ folks."
"What tragedies like this show us, though, is that we can't give up, and we can never give in," he said.
Carroll declined to speculate on the shooter's motive until more information was released and a definitive picture emerged. SteelHeart said attacks on the LGBTQ+ are driven by hateful rhetoric from politicians and the media.
"We need to deplatform these ideas and remind people that our identities are not a political statement," she said.
SteelHeart and the other panelists said the sharing of stories like Scotti's goes a long way toward building tolerance and understanding.
"The sooner our society understands that we are all just people trying to live and be happy," SteelHeart said, "the sooner our community can find the peace and equality that we deserve."
"Telling our story to other people is what really makes the change take place," Carroll said Wednesday. "… When you have the opportunity to talk to somebody and say, 'Hey, look, I'm alive. I'm a real human. … I'm just trying to here to live my life in the most normal way I can.'"