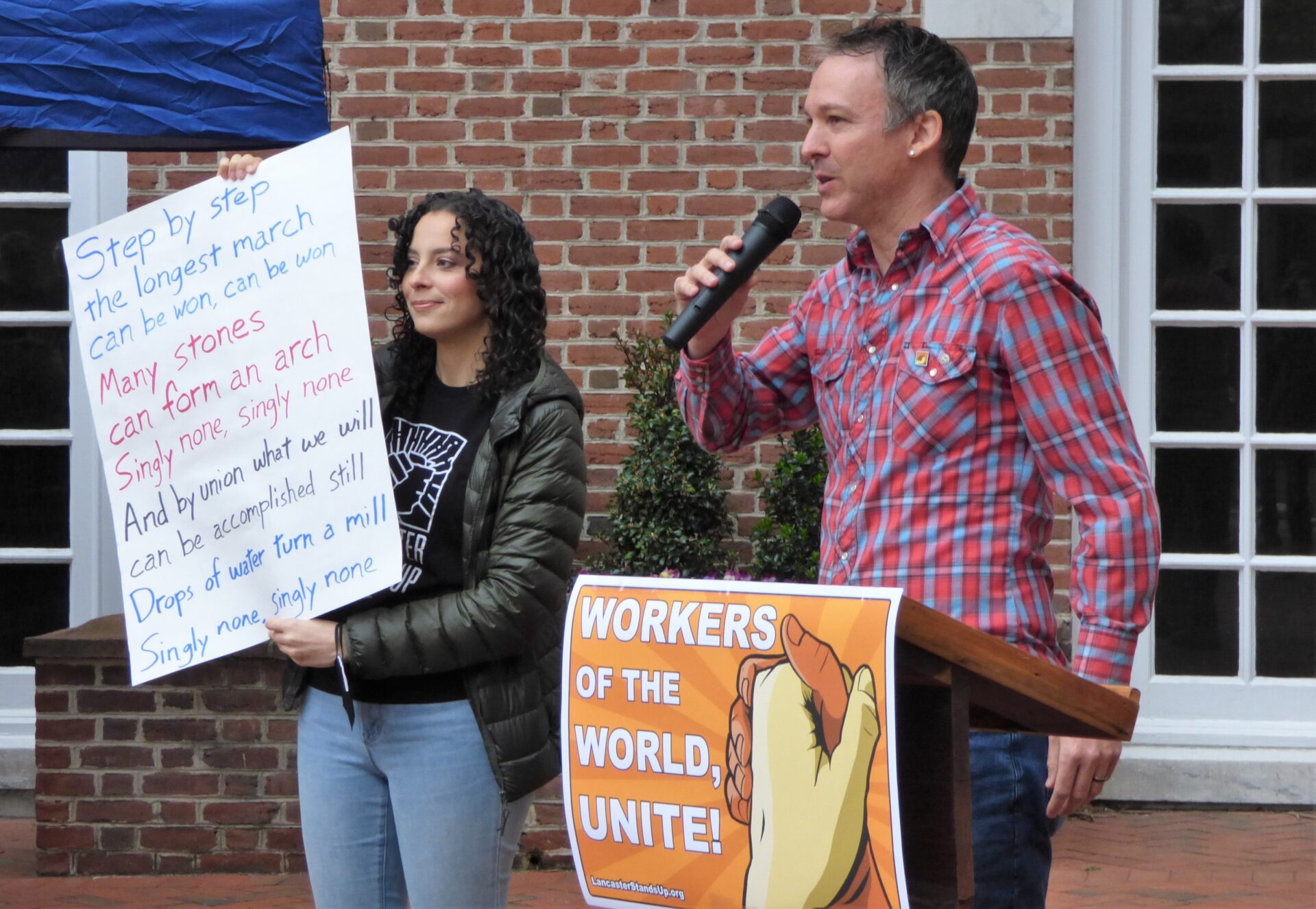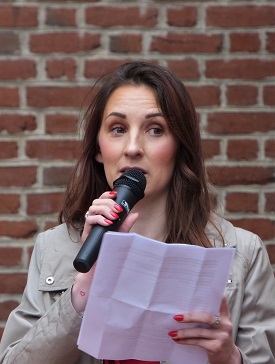 Progressive advocacy group Lancaster Stands Up held a May Day rally Sunday at Lancaster's Penn Square, calling for a unionization push and "a fair deal" for working families.
"Together we can unapologetically demand what all human beings deserve," said Heidi Wurtz, a member of affiliate organization Northern End Stands Up. "Fair wages, safe working conditions, dignity and time off to be with the ones we love."
Rally speakers noted recent successful unionization drives, including those at Starbucks and Amazon (though on Monday, workers at a second Amazon warehouse voted against unionization.)
During the pandemic, "it's been working people who got us through," Lancaster Stands Up spokeswoman Tara Ruby told One United Lancaster. They bore the brunt of the risks, while the affluent reaped huge financial benefits, she said.
The event in downtown Lancaster was one of numerous rallies and demonstrations worldwide commemorating International Workers' Day.
Nicole Vasquez told the attendees in Penn Square that when she joined the Service Employees International Union, "it was literally lifechanging." Today she is an organizer for SEIU 668, which represents about 20,000 workers across Pennsylvania in government, health care and social services.
"A union is your vehicle to create change. ... It is what gives you a voice at your workplace," she said.
Speakers at the event included two candidates Lancaster Stands Up has endorsed in the state House Democratic primary, Dana Hamp Gulick and Ismail Smith-Wade-El. They are running against, respectively, incumbent state Rep. Mike Sturla and Janet Diaz.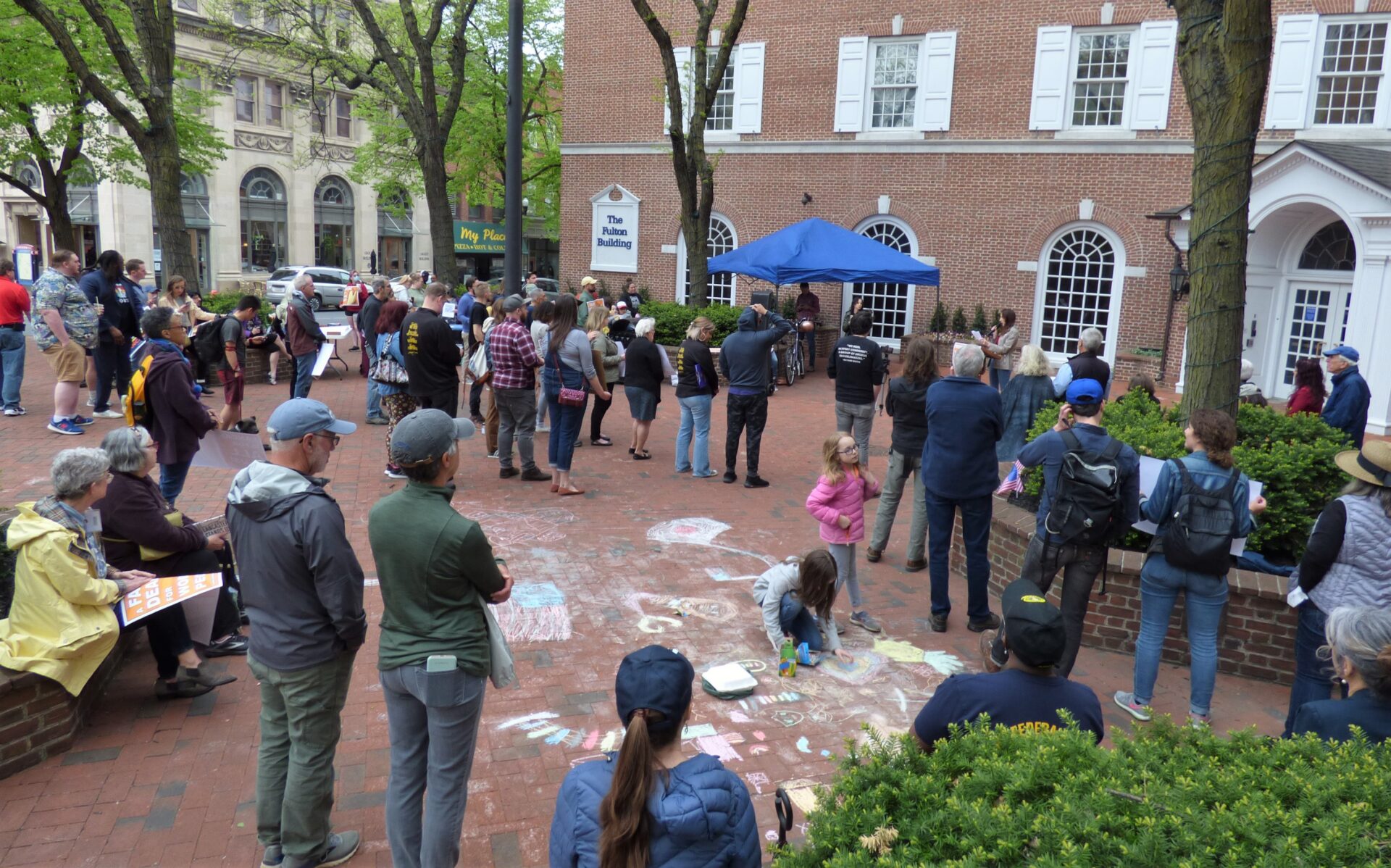 Speakers also exhorted the Lancaster County commissioners to spend the county's allotment of federal American Rescue Plan Act funds in ways that benefit working families. Priority needs include affordable childcare, affordable housing and broadband expansion, Ruby said.
Lancaster County has just under $90 million in ARPA funds to spend, either itself or through grants to third-party entities. While other jurisdictions, including Lancaster city, solicited public input and made community ARPA allocations in 2021, it was not until last month, when the federal government released its final ARPA guidance, that the county developed and released a policy and form for organizations to apply for funding. Commissioners Ray D'Agostino and Josh Parsons said it would have been premature to do so any earlier.
The county has said it will accept applications on a rolling basis until the end of August. At that point, it will assess the applications and awards made so far and make any adjustments that might be needed, D'Agostino said.