The trend toward remote work is not abating and Lancaster is well positioned to benefit, a nationally known economist told community leaders Thursday.
"We're at the right spot," Adam Ozimek assured his audience at the Lancaster City Alliance's Building on Strength implementation committee meeting.
Ozimek, a local resident, is chief economist at the Economic Innovation Group. He also is one of the owners of Decades, an entertainment arcade featuring a bar, restaurant and a boutique bowling alley at the former Stahr Armory on North Queen Street.
Accelerated by the pandemic, remote work is the fastest and largest-scale change in U.S. work patterns since the mobilization of World War II, Ozimek said. Before the pandemic, about 5% of people worked remotely; that number has increased to about 30% today.
The extent of remote work will be driven by market pressures and competition, he said. If your competitors allow remote work and figure out how to do so productively and effectively, you will be at a disadvantage unless you do the same.
This has huge implications for economic geography. The nation's largest and highest-priced urban areas are now at a disadvantage, whereas affordable areas with an attractive quality of life stand to benefit, especially if they're not too far from major cities.
"Does that sound like any place?" Ozimek quipped.
Ozimek's research into residential real estate prices indicates that remote work is indeed reshaping housing and commuting patterns. Since the pandemic, house prices have risen only slightly or declined in large cities like New York and San Francisco. Prices have risen a bit in some nearby suburbs, but prices were already high there. The really sharp increases have been in exurban areas, about two to four hours away, a phenomenon termed the "donut effect."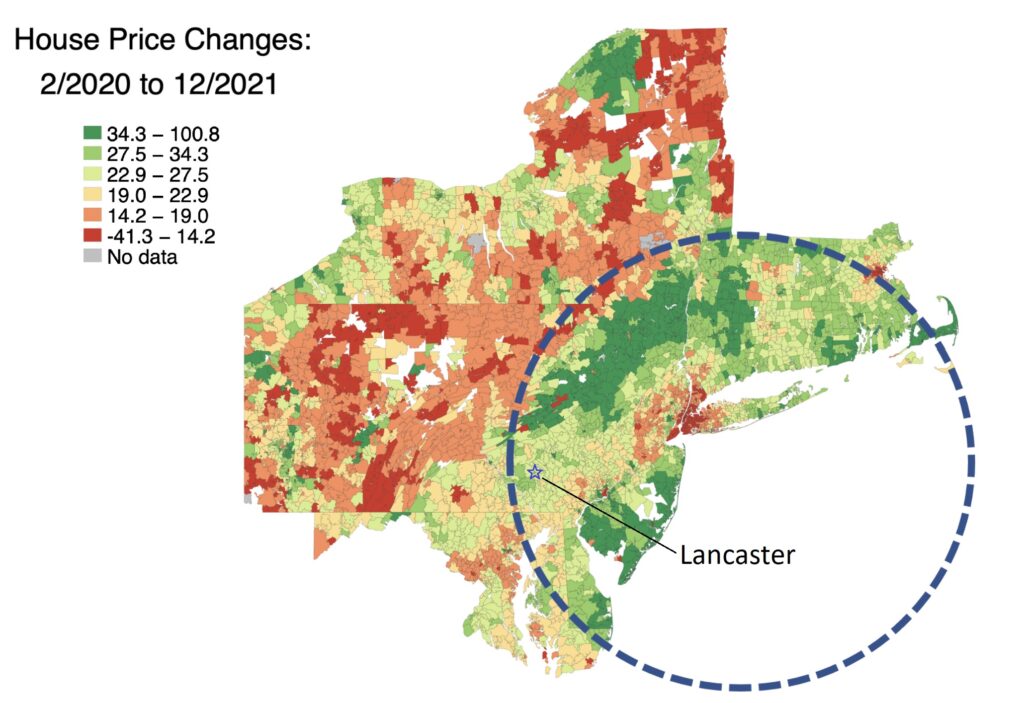 Lancaster checks all the boxes: Its cost of living is reasonable compared with Philadelphia, New York or Washington, D.C., and it has amenities that appeal to remote workers, such as a thriving night life and access to outdoor recreation.
Amtrak's Keystone rail connection to Philadelphia is a "huge deal" for hybrid workers, Ozimek said, making it easy to travel to the office once or twice a week.
How can Lancaster capitalize on its geographical advantage? Ozimek made several recommendations:
Prioritize high-density redevelopment of the area around the city's Amtrak station, to make car-free living a possible option.
Reform the land development review process to speed up approvals and reduce costs. There are tradeoffs involved, but when developers can build for less money, that reduces the rents they need to charge, and that's worth giving up some control, Ozimek said.
Embrace the role of a "cutting-edge" city that's hospitable to remote work. Among other things, that entails being more hospitable to Airbnbs, Ozimek said. Airbnb's are where young people like to stay when they travel, he said, and having a few hundred in a city with around 20,000 total housing units isn't excessive. (Lancaster city passed an ordinance this year that bars new whole-house Airbnb-style rentals in residential areas.)
Convince state government to allow more flexible building codes. The existing code favors single-family homes, large apartment buildings and skyscrapers but makes it hard to build the kind of middle-sized residential buildings that could ease Lancaster's affordable housing crunch, he said.
Convince state government to reform Pennsylvania's liquor license system. It costs around $400,000 to buy a liquor license, which is a major disincentive to entrepreneurs in the bar and restaurant sector, especially startups and mom-and-pop operations. "It's insane," Ozimek said.
The alliance brings community leaders together every six months to review Building on Strength, its economic revitalization plan for the city. Ozimek's audience Thursday included Mayor Danene Sorace, city department heads, state Rep Mike Sturla, and an array of business and nonprofit executives.
Chris Delfs, Lancaster's director of community planning and economic development, said he was impressed by Ozimek's presentation and that his work resonates with much of the city's own research.
Several audience members asked Ozimek what his vision would mean for lower-income households and whether embracing remote work would accelerate gentrification.
Local governments can't do much to boost wages, he said: The best thing for workers, boosting wages and opening job opportunities, is a tight labor market, which is driven by national policy and economic forces.
What local governments do have influence over is housing costs. Zoning that prohibits anything but single-family houses is "a major driver of unaffordability" and shouldn't be acceptable, he said.