(This article is part of One United Lancaster's reporting on the 2023 Lancaster County Climate Summit.)
Lancaster city deserves a C+ for its environmental efforts to date, Public Works Director Stephen Campbell told his audience at the Lancaster County Climate Summit.
Campbell presented an "interim report card" for the city, based on the commitments it made in its municipal climate action plan, which it adopted in 2019.
Key points
Pennsylvania's legislature hasn't comprehensively updated the Election Code since 1937. So the officials who run elections must rely on an amalgamation of sources outside of the text of the code itself, including recent legal opinions and advice from county solicitors, other administrators, and the state.
Entire sections of the code are no longer in use, including directions on operating obsolete lever voting machines and language regulating the use of lanterns to light polling places.
The legislature has not regularly incorporated new case law into the code, which leaves inaccurate vestiges. For instance, a rule limiting felons' ability to vote remains on the books, despite being found unconstitutional.
Newer election provisions and old code language conflict, causing confusion, lawsuits, and creating a patchwork of administration practices.
Campbell said there's a "synergy" between the city's climate efforts and those of residents, businesses and other organizations.
In terms of major energy changes, Campbell noted priorities like improving the efficiency of lighting and HVAC systems.
To improve the performance of its water and wastewater systems — the city's most energy-intensive operations — his department is working to reduce leaks and improve pump efficiency, implementing water audits and water reclamation strategies. Leak detection, he said, is a particular challenge: The city's extensive piping system is aging and needs an overhaul.
It's an expensive, complex proposition, and the city is working hard to secure grant funding.
City officials, he said, are also looking into retrofitting facilities with more water-efficient features. New buildings, such as the fire stations on East and West King street, are being built to achieve at least LEED Gold certification. Older buildings are considered for adaptive reuse, as are city assets like computers, furniture and cubicles.
The city is meeting its target for buying carbon offsets, but is doing so by buying wind power from distant wind farms. The goal would be to bring that closer to home by sourcing green energy locally, Campbell said.
He mentioned a request for proposals for solar energy for water treatment. Although it's early in the process, Campbell envisioned a scenario where a few years down the road, the city could be offering solar energy to local users.
"We could be thinking of solar as a utility," he said. Meanwhile, the city is working with Solar United Neighbors to review its regulations, so that property owners who want to install panel systems don't run into unnecessary obstacles.
In terms of fleet efficiencies, Campbell said recent lead remediation and housing inspection programs led to city vehicles logging more mileage. He said a request for proposals for electric vehicles is pending: The city, he said, could replace 10% to 15% of its fleet with electric vehicles every year, for complete conversion within 10 years or less.
"Technology for electric vehicles has changed drastically and quickly," Campbell said.
Meanwhile, the city is encouraging non-motorized transportation through initiatives such as the Bike-It bike share program.
One area in which popular demand is playing a role in ecology, he said, is in composting.
"People are beating down our doors looking for more compost bins," he said.
Campbell gave the city a solid A in one area: Stormwater management. The city is on track in terms of projects completed and volume of water managed, as it works to meet its obligations under a federal consent decree.
As for the underlying goal, promoting a culture of sustainability, "We have had success in some areas. We have a long way to go in other areas," Campbell said.
"Our regular conversations always talk about the issues, but we have not been aggressive about the metrics," he said.
Infrastructure isn't cheap: For City Hall, fiscal sustainability factors into environmental strategy
Mayor Sorace focused on some of the basics during a panel discussion on sustainability at the Lancaster County Climate Summit: Water. Trees. Human feet.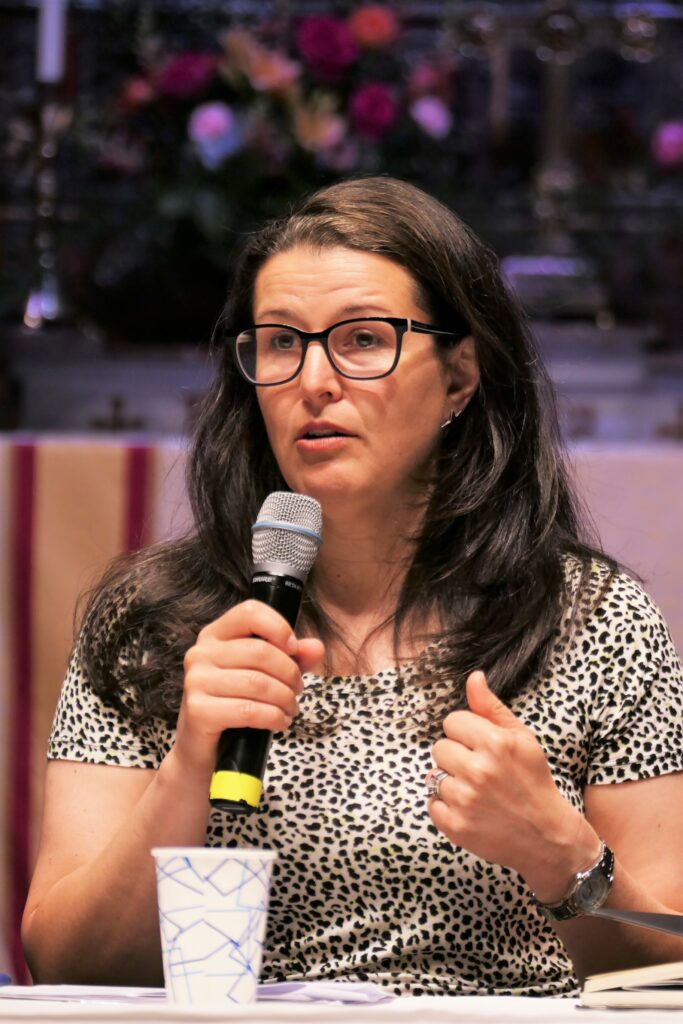 All three are important factors in Lancaster's climate strategy.
Take water for starters. As mayor, Sorace said, she is effectively CEO of a water company, the city's public Water Bureau, which serves 130,000 people in the city and surrounding municipalities. She also heads a wastewater treatment operation, which is somewhat smaller.
Both are suffering from decades of deferred maintenance, which the city is attempting to remedy with investments costing tens of millions of dollars.
The two systems draw from and feed into the same watershed, the mayor noted, creating a "direct cost relation" between the effectiveness of sewer treatment and the burden on the water treatment plants.
Water and sewer plants consume industrial-scale amounts of energy. The city wants to source that energy from clean local sources, the mayor said, and it also has to ensure affordability.
"When I think about sustainability, I'm thinking about climate but I'm also thinking about money," the mayor said, noting the sharp rate increases that frequently follow when public water and sewer systems are privatized.
As for trees, the city needs more of them, the mayor said, referring tongue-in-cheek to them as "high-tech tools" that pump water, clean air and cool city streets at low cost. About 23% of the city's area is covered by tree canopy; City Hall would like to increase that to 35% or 40%, and bring the sparser coverage in lower-income neighborhoods up to par with wealthier ones.
Its plan to do so, Trees for People, is funded at $2.65 million, including $500,000 in county American Rescue Plan Act funds, part of a $3.47 million package of ARPA projects funded through Lancaster Clean Water Partners.
Then there's the challenge of reducing vehicle emissions and encouraging more travel on foot and by bicycle by building out "complete" streets, bike lanes and bike paths and other "active transportation" infrastructure.
The mayor said she's optimistic about the potential of micro-transit — on-demand transportation networks along the lines of Uber and Lyft. If families could commute to work and school and go shopping without needing their own car, it would reduce their costs and improve their financial stability.
"Let's ditch the car," the mayor said.
— Tim Stuhldreher | One United Lancaster