Lancaster city will round out this week with its annual "Celebrate Lancaster" festival on Friday.
Activities run from 11:30 a.m. to 10:30 p.m., as follows:
11:30 a.m. to 10 p.m.: Food truck fair along North Queen Street from Penn Square to Binns Park.
4:45 to 8:45 p.m.: Beer gardens at Penn Square and Binns Park. Patrons must be 21 or older.
4 to 8:30 p.m.: Children's activities.
4:30 to 10 p.m.: Live music at Penn Square and Binns Park: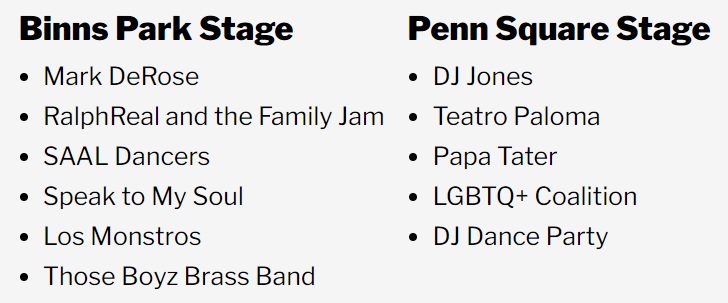 9:30 p.m.: DJ dance party, Penn Square.
For full details, visit the Celebrate Lancaster page at visitlancastercity.com.
Motorists are advised to avoid downtown on Friday, as the first two blocks of North Queen Street will be closed throughout the day. Starting at 4 p.m., the neighboring blocks of Orange Street will be closed as well.
In a break with the past, there will be no fireworks display this year. The city no longer has a safe downtown "drop zone" for fireworks due to the development in and around Ewell Plaza.
"As such, we are taking this opportunity to develop new traditions," the city's statement says, referring fireworks fans to July 3 displays at Longs Park and at Clipper Magazine Stadium following the Lancaster Barnstormers game.
Celebrate Lancaster is the city's Independence Day commemoration. It has been held in altered, scaled-down formats the past two years due to the coronavirus pandemic.