While the daily average of new COVID-19 cases and hospitalizations fell in September, the number of deaths related to the virus notched upward to a level last seen here in the spring.
"It's not surprising that deaths have increased in the fall," Dr. Stephen Diamantoni, Lancaster County coroner, said. In past years, the pandemic has consistently receded in summer months and surged through fall and winter.
Diamantoni said the increase in deaths has occurred among the same population groups as in the past – the elderly, the obese and those with other serious health issues.
The rise occurs because people are spending more times indoors, he said. Many have grown complacent about health safeguards, like mask wearing. And some percentage of county residents – about one-third, according to the state health department – have chosen not to get vaccinated.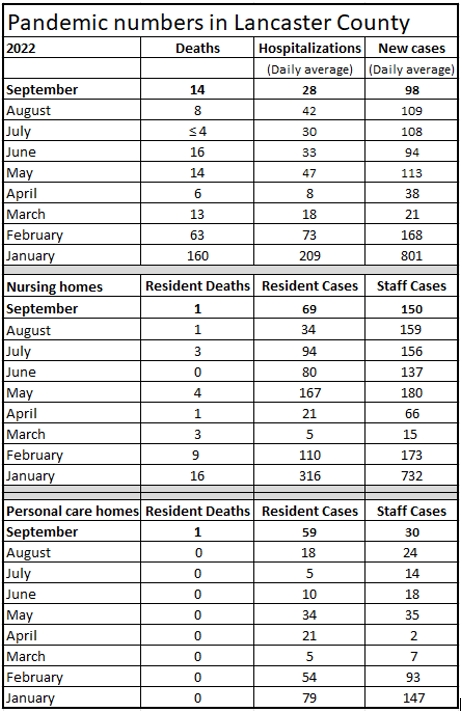 In perspective, the 14 deaths that occurred here in September are higher than the four or fewer deaths of July or the eight of August. But this latest number is well below the 63 deaths of February and 160 deaths of January, the peak months of the last surge.
Staff cases at county nursing and personal care homes remained little changed from August. But infections among residents did increase from 34 to 69 at nursing homes and from 18 to 59 at personal care homes.
While these homes were the epicenter of the pandemic in its first years, they have taken major strides in protecting residents since the introduction of vaccines. In September, there was one death among all nursing homes and one death among all personal care homes, the first this year in those latter facilities.
This report, originally posted on Facebook, was compiled by Erica Runkles, Dr. Mary Glazier, Penn Glazier, and Ernie Schreiber using records from the Lancaster County Coroner's Office, the state Health Department, and the Centers for Medicare and Medicaid Services.