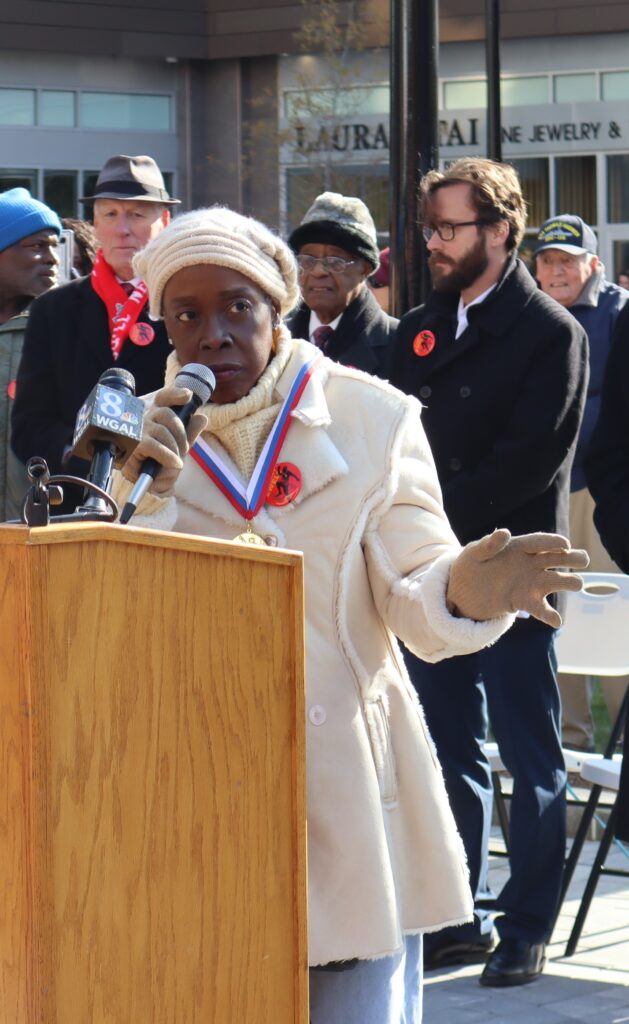 Barney Ewell "was an ordinary man," his daughter, Denise Ewell, said Saturday, "but he had an arsenal of skills."
• Related: Photo gallery: Barney Ewell statue dedication
Those skills included the speed and athletic prowess that made him, in his heyday, the fastest sprinter in the world. But they also included character traits like humility and perseverance, his daughter said.
On Saturday, about two dozen members of Ewell's extended family joined Gov. Tom Wolf, a slate of local dignitaries and hundreds of members of the Lancaster community to unveil a statue to the Olympic champion in Ewell Plaza, the downtown Lancaster square renamed for him in 2019.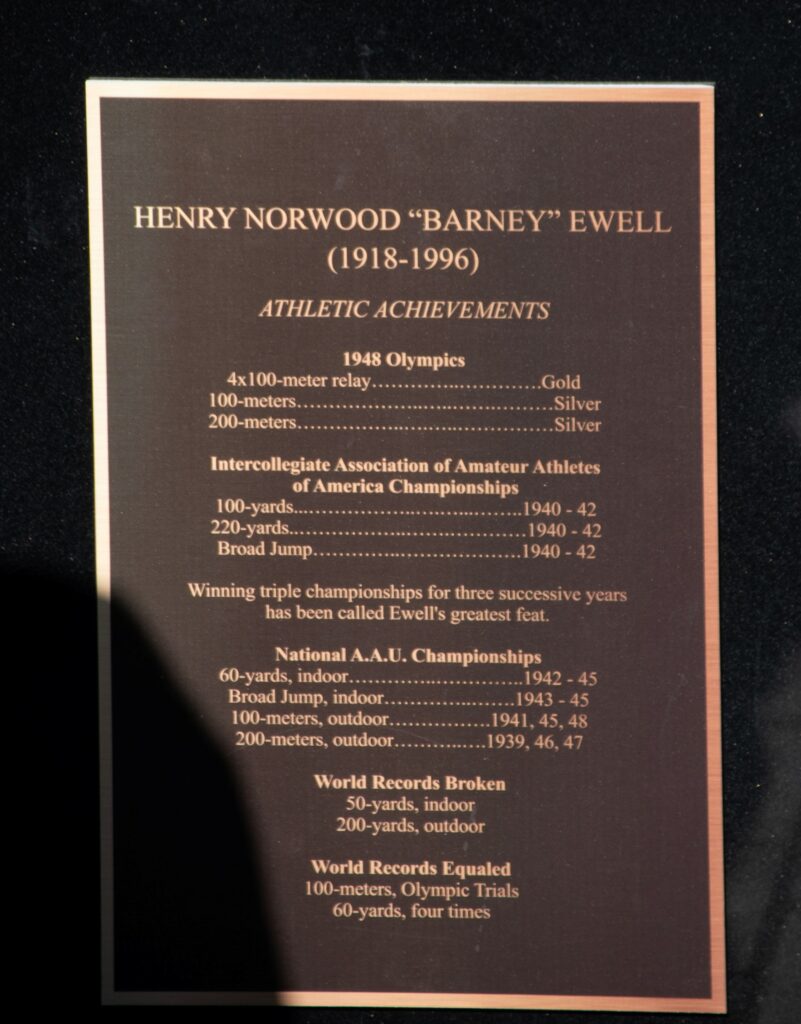 Ewell, a J.P. McCaskey High School and Penn State alumnus, overcame poverty and a bout of childhood polio to achieve worldwide distinction. He won three Olympic medals in 1948 when he was 30, an age when sprinters are considered past their prime. Had the 1940 or 1944 Olympics taken place, many believe Ewell would have racked up a medal count comparable to Jesse Owens'.
He lived nearly his whole life in Lancaster and was beloved for his kind heart and friendliness. "Everyone that knew Barney loved Barney," said former Mayor Art Morris.
He was "an extraordinary athlete and human being," said Jeremiah Miller, alumni director for the McCaskey Alumni Association.
Morris and Miller are two of the four men who created the Barney Ewell Legacy Committee to bring Ewell the overdue recognition they felt he deserved. The other two are former county Commissioner Ron Ford, who is Barney Ewell's nephew; and the late Ken Stoudt, who died in September.
Stoudt was unable to witness the statue's unveiling, Morris said, but it would not have happened without him.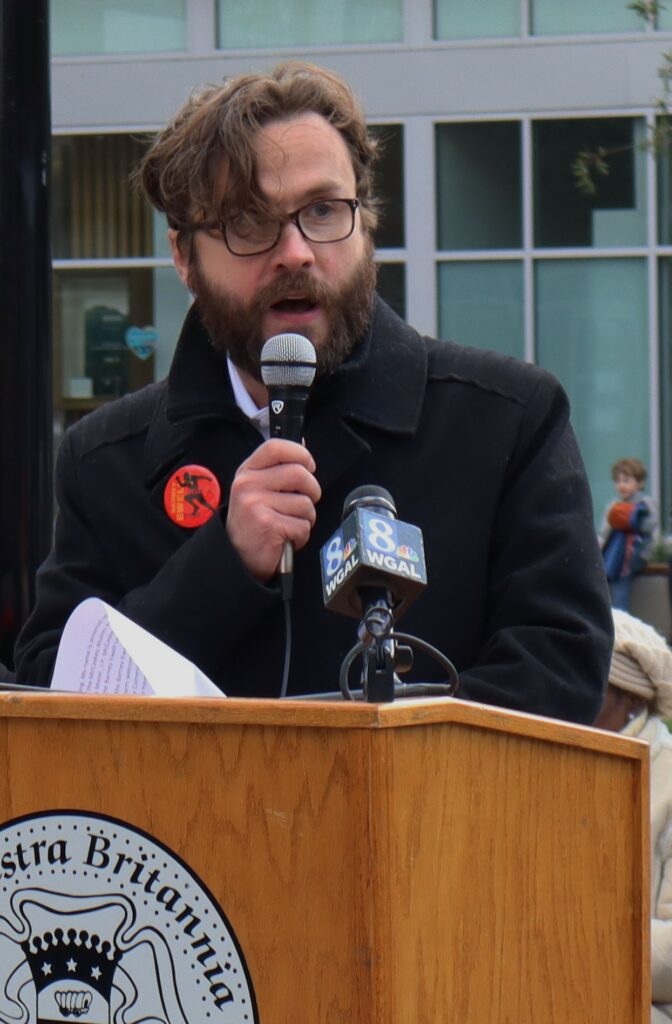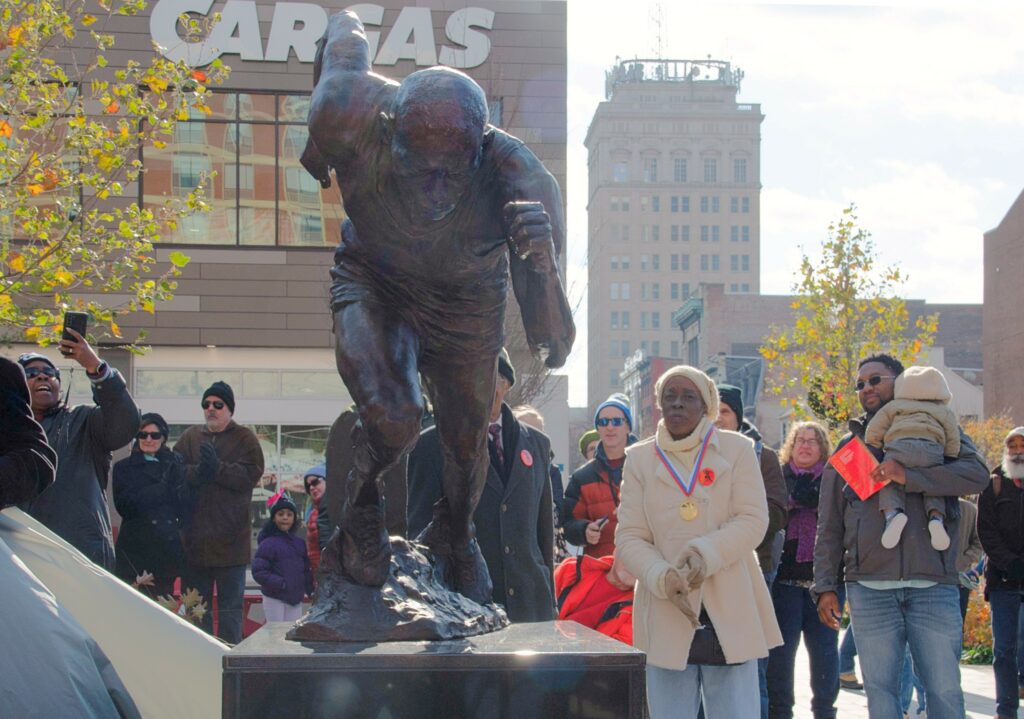 The committee has been active for seven years. It organized a Barney Ewell centenary celebration in 2018; secured a historical marker at McCaskey High School, produced a documentary on Ewell and designed and placed a commemorative plaque in his former neighborhood. It secured the renaming of Ewell Plaza, after which it commissioned the statue from artist Chad Fisher, raised the money to pay for it and donated it to the city.
Morris came to Lancaster from England as a teen in 1960 and joined the McCaskey track team. (Like Ewell, he went on to run track at Penn State.) He said he didn't know Ewell when the latter introduced himself at a track meet in 1961, but the two became good friends. Morris said he treasures a photo of Ewell and Prince Philip at Wembley Stadium that Ewell gave him, inscribed, "Art: Pretty good company, eh? – Barney."
Ewell was never formally presented his Olympic gold medal for the 400 relay: Initially, judges ruled the U.S. team had mishandled a baton exchange. A review of the film showed that not to be the case, and Ewell was reportedly handed his medal in the athletes' cafeteria.
On Saturday, Gov. Wolf sought to right that wrong.
"Barney, you deserved that medal," Wolf said, presenting a replica to Denise Ewell. (Barney Ewell's own medal is in a private collection, Miller said.)
Visualizing success is key to achieving it, Commissioner Josh Parsons said. Ewell's statue, he said, will serve as "a powerful example" to children all over Lancaster County, inspiring them to pursue excellence in their own chosen endeavors.
Mayor Danene Sorace called it "a monument to possibility." She noted Ewell's love of family and community and said she hoped Ewell Plaza will embody that spirit, bringing together family, friends and the community at large.
Denise Ewell urged everyone to appreciate, respect and take pride in the statue and her father's legacy, which belongs not just to Lancaster, but to the country and the world.
She closed with an aphorism she said was reflective of her father's spirit.
"Be thankful for all new challenges in life," she said, "because it will help you build inner strength and character."