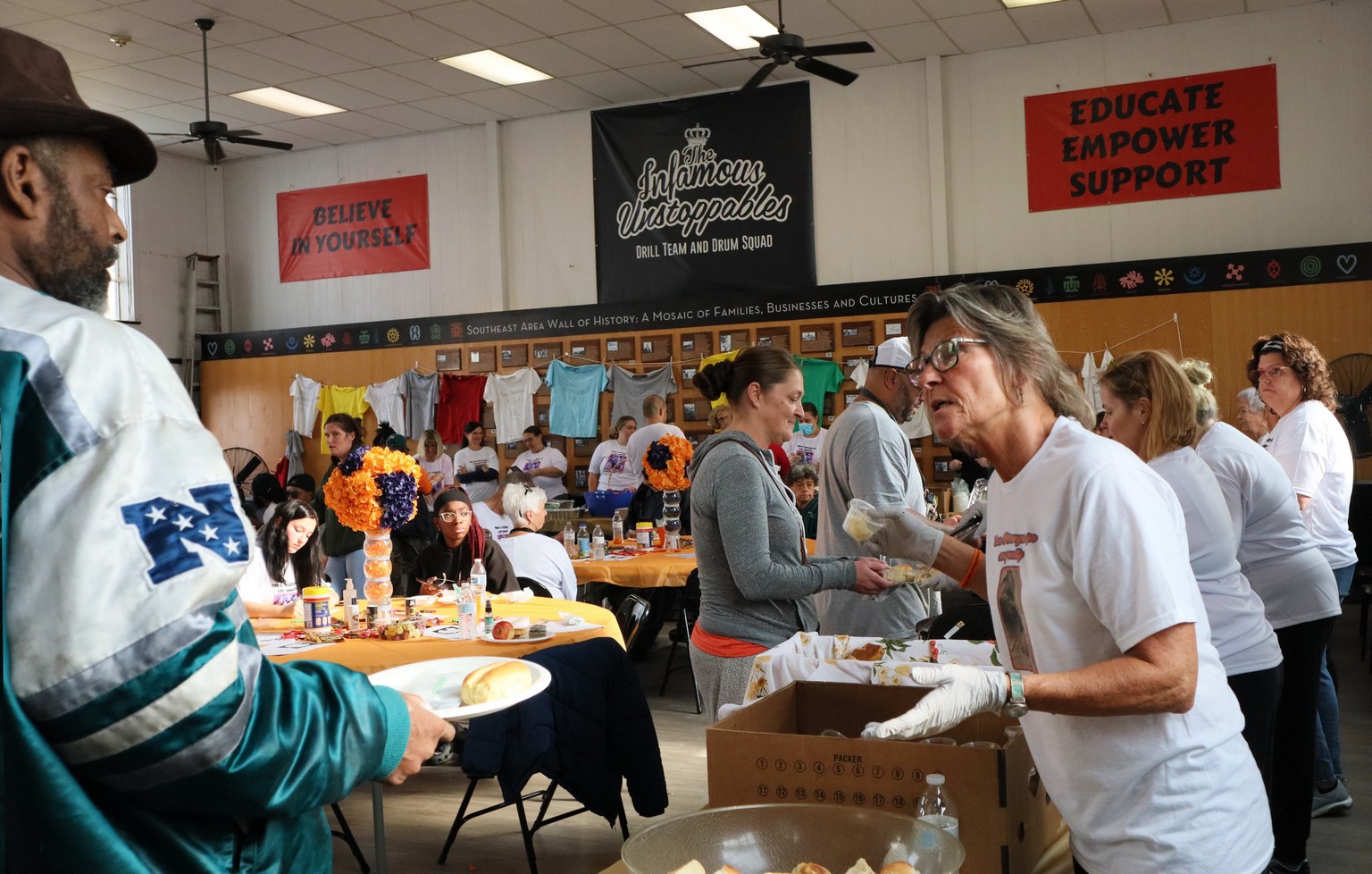 It takes a lot of time and effort to organize a free community meal for hundreds of people. But Lindsey Martin said she had to find a way to give back.
On Saturday, Martin oversaw the second annual Gun Violence Awareness Community Thanksgiving meal at Crispus Attucks Community Center. She created and spearheaded the event in memory of her fiancé, Kendell Cook, who was shot and killed in Carlisle in May 2021.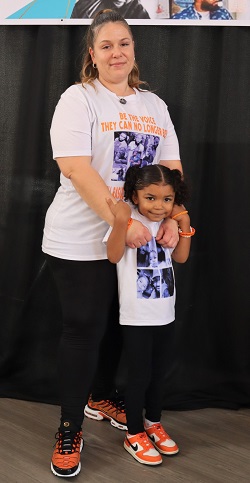 Saturday would have been Cook's 41st birthday, Martin said. The alleged killer remains at large.
Some 75 volunteers pitched in to cook and serve the meal. There was enough food for 300 people: Turkey, ham, mashed potatoes, sweet potatoes, green beans, rice, collard greens and an array of desserts.
Around the perimeter of the dining room was "Memorial to the Lost": T-shirts labeled with the names and dates of death of Lancaster County residents lost to gun violence. The exhibit is a project of the nonprofit Heeding God's Call to End Violence. More T-shirts hung outside by the entrance.
The Rev. Daniel Pilgrim was among several featured speakers who called out gun violence.
"Shooting someone does not make you a man. ... It makes you a coward," said Pilgrim, who serves as a pastor at the Church of the Father, Son & Holy Ghost, just a block away from Crispus Attucks on Howard Avenue. "We have young men pretending to be a man instead of being a man."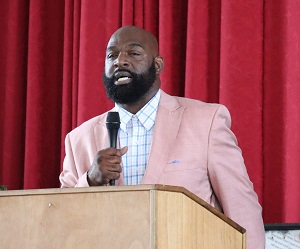 Pilgrim admits he was one of those young men himself. He served time in prison on an assault charge and for felony possession of a firearm.
It was the night of his arrest on that latter charge in 2010 that he turned himself around and gave his life to God, he told One United Lancaster.
Brandon Flood manned a table by the entrance for Cease Fire PA. Flood, the organization's deputy director of government affairs said it is pushing for three "common sense" measures to curb firearm violence: Extreme risk protection orders, which allow police or family members to petition a court to temporarily remove an individual's access to firearms; mandatory lost and stolen firearm reporting; and universal background checks.
About 1,600 Pennsylvanians die from gunshot wounds every year, CeaseFire PA reports. Nationwide, the number of firearm deaths has increased recently, reversing years of steady decline. There were nearly 21,000 homicides and 26,000 suicides involving guns in 2021, the most since the early 1990s.
Pilgrim said he officiated at the funeral for the 1-year-old baby whose 3-year-old cousin accidentally shot and killed him last month. The pastor called it the hardest thing he's had to do.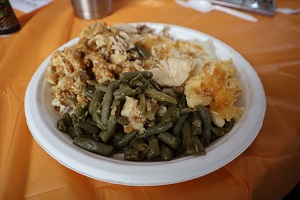 He said he won't buy toy guns for his grandchildren, because it teaches them how to carry.
"I stand up for stopping the violence. ... Put the guns down," he said.
Martin said she's committed to continuing the community meals every second Saturday in November.
The hard work is worth it "if I can help just one person not to have to suffer what we're suffering," she said.
Photos