"I wish that I was speaking to you all on a better occasion," David Hogg told his audience Thursday evening.
But there never is one, he said.
The night before, a gunman in Lewiston, Maine, had killed 18 and wounded 13. It was the 36th mass killing in the U.S. this year, according to the Associated Press.
Hogg, a survivor of the Parkland, Florida, school shooting in 2018, has become a prominent activist in the movement to end gun violence. That was his topic at the annual Leffler Memorial Lecture at Elizabethtown College.
Mass shootings are just one aspect of America's gun violence problem, Hogg said. The daily toll of street violence claims thousands of lives. Extrajudicial police shootings kill hundreds. The gun industry capitalizes on the fear that violence engenders to sell more of its products, creating a vicious circle.
Citing the Rev. Martin Luther King, he attributed the majority gun violence to underlying social factors: militarism, racism and poverty.
Hogg said his speech and debate classes at Marjory Stoneman Douglas High School prepared him for his role as an activist. When he sheltered in place with his fellow students during the shooting, he interviewed them — to steady his nerves, he said, and so that there would be a record of their real thoughts and feelings to counterbalance the narratives of out-of-touch TV pundits.
He became a prominent voice in the subsequent March for Our Lives movement, which organized the largest one-day gun violence protest in history. Leaders then conducted a nationwide bus tour inspired by the civil rights era's Freedom Riders.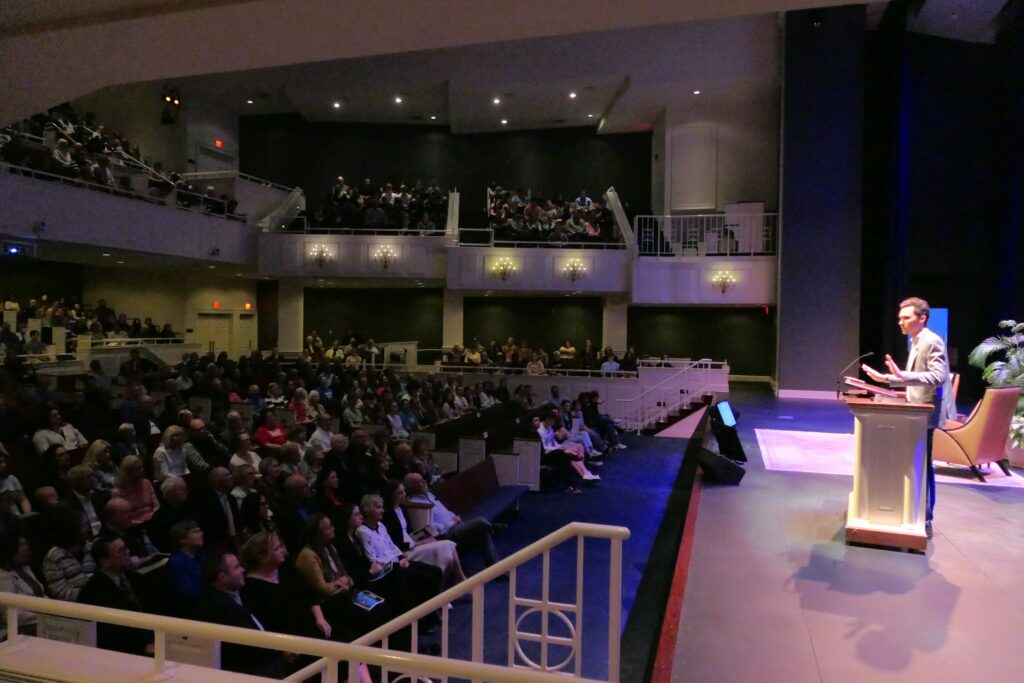 The Parkland survivors were assured the National Rifle Association was invincible, Hogg said. Step by step, inch by inch, they have been demonstrating otherwise: Defeating NRA-backed politicians, building grassroots support, inspiring record numbers of young people to get out and vote.
Their work has led to more than 100 laws strengthening gun control at the state level. One of them is a "red flag" law in Florida, providing a due-process means for people posing an immediate threat to others or themselves to be disarmed. It's been used more than 6,000 times, Hogg said, including against a man who sent death threats to Hogg's mother.
"We are growing and we are winning," he said.
Asked what drives him, he said he has always been motivated to prove people wrong when they doubt him.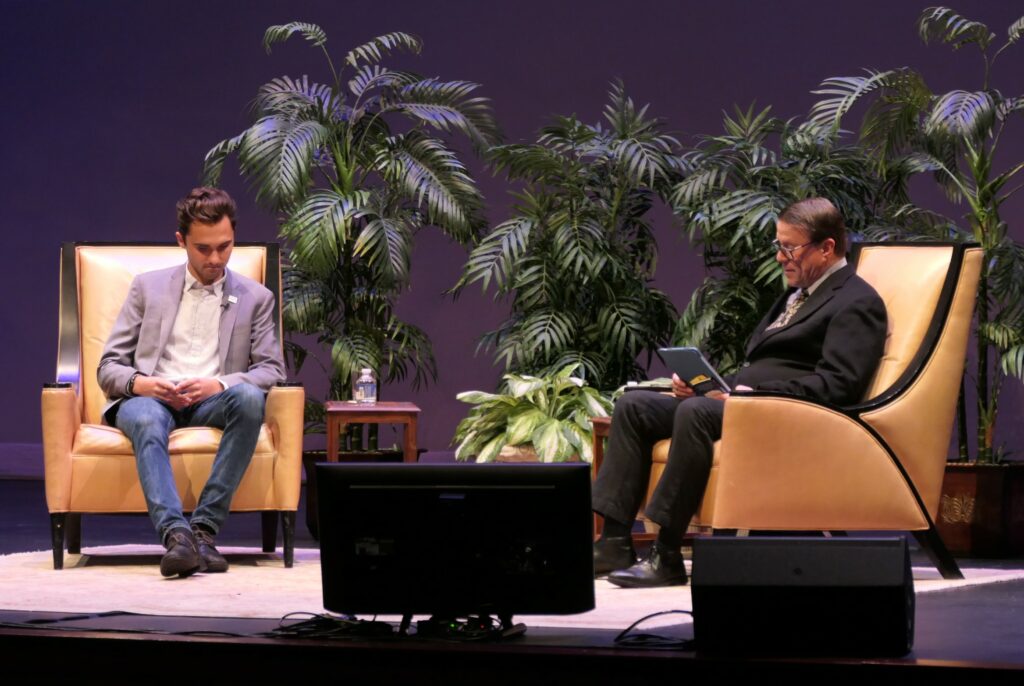 The framework for strengthening U.S. gun laws already exists, he said. He suggested federalizing the laws in Massachusetts, where gun owners must undergo mandatory screenings and interviews, and where the homicide rate is 70% lower than it is nationwide.
He also suggested changing liability law to hold gun companies accountable when they sell guns without making any effort to determine if their customers are responsible.
He noted that the majority of gun deaths are suicides. Guns dramatically raise the chance that a suicide attempt succeeds, he said: People who choose other means are far more likely to survive, and the majority of survivors regret their attempt and don't try again.
Hogg's efforts to increase civic engagement among young adults led to him co-founding Leaders We Deserve, which works to elect young progressives. He described with pride his fundraising for Maxwell Frost, the former national organizing director for March of Our Lives, who in January took office as Congress' first member from Generation Z. Frost's first bill called for the establishment of an Office of Gun Violence Prevention: Last month, the Biden administration did just that.
The gun control fight reflects a larger battle for democracy and social justice, Hogg said: A generation of young people has grown up traumatized by active shooter drills. If their government continues to fail at the basic task of keeping them safe, they will lose faith in it.
"We've proven over the past few elections that actually gun control is not the third rail of American politics," he said. "… This is a winning issue."